P+ Gel Polish is the latest HEMA-monomer free innovation from Light Elegance (LE). Building on the success of Light Elegance's popular JimmyGel Building Base, P+ provides the same hard-gel performance in a soak-off system. Like JimmyGel, P+ Gel Nail Polish lasts for weeks and incorporates a perfect blend of strength and flexibility formulated for the nail professional.
SEE IT IN ACTION
We've pulled together these useful application and removal tutorials to show you just how versatile P+ really is, whether performing an in-fill using JimmyGel (LE Builder in a Bottle) or completely removing with QDbase.


FAST & EASY MANICURES USING P+ QDBASE
Discover just how fast and easy manicures are using P+ Gel Polish over the QDbase!
UNDER 10-MINUTE REMOVAL USING P+ QDBASE
Did you know that the "QD" in P+ QDbase stands for "Quick Detach"? Now you do! This base coat is formulated to be perfect for clients that want to fully remove their P+ Gel Polish using acetone. In this video, we show you how to remove P+ Gel Polish in just 7 minutes. Always remember to file through your Top Coat until you hit the Gel Polish colour for the fastest soak-off! *We recommend using the 240 grit file, Magic Remover Wraps & LE Cleanser.


CREATE LONG-LASTING AND FLEXIBLE GEL MANICURES USING JIMMYGEL
P+ Gel Polish pairs perfectly with the popular JimmyGel building base in a bottle (BIAB)! In this video, we show you just how fast and easy it is to perform a manicure service using JimmyGel and P+ gel nail colours! JimmyGel adds strength, length and flexibility to your gel polish enhancements and is crystal clear for encapsulation and endless nail art possibilities!
CREATE SOAK-OFF EXTENSIONS USING JIMMYGEL & P+ GEL POLISH
JimmyGel makes adding length, strength and flexibility to your enhancements easy thanks to the advanced formulation and brush-bottle design! Now, you can add thin and opaque colour to your JimmyGel using all-new P+ Colour & Glitter Gel Polishes! Offer your clients nail enhancements of all shapes and sizes using JimmyGel, and let your inner-artist come alive with the luscious range of gel nail colours!


SAVE TIME AND PRODUCT WITH JIMMYGEL & P+ GEL POLISH IN-FILL SERVICES!
Light Elegance gel polishes are a match made in heaven for nail professionals looking for the fastest way to deliver clients gorgeous enhancements in as little time as possible! Both JimmyGel and P+ are formulated to file quickly and with less pressure using a hand or E-file, making in-fills faster and easier on the nail professional!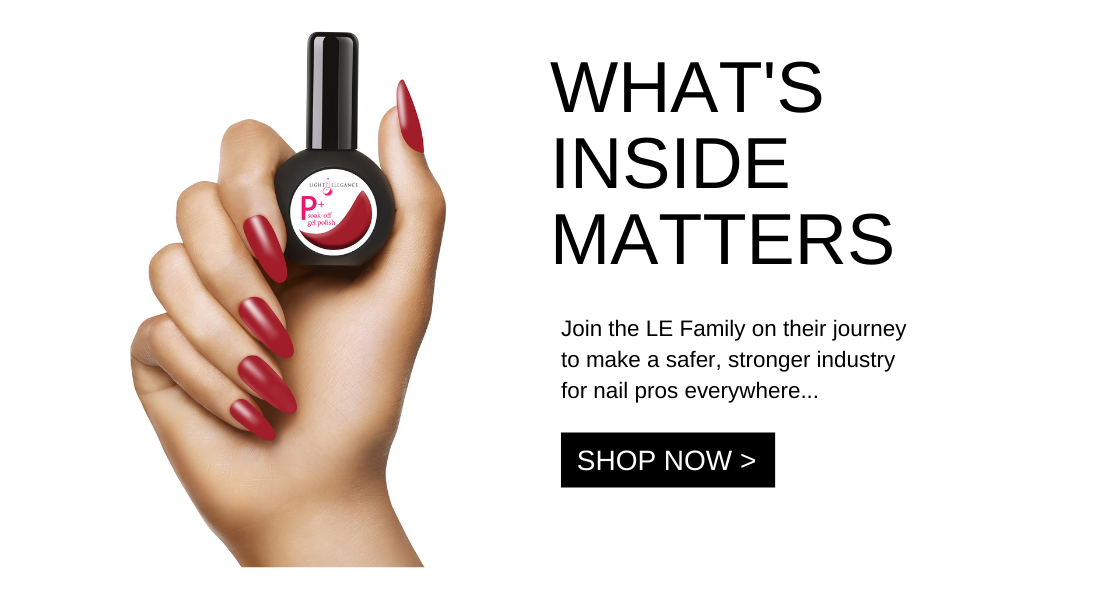 For more information on FAQ's, cost per service, product profiles and SDS forms, downloaded below: