The nails that EVERYONE has been asking their nail tech for... yes, it's the Hailey Bieber Glazed Donut nails! This trend has gone viral, and we can totally see why – it's the ultimate classy nail look and perfect for summer. Nude shades combined with chrome effects really do create the most gorgeous finish and we're here to tell you how to recreate them in several different ways, using CND™ products.
What CND™ products do I need?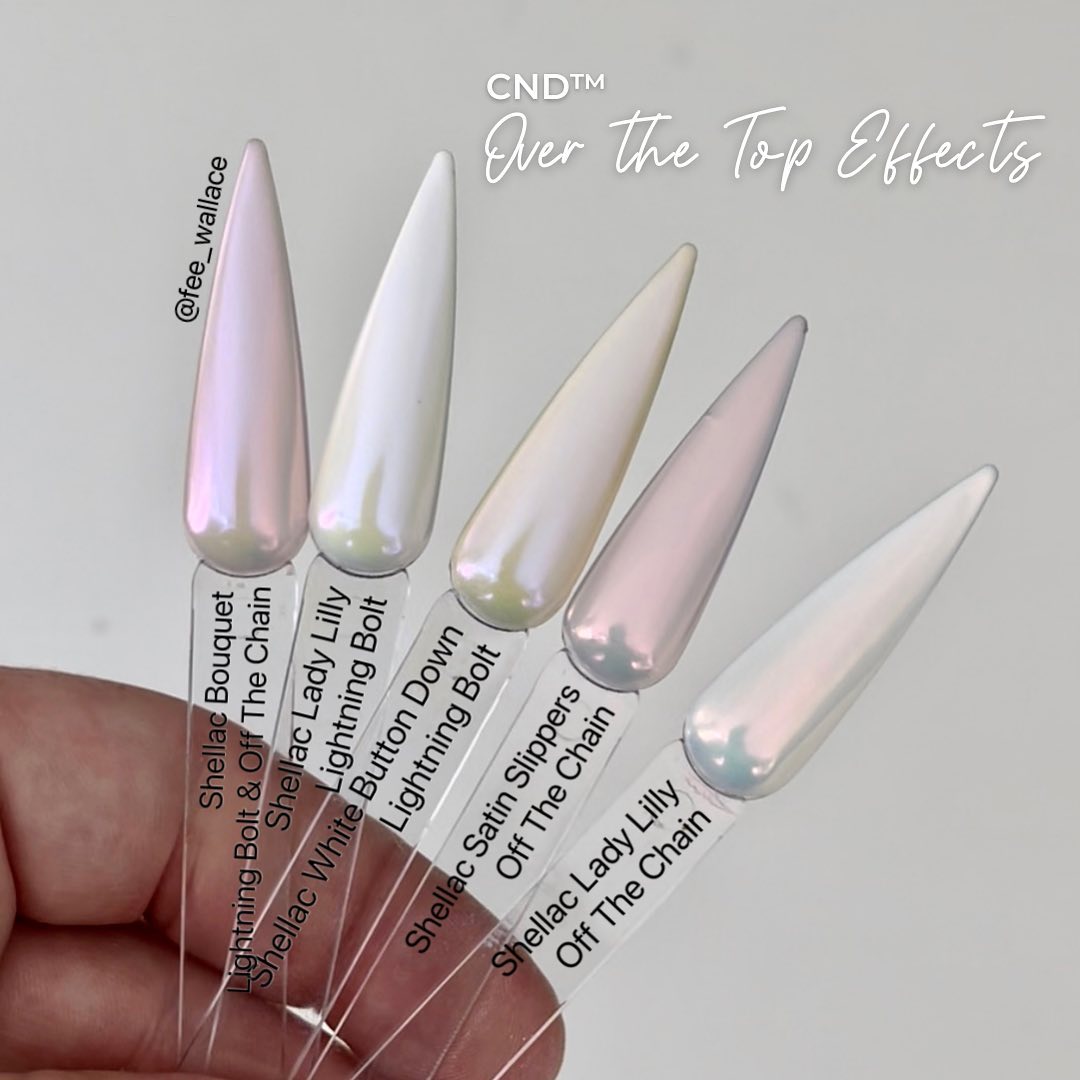 The Glazed Donut nail trend has several colour variations which you can choose from. For the base colours, the key CND™ Shellac™ products are Bouquet, Lady Lilly, White Button Down and Satin Slippers. For the all-important chrome effect, you will need the CND™ Over The Top Effect in Lightning Bolt and Off The Chain (or both if you like!). You can find these shades in the CND™ Over The Top Effects Kit here.
Glazed Donut Nails – Step-by-Step
Our resident CND™ Brand Master, Fee Wallace has created a step-by-step for creating this look as part of your CND™ Shellac™ or PLEXIGEL™ service.
Step 1
Begin with a white or cream shade as a base. For example:
Bouquet - a diffused baby pink, sheer in one layer or more opaque in two layers.
Lady Lilly – an off-white shade which is great for a French manicure.
White Button Down – an opaque off-white, almost a vanilla cream.
Satin Slippers – a soft, semi-sheer pinky white.
Over CND™ PLEXIGEL™ Enhancements we can simply apply one of the Shellac™ colours listed above to give us our base colour, or alternatively, create the PLEXIGEL™ enhancements from a colour builder gel. For example:
Step 2
To the base colour, apply one layer of CND™ Shellac™ No Wipe+ Topcoat and cure in the CND™ LED Lamp, using button 3 - the topcoat setting. This will come out of the lamp with no sticky top film layer. Instead, we have a surface that is perfect for 'chroming'.
Step 3
With a clean, dry piece of cosmetic sponge, apply one of two CND™ Over the Top Effect powders. For example:
Off The Chain – a mirror-like chrome shine with a warming hint of rose gold bronze.
Lightning Bolt - a cool violet pearl-chrome with a mirror shine.
Rub the powder firmly all over the nails, and then with a clean piece of sponge, wipe over firmly again to remove any flyaway particles of powder. This is important as those loose particles would get trapped in the topcoat and make the end result less flawlessly reflective.
These two CND™ Over the Top Effects represent both ends of the spectrum, with one cool and one warm. If you fancy taking things up a notch, try using both! Apply one down one half of the nail and one down the other. This creates a sleek optical illusion, giving the nail look an added dimension.
Step 4
Finish with the CND™ Shellac™ Topcoat best suited to the needs of your client. For example:
Whilst nude CND™ Shellac™ shades have been suggested for underneath the CND™ Over the Top Effect powders to recreate the Glazed Donut nails, technically any CND™ Shellac™ shade can be used under the powders - so go crazy and see what you can create!
Don't forget, if you recreate these nails make sure you tag us @sweetsquared.nails on Instagram – we'd love to see them!