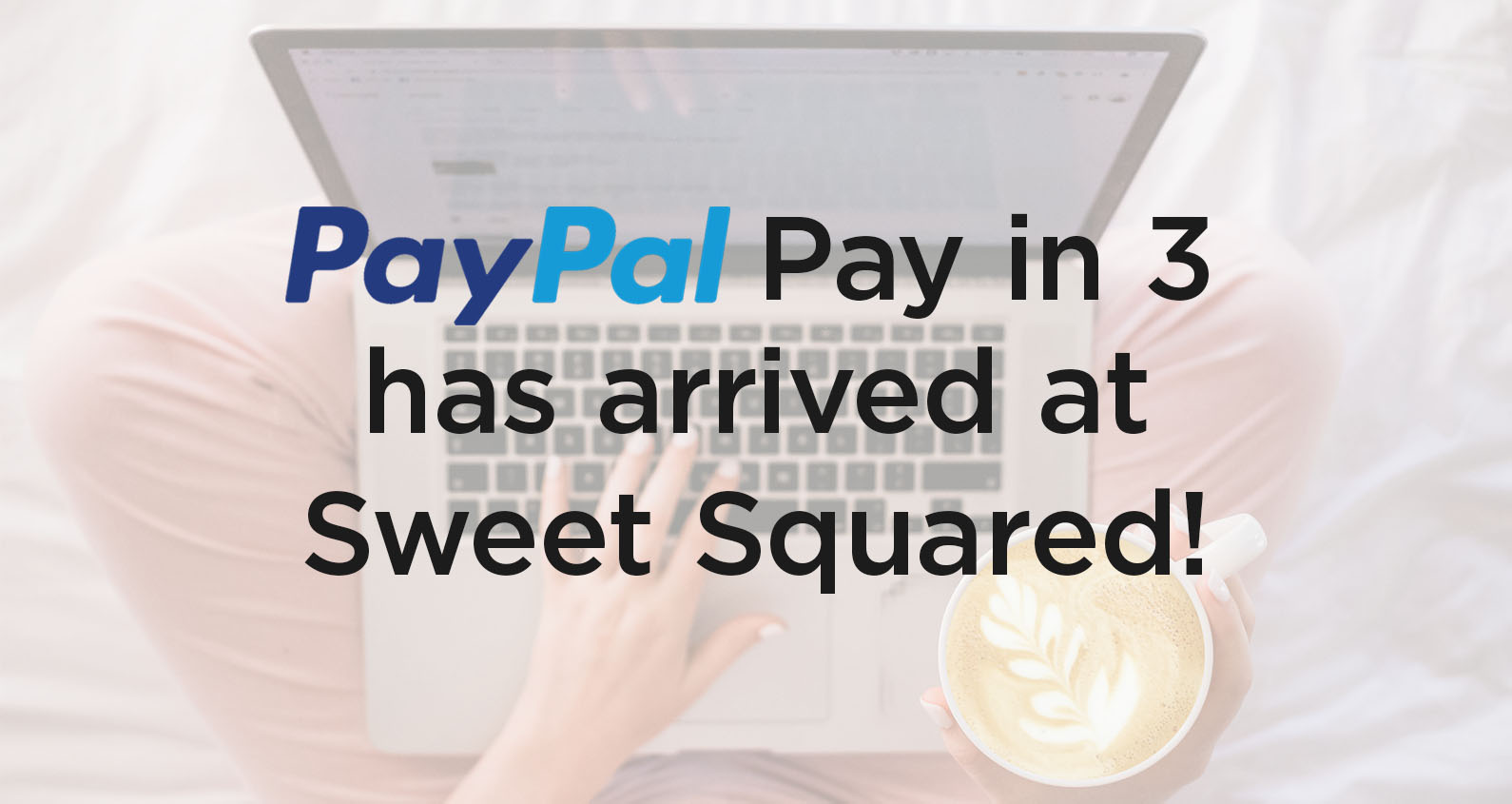 These past twelve months have been no easy ride. Between lockdowns, restrictions forever changing and the sheer uncertainty of it all, it's safe to say we've all felt the pressure at one point or another. At Sweet Squared, we were proud to be by your side, as your trusted partner, through the thick and the thin. Serving you with our patented Love & Respect.
And it doesn't stop now we're coming to the end. We will continue to be by your side as we begin to pick up the pieces, which is why we're introducing PayPal Pay in 3. This simple and easy payment option offers you a way forward so that you can focus on keeping your clients looking and feeling their best without the added stress of large payments. As we said, we'll always support you in any way we can.
So, how does it work? We've popped a few FAQs below to help get you started.
How can I pay with PayPal Pay in 3?
It's easy! Just choose to pay with PayPal when you shop online at Sweet Squared with a minimum spend of £30/€30. Log into your PayPal account and, if you are eligible, you'll see PayPal Pay in 3 as one of the available payment methods. After selecting it, you can complete the simple application process for a PayPal Pay in 3 plan, get an instant decision and finish purchasing your Sweet Squared goodies!
Pay in 3 doesn't appear as an option within my PayPal wallet. Why not?
This will be because you're not eligible for Pay in 3 right now. Eligibility is based on your circumstances and is entirely down to PayPal. It's got nothing to do with us!
How long will my PayPal Pay in 3 plan last?
Your plan will last for two months in total. The first payment will be due at the time of purchase, followed by two further payments due each month after that.
How is my application for PayPal Pay in 3 assessed?
The decision-making process is totally automated by PayPal and looks at the information you provided within your application along with information about your history with PayPal. Where checks suggest an increased risk of fraud, PayPal may decide not to offer PayPal Pay in 3, but the decision will be instant after you apply to avoid any hold-ups!
What information do I need to apply for PayPal Pay in 3?
To apply for PayPal Pay in 3, you'll need to provide your:
Title
Phone number
Address
Date of birth
Debit card information
What purchase amounts qualify for PayPal Pay in 3?
You can use PayPal Pay in 3 for eligible shopping cart amounts between £30 and £2,000.
Will applying for PayPal Pay in 3 impact my credit file?
If needed, PayPal will run a soft credit check with an external credit reference agency but don't worry; this does not affect your credit record if they choose not to progress your application. If you choose to use Pay in 3, you should be aware that PayPal will report your ongoing performance to credit reference agencies. For this reason, it's important to be sure that your repayments are affordable for you and your business.
Can I use PayPal Pay in 3 if I have PayPal Credit?
Yes, PayPal Pay in 3 is a separate feature from PayPal Credit. Purchases made using PayPal Pay in 3 will be visible in the PayPal Pay in 3 section of your PayPal Wallet.
Hopefully we've covered everything you need to know but if you have any more questions, you know we're always here for you. Just give our wonderful Customer Experience team call on 0333 000 7000. If you'd prefer not to chat on the phone that's not a problem! Just log onto www.sweetsquared.com live chat and one of our team will be ready and waiting.
PayPal Pay in 3 is available online at Sweet Squared now.