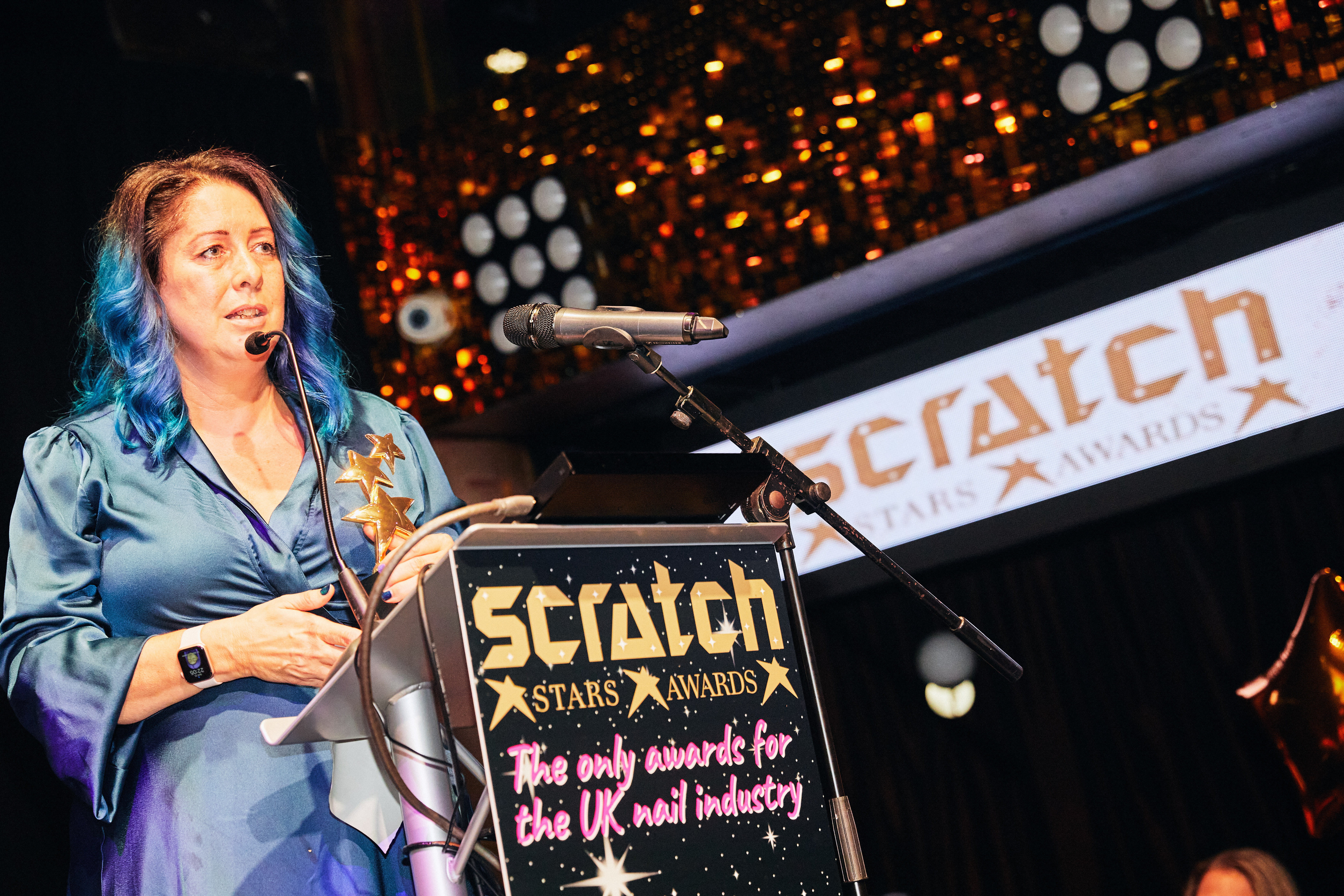 With over 19 years' experience as a CND™ EA, Liza Smith was awarded the Scratch Stars award for Services to the Nail Industry at the 2021 Scratch Stars Awards ceremony. Liza has spent countless hours in the classroom, giving her full attention and dedication to helping others achieve their goals and outside of the classroom, she's established herself as an award-winning business owner and session artist. In a year when many were struggling, Liza stepped up and touched the hearts of many professionals with her Instagram and Facebook lives, offering help and advice to a community that needed it the most.
So, in celebration of her fabulous recognition, we thought we'd give everyone the chance to get to know the incredible Liza Smith!
How would you describe yourself in three words?
Passionate, driven, loyal.
What's your passion in life? What motivates you?
I have always wanted to be the best, rather than the richest. I could have earned much more money if I had stayed within one area of the industry, but where's the fun in that! My family are my biggest motivation, to inspire them to grab life by the balls, but also to be able to achieve their dreams.
How do you stay motivated?
I seem to have an inner relentless drive, I can't explain it, I thought everyone felt the same as me! Lockdown 1.0 gave me my longest time out of the salon ever. It gave me the gift of time. I have always been drawn to educating and mentoring. It became obvious very quickly that many in the industry were struggling to adapt and survive in what was completely new to all of us. To see how I was able to help many professionals gave me even more drive to deliver the help they needed.
What's been the best experience in your career so far?
I literally have too many to mention. Most people are most impressed with my celebrity stories! I have some amazing ones like manicuring David Beckham in his underpants! Private jets, private yachts, the best hotels and after parties in the world etc. Watching my daughter Jemma become one of the youngest ever full-service CND™ Education Ambassadors and then winning her own Scratch Stars Award in 2013. Then to top it all, to win Services to the Industry is up there with my best moments.
What's been the biggest learning in your career so far?
That luck is readiness meeting opportunity!
What's the best piece of advice you've ever been given?
To have an end in mind. Most small businesses slide into being a small business owner, and don't have a clear vision of where they want it to go. I was guilty of this for many years, happy to go with the flow, but there suddenly comes a time when you realize that you want more than a "wage"!
What would you tell your newly qualified self?
To buckle up and enjoy the ride! I have very few regrets and any that I do have are drowned out by amazing experiences that the nail industry has given me. Even though I have been stung by a number of people, I have risen far beyond any of them and even now, I'd rather be the best than the richest!
What piece of advice would you give people coming into the industry?
To understand your business as well as you understand your clients. Get a mentor until you can afford a coach. Look at your money mindset and do some work on having a healthy view around money. Read a business book a month.
Three things you can't live without?
Family, my iPhone and my Nimue skincare.
What's one item you always travel with?
A change of clothes! I have been caught out in New York and Paris, with my luggage not being with me, and it is gruesome to not have any toiletries or change of clothes!
What makes you smile?
I'm very sentimental, so anything to do with my children, old photos, mementos. Paul and I also love live music and we have a soundtrack to our lives and many of those songs will bring a smile to my face.
What's next?
I am so excited to be almost ready to launch my business coaching membership for salon professionals. It has been a hard slog to get it to this stage, but it is my absolute dream to be able to deliver the knowledge and support to all the salon professionals out there in our industry that have a fire in their belly but need a helping hand in finding their vision. In a year that keeps giving, my daughter Jemma is getting married in Gibraltar (where she lives) and is giving Paul and I our first grandchild in December!
Well done from us all at Sweet Squared Liza
Love & Respect x