For all bikini options at wax:one, we teach using hot wax and use a specific technique which is built around both super smooth results and client comfort. Our waxes are designed to be used thinly to avoid pressure or tugging and pulling on the skin, we block out hair we don't want to remove and remove hair in small sections - always ensuring the skin is constantly protected.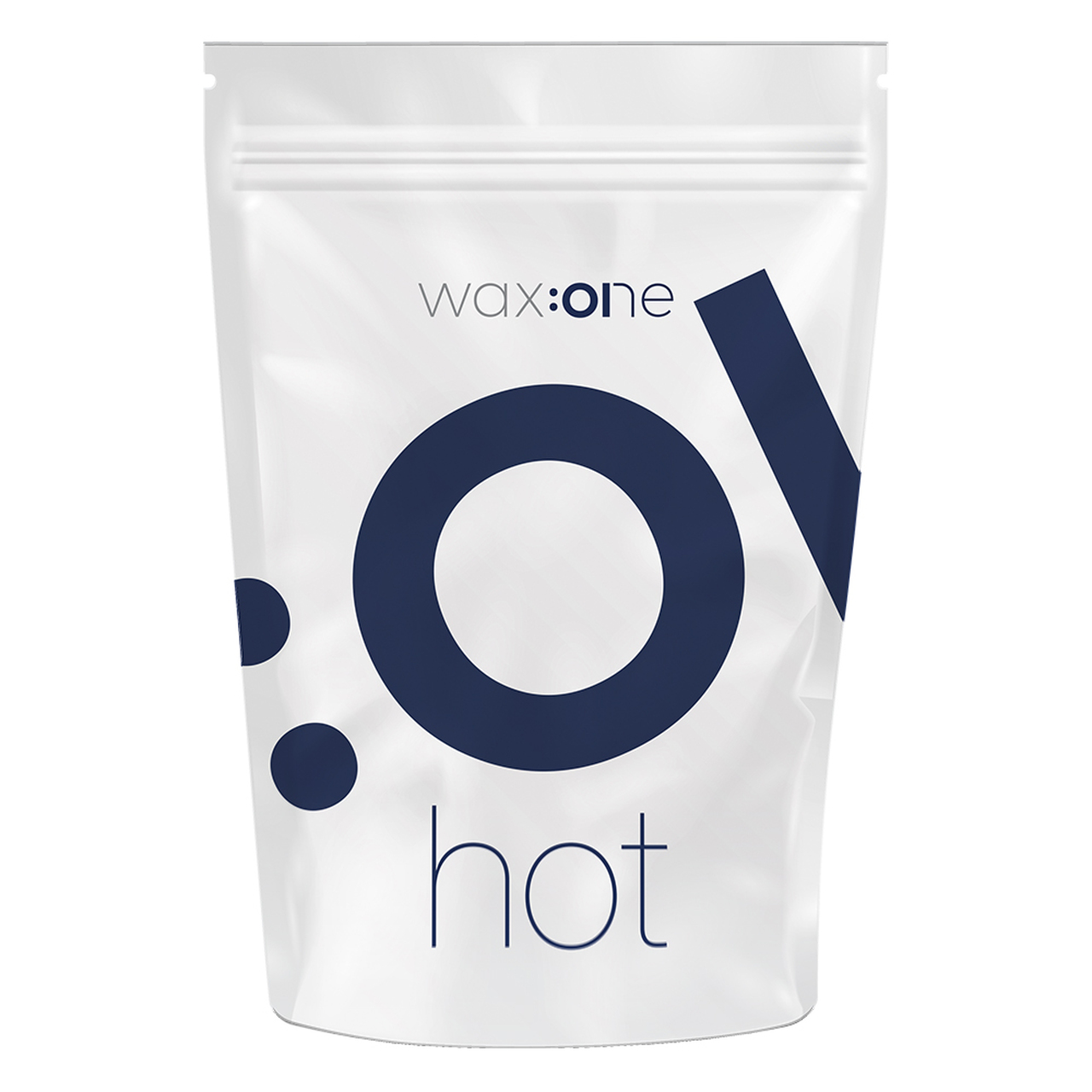 wax:one Hot Wax - shop here
The first thing we need to consider is that a waxing appointment is very different to other treatments, it is not like having nails, lashes or facial treatments. The relationship between the waxing professional and their client requires trust. We need to remove any barriers and to understand how our client feels towards their hair and the removal of it. Many potential clients feel awkward, self-conscious or embarrassed about how much hair they have and where they have it. They may never have discussed this with anyone before and they most likely have tried other, unsuccessful methods of hair removal.
For this blog, we are focusing on Hollywood waxing, however, one size certainly doesn't fit all. We recommend offering and discussing the various options for your client preference. We have digital images you can show your clients to ensure they are making the right choice of treatment (often client's don't know the name of the treatment they want to have). As a brand we teach 5 options for hair removal including:
Basic Bikini - removing hair from the join of the thigh (outside a large pair of pants)
Extended Bikini – removing hair higher up into the bikini area (outside hi-leg pants)
G-String Bikini - leaving a more rectangular area of hair in the bikini area and from the bum (outside g-string/thong)
Brazilian – leaving a strip of hair in the centre of the pubic bone (removing hair in all other areas, including bum)
Hollywood - all hair is completely removed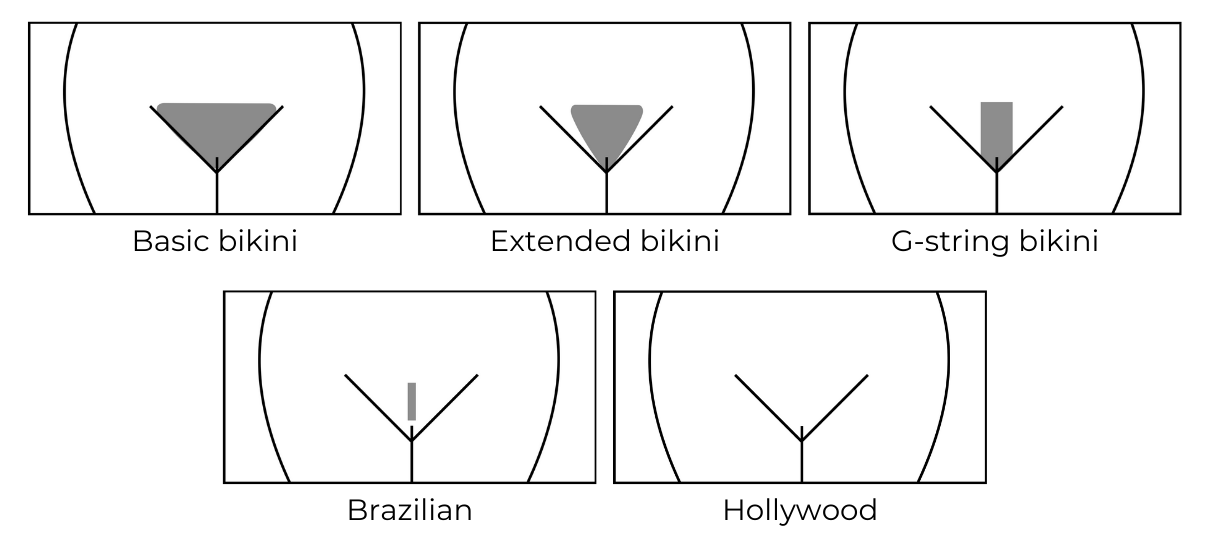 Following our technique for Hollywood waxing means you have a step by step to follow, regardless of how the client's skin or hair behaves.
We always start in the outermost area of the hair and work inward, we would aim to have 2-4 patches on at anyone time. The patches should be manageable in size. The courser and stronger the hair the less hair we will remove at one time. The patch should hold a small amount of hair but include excess wax for you so that you're able to grip properly for a clean removal.
We recommend the client removes their underwear at the beginning of the treatment, they should be positioned on their back with their feet together and knees outward (frogs legs) for best results. If this position is difficult due to mobility or the client is pregnant, for example, we can place a small pillow or rolled up towel under their knees.
In this position, we can use the femoral ridge as a guide to work from. The femoral ridge is clear in this position as it is the highest point at the top of the thigh. If we are removing hair above this area we apply the wax from the femoral ridge, upward towards the clients head (into a hair free area). If we are removing hair below the femoral ridge we apply the wax downward towards the bed (into a hair free area).
The direction of the hair growth is not important when it comes to wax:one hot wax. The hot wax is designed with a thin consistency, so it is able encase the hair low down, ensuring a clean removal from the root (no snapping or breaking hair). Working into a hair free area ensures we don't have to 'pick' the wax out of hair, which can be much more uncomfortable.
During a Hollywood wax, for client comfort, it is important to protect the skin by applying wax:one smooth throughout the treatment. It is essential to make use of your 'non-waxing' hand (the hand without the spatula). This hand is important to (A) stretch the skin taught and (B) block out any hair you don't want to remove or include in the patch you are working on.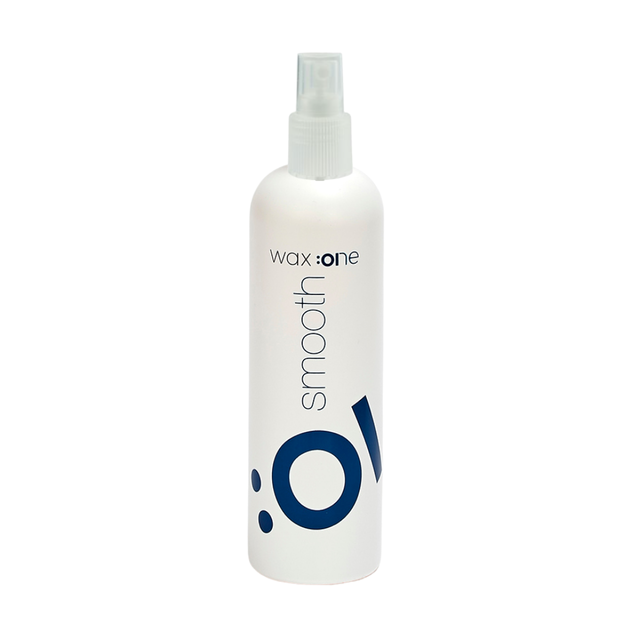 wax:one Smooth - shop here
As you work inward, you remove the hair with this step-by-step, gradually until you are fully hair free! Each time the client returns there will be less hair and the hair they have will be finer – reducing your time and the amount of product you use for each appointment.
We would always recommend offering a 10/15 minute consultation with every new client discussing what they want and need. Taking this time to build trust and ensure every client gets the exact treatment they want to have is an excellent way to build client confidence and your waxing business.
Remember wax:one was specifically designed for ALL skin/hair types.
These clients will appreciate this part of the service as much as they will being smooth, they will also tell other people and recommend YOU allowing you to build a super loyal clientele.
Find out more about wax:one here.