History & Culture
Light Elegance was established 20 years ago by husband and wife, Polymer Chemist Jim McConnell and Salon Owner Lezlie McConnell. Together, they wanted to fuse together their passions to create a vast selection of responsible hypoallergenic, easy-to-apply gels and acrylics, that are cruelty-free, 9-free, vegan and HEMA-free.

Light Elegance is founded, led and inspired by family, that is:
100% committed to the nail pro
Receptive and responsive to the needs of the nail pro and their clients
Empowering the nail pro with products to express their creativity and talent

Chemistry – What's inside matters?
Light Elegance is formulated and responsibly made in the USA, by Light Elegance Chemist, Jim McConnell. Through their in-house research and development team they're able to drive innovation in all aspects, providing leading-edge formulas that offer maximum control and creativity for the nail pro. The globally compliant and safe formulations go through a rigorous quality control process from formulation right through to packaging.
Light Elegance make it their mission to educate nail professionals and clients alike to elevate the industry we are all so passionate about, by openly sharing important product safety and chemistry information that affects service performance and health—for both nail professionals and their clients.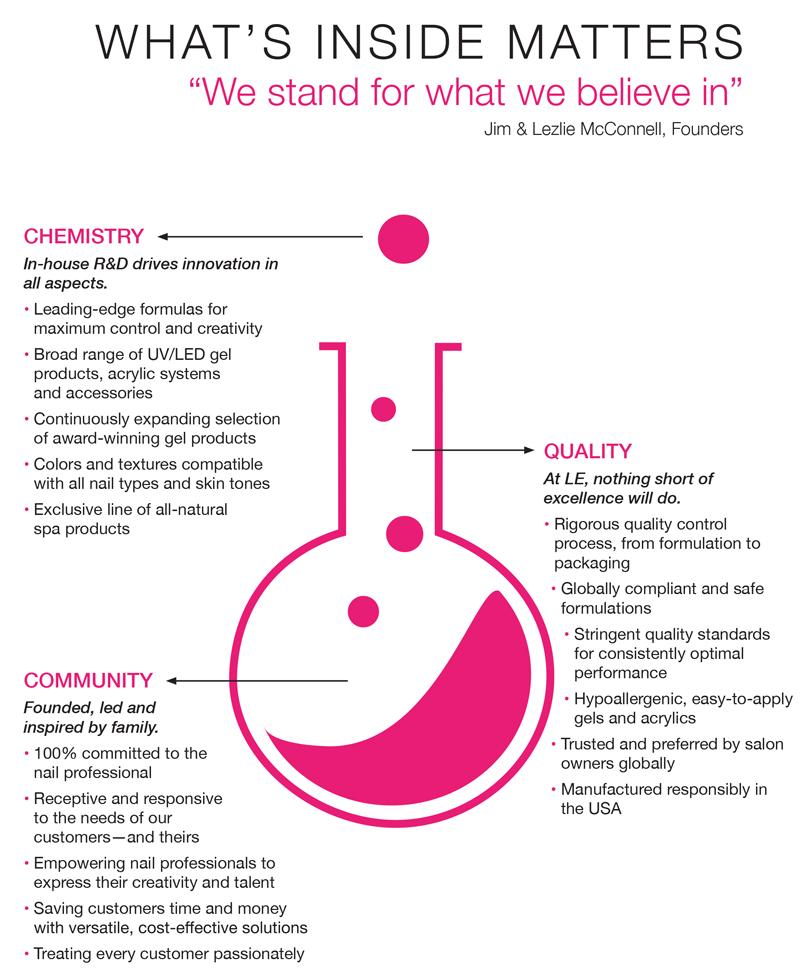 Products
Enhance and Build
Lexy Line
The Lexy Line is made up of 6 different hard gel products to give the nail professional complete control and creativity to add structure and to build and extend for beautiful nails that last well over 4 weeks. The range provides a comprehensive selection of pinks and whites for every skin tone and style, the Lexy Line is designed to create nails of any length and shape; your imagination is the limit!
Shop the full Lexy Line range here.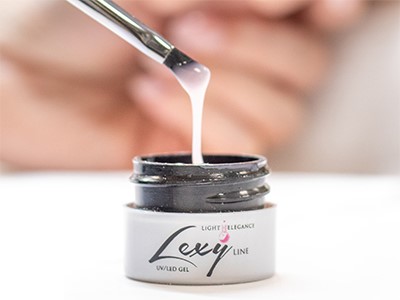 JimmyGel
JimmyGel is the newest innovation from Light Elegance. A soak-off building gel in a bottle that can be used to perform a natural nail overlay or to extend the natural nail, with ease. JimmyGel is formulated to soak-off for complete product removal, but it is unique in the fact that it can be used under either soak-off gel polish or hard gel products. Now clients that want 4+ week wear offered by hard gels and the ability to completely remove their enhancements without filing on the natural nail can.
JimmyGel is now available in a range of colours to provide the perfect shade for every service and any skin tone.
Shop the full JimmyGel range here.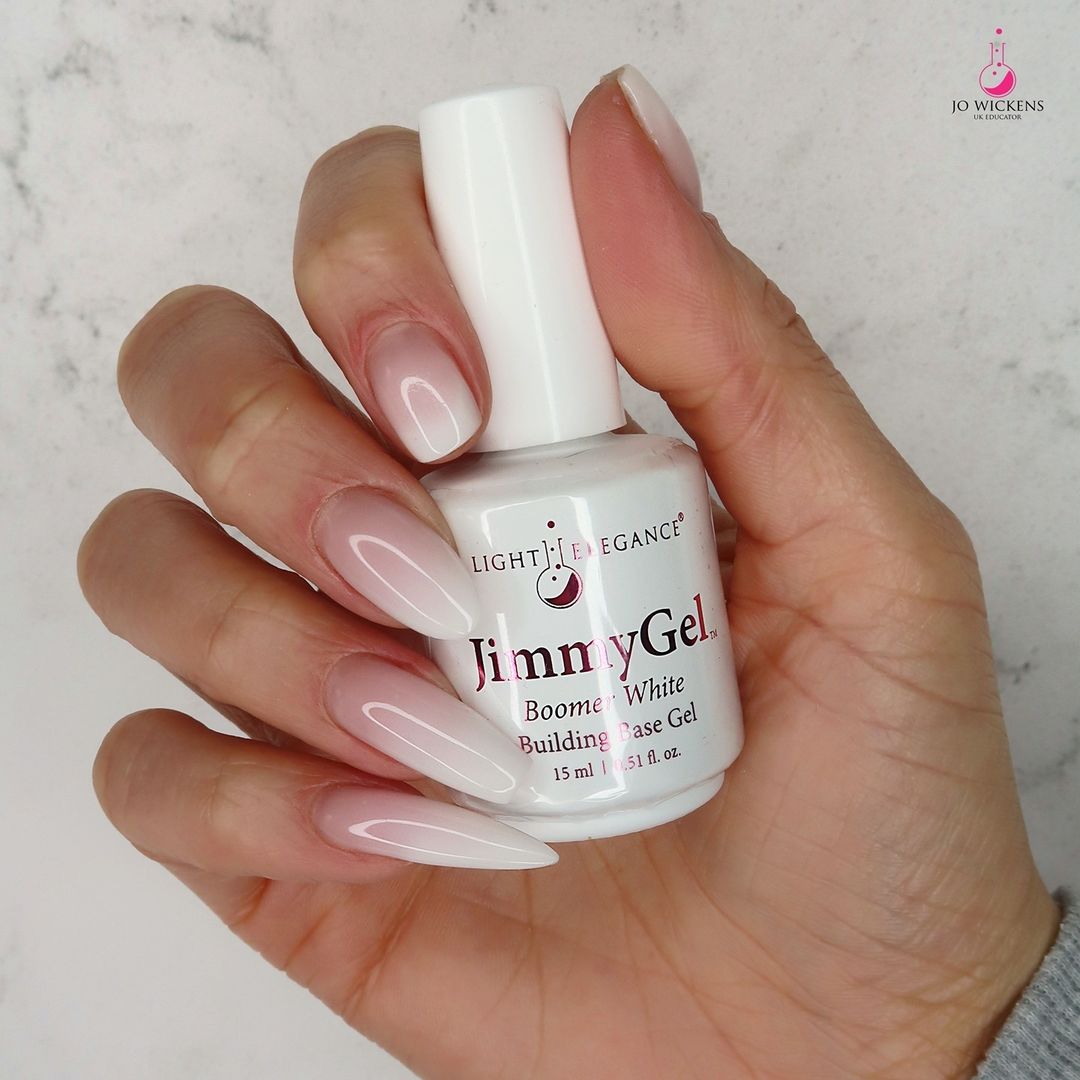 Colour Gel System
ButterCream and ButterBling
LE ButterCreams provide a creamy one-coat coverage with a thin viscosity making them super easy to apply. Perfect for full coverage colour or to create detailed line artwork. The rheological technology in the ButterCream formula allows the product to flow yet stay in one place. This helps with time and performance, providing 4+ week wear, when used as part of the LE system. With over 96+ shades available ranging from classic nudes and neutrals to beautiful brights and neons!
ButterBlings provide the same creamy, buttery application but with added premium sparkle!
Shop the full ButterCream range here and the ButterBling range here.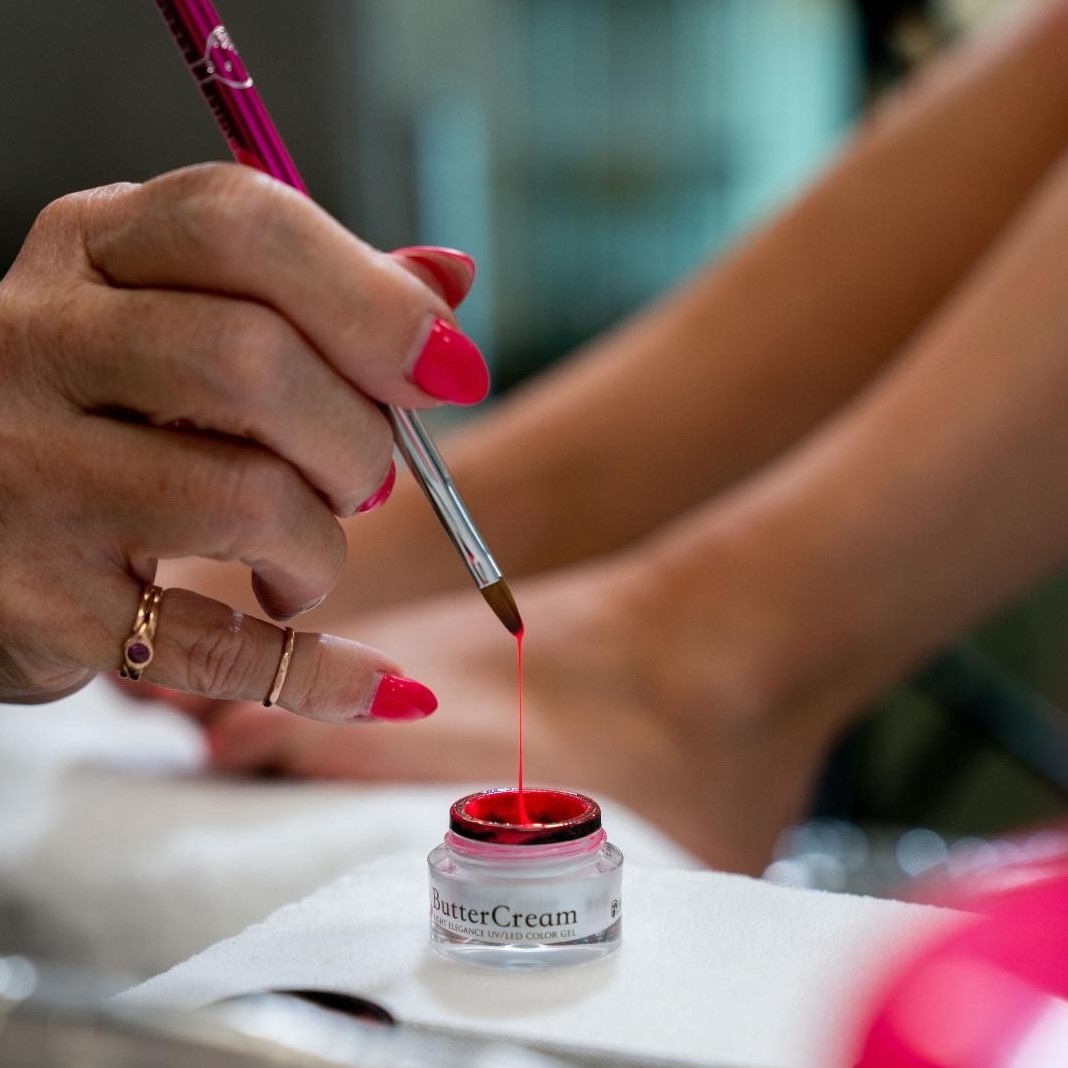 P+ Gel Polish
P+ Gel Polish is the latest HEMA-monomer free innovation from Light Elegance. Building on the success of Light Elegance's popular JimmyGel Building Base, P+ provides the same hard-gel performance in a soak-off system. P+ can be used as a full stand-alone system for a quick natural nail application, alternatively it can be partnered with JimmyGel and Lexy Line for added strength and length. The perfect blend of strength and flexibility provides 21+ day wear that's formulated for the nail professional. With a range of colour and glitter formulas, the P+ collection can meet all of your clients needs.
Shop the full P+ Gel Polish range here.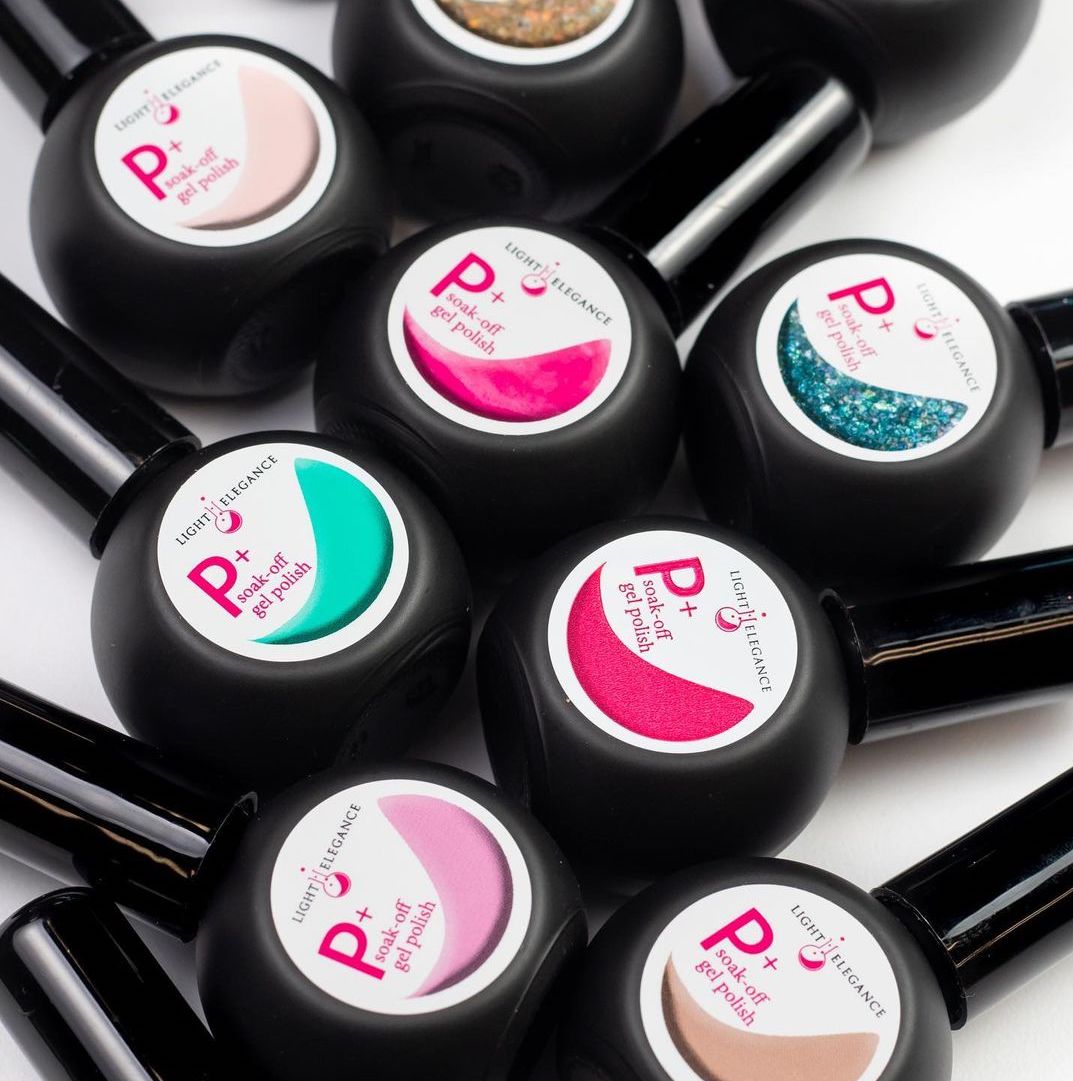 Q&Lu
Q&Lu Spa Essentials, is an all-natural, organic spa line from Light Elegance. The premium ingredients, means no harmful artificial dyes or fragrances, resulting in a soothing spa experience tailored to nourish hands, feet and skin.
The herbaceous blend of mint, lavender, basil and tee tree oils is designed to invigorate, energise and uplift while adding a cooling effect to reduce fatigue and tension. The all-in-one manicure and pedicure system is also perfect for clients to continue their spa experience at home, maximising retail potential for the professional.
Shop the full Q&Lu Spa Essentials range here.