Posted by Fee Wallace on 1st Jun 2022
Bridal nail art is big news! Right now, more nail clients and Nail Professionals are searching for bridal nail art inspiration than at any other time of year. Coming into wedding season, we see more clients choosing classic French manicure looks, but also alternative, wedding inspired nail art designs.





Our latest episode of Tune in Tuesday was focused on tips and tricks for creating beautiful French manicures, and step-by-step inspo for bridal nail art looks, from classic to alternative.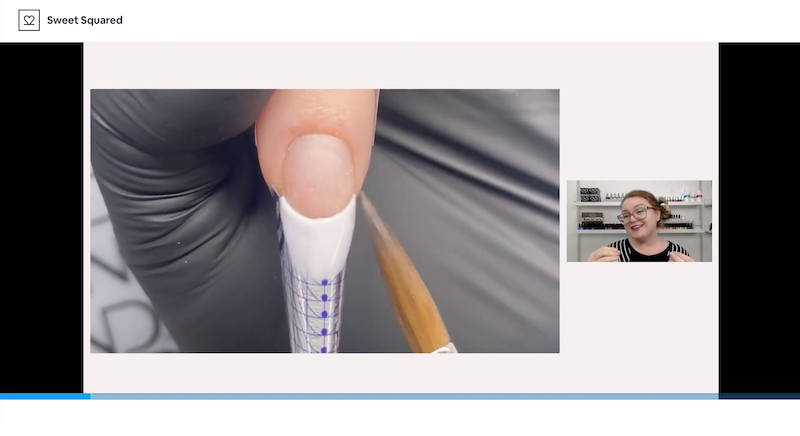 Over the years, I have found that spring/summer wedding season provides a tremendous opportunity to gain new clients. People come for professional nail services - manicures, pedicures, nail enhancements – to prepare for their big day and honeymoon. We get to see clients who under normal circumstances, would not be booking in for pro nail services. Providing a beautiful service and overall excellent experience will encourage them to become regular clients, once they connect with you personally, and see how great it is to be your client.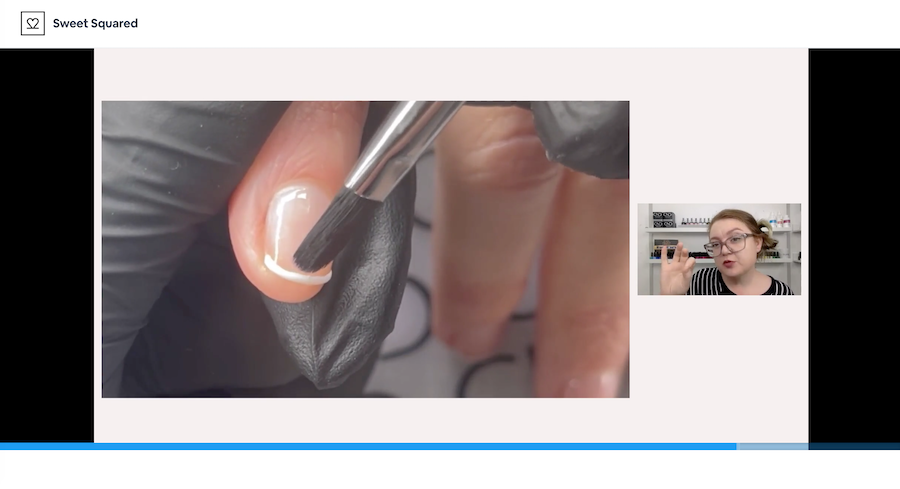 Coming into wedding season, I recommend preparing examples of the kind of bridal nail designs you can create, to demonstrate to your wedding party clients, new and existing, just how gorgeous and fun a little nail art can be. Mark some time out to have a creative play session with your nail art supplies, and push your confidence and skill level up a few notches.
Don't forget to check out the Sweet Squared Bridal Edit for a selection of bridal nail art products and tool to get Nail Professionals through the season. This selection has been thoughtfully curated by CND and me, Fee Wallace.
Check out CND's step-by-steps for their Bridal Nail Designs for this season HERE



This look is so pretty as part of a natural nail CND Shellac Manicure, or over nail enhancements. I created this look over CND PLEXIGEL Nail Enhancements, designed to look like natural nails at a manageable length.
Step 1
Prepare the natural nail for CND Shellac by performing PEP, and applying and curing CND Shellac Base Coat. If it's nail enhancements you are working on, ScrubFresh thoroughly after file finishing and move straight on to step 2 without applying any base coat.
Step 2
Choose a French pink Shellac colour to apply as the base for this look. Consider how opaque you want it to be, and whether you need a warmer or cooler pink to compliment your client's skin tone. Do they prefer something more peach, or something more beige? CND Shellac has multiple French pinks in the range, check out our BRIDAL EDIT to find a curated selection of French pinks perfect for bridal season.
Apply and cure a layer or two of your chosen pink. Here I chose 1 layer of CND Shellac Beau.
Step 3
To create the lace tip, we will stamp using the :YOURS Stamping Plate 'Off The Cuff', the :YOURS Halo Stamper, and the :YOURS Stamping Polish 'White Light'. The key to crisp clean pick up with the Halo Stamper is rolling with gentle pressure over the plate to pick up the design. Apply pressure/press down too hard, and you will find most of the polish is left behind in the plate. Gentle pressure when rolling is the secret to a crisp clean pick up.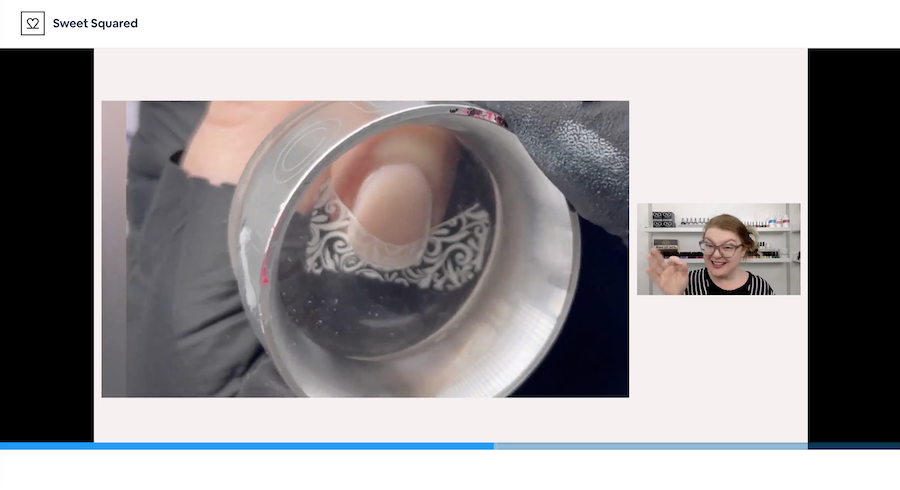 Step 4
Land the stamper onto the nail after carefully lining it up so the curve of the design matches the curve of the smile line on the nail. If one doesn't go right and you want to start over, that's no problem. Just wipe away the design from the nail using d.sperse/IPA on a lint free pad, and go in with a fresh stamp.
Step 5
Finish with the CND Shellac Top Coat best suited to the needs of your client. As I created this design over a set of PLEXIGEL Enhancements, I chose to finish with PLEXIGEL Protector Top Coat. Remember, PLEXI Top Coat should only be used over hard gel or L&P Enhancements, if it's a natural Shellac Manicure service, always use a Shellac Top Coat.

VINTAGE LACE NUDE




French isn't for everyone. Many Brides will opt for a nude, skin tone shade to coat all ten nails. Here we added a subtle touch of bridal nail art with a delicate shimmer down one side of the nail. This provides the illusion of slimness by changing the way the light reflects on the surface of the nails as the wearer moves. The total look is interesting and different while maintaining a delicate refinement.
Step 1
Begin with two cured layers of a nude Shellac shade to compliment your client's skin tone. I chose Shellac Silk Slip Dress, I find this colour looks phenomenal on just about everyone – a tall order for a nude! It is by far my favourite nude Shellac colour in the entire range.
Step 2
On to the sticky top film of the cured Shellac colour layer, stamp on the lace design. Here I have used the :YOURS Stamping Polish 'Nude Hazel'. Using a stamping polish closer in colour to the base Shellac colour, will contribute to a more subtle overall result. You could use white or a brighter peach stamping polish such as Nude Nature for a more stand-out result.





Step 3
After stamping the lace design onto the sticky top film of the cured Shellac colour layer, the background Shellac colour will still be sticky. This is the surface we will apply the :YOURS Element Pink Pearl. I like to apply dry pigment powders with a soft dry brush such as the Lecenté P1 Brush. Take a tiny amount of powder on the tip of the brush, press it on to the side of the nail where we placed the stamp, clean off the brush on a dry towel or pad, and proceed to blend the powder into the nail surface. This will create a beautiful pink sheen along one side of the nail, reflecting the light in an interesting way.
Step 4
Finish with the CND Shellac Top Coat best suited to the needs of your particular client.
Thanks so much for checking out the blog!
You can join me, Fee Wallace, LIVE on Academy2 every two weeks for my regular show for Nail professionals, Tune in Tuesday. Register ahead of time to watch live or to receive a link to the recording to watch at your leisure.
https://www.sweetsquared.com/academy2-live/
For in-depth analysis and opinion on CND colours and collections, join me over on my own blog, where I publish colour comparison pictures, nail design step by steps, and product recommendations for trending nail looks.
If you are looking for more step by steps, tutorials and discussions about products and techniques, join me over on social media. If you try out any of these design I'd love to hear how it goes for you – please tag me in your photos!
Facebook - https://www.facebook.com/fee.wallace
Instagram - https://www.instagram.com/fee_wallace
TikTok - https://www.tiktok.com/@fee_wallace