KUPA - world-wide renowned creators of the leading E-Files, hits the U,K. through the famed Sweet Squared… and we couldn't be more excited to give the UK & ROI nail pro what they are dying to get their hands on - the 'Lambo' of all E-files - the KUPA MANIPro Passport!!
KUPA are known for their high-quality, premium E-files designed for enhancement pros due to their extensive range of E-files and E-bits and perfect for natural nail pros too.
Founded by Robert Upshaw and Kito Ochi in 1984 to meet the needs of a young and growing nail salon industry, they named their company KUPA - an acronym combining their names Kito, Upshaw and Associates.
The first revolutionary E-file grew from their extensive knowledge of dental products, which is why KUPA is synonymous with quality and has been the winner of the US Reader's Choice Awards for 6 years running!
But where do we start? We understand choosing the right E-file and E-Bits can be overwhelming, so we've created this handy guide to help you along the way. Just choose your favourite MANIpro E-file colour, then select your preferred handpiece and E-Bits to suit you.
The result? A solution for every service, free from filing relief, faster treatment timings, minimum vibrations, multi-tasking and mobile which all equates to salary bumps for you. What more could you want from a single device?
Deliver great services every time with the award-winning KUPA E-file. This powerful yet portable electric nail file has been designed for the Professional Nail Technicians who demand power and portability. The MANIPro Passport® comes complete with a stainless-steel belt clip and a plastic handpiece holster which can snap on either side of the control box.
Ultra Smooth/Quiet/Vibration Free
Acetone Resistant Finish Control Box
Compact/Lightweight
Portable/Rechargeable
8-10 Hours of Battery Life
Variable Speed Control
Forward/Reverse Button
Illuminated Power Indicator
High Torque/30,000 RPM
Quick Charge System – 2 Hours Full Charge
110V/220V Automatic Switchover
Compatible with KP-55 and KP-60 handpieces

Available in 7 sleek colours:
White
Princess - Baby Pink
Rose
Phantom - Matte Black
Prince - Sky Blue
Red
Black
You may be wondering which handpiece to choose for your MANIpro Passport. The good news is, you really can't go wrong with either! We often recommend the kp-60 handpiece as it is lighter weight and shorter in length. However, some techs do prefer something a bit larger and heavier. The kp-55 handpiece will have extra weight and the slightly higher rpm.

The kp-60 handpiece (top) is 4.25 inches long, 0.8 inches wide, and weighs 4.23 ounces with 25,000 rpm. The kp-55 handpiece (bottom) is slightly larger and heavier at 5.35 inches long, 0.78 inches wide and 5.6 ounces at 30,000 rpm.

These are basically the only differences, and we find that most of our customers are happy with either!


KUPA E-BITS
With a vast selection of E-bits ranging from fine to XXCoarse in Carbide and Diamond, perfect for shaping, filing or removal, there's a bit tool to suit you and your services.
Perfectly balanced for ultra-smooth cutting action.
Dual direction is ideal for both left and right-handed techs (excludes Typhoon E-bits)
Made of 100% Tungsten Carbide
Fits e-file machines with a 3/32" collet closing mechanism
Made in USA

BARREL E-BITS

The Barrel Carbide E-bits are used for surface work, shortening acrylic and gel product, backfill cutting and c-curves. The only difference between a large-barrel bit and a small-barrel bit if the circumference of the bit, allowing for nail techs to choose their preference. Available in Fine, Medium, Coarse, XCoarse and XXCoarse.

CONE & UNDER NAIL CLEANER

The Cone bit can be used under the nails, at the cuticle or sidewalls and can also be used on top of the nail as well, however it's not the preferred shape for surface work on artificial nails.

The Under Nail Cleaner is a thin shank carbide bit with a sharper cone shape to fit under the nail. It can also be used for piercing the nail.
3-IN-1

The 3-in-1 Carbide bit does three different jobs: shaping, shortening, and cleaning under the nail. A combination of a small and large size, this bit is the perfect shape to work around the cuticle area. The 3-in-1 Bit is synonymous with efficiency, saving time on changing out E-bits during a service. Pros can also use this bit for cuticle refinement because of its blunt cut.
TYPHOON E-BITS

Designed with nail technicians time in mind, these specially designed Carbide Typhoon E-bits are one directional (for Right Hand use only) and are the best for debulking enhancements. The Typhoon Radius bit has a rounded/ tapered top for safely working around the cuticle Available in Fine, Medium, Coarse and XCoarse.


DIAMOND E-BITS

Manufactured from stainless steel and are impregnated with diamond particles used to refine nail work.
A diamond bit, sanding band, and hand file can be used interchangeably for portions of a nail service.
These E-bits shape the nail with grit like a hand file would. Use a diamond bit for light buffing and prepping.
Fits e-file machines with a 3/32" collet closing mechanism.

DIAMOND MANICURE & ENHANCEMNT E-BITS

The Diamond 2-in-1 Manicure bit a slim round-topped surface that is so smooth it can be used on the natural nails to prep and smooth ridges on the nails and toes.
The Diamond Enhancement bit features a slim flat-topped surface that is so smooth it can be used for preparation for L&P or hard gels, and for smoothing ridges on the nails and toes.


SANDING BANDS
Manufactured in the USA to Japanese standards. Sanding Bands come in a handy 100pc dispenser pack and are barrel shaped with cloth inner sleeves that allow them to be used in wet environments. When used in combination with our new Easy-Off Mandrel, the bands hold firm while in use but are easily removed. Excellent for use in both manicure and pedicure service. Please note that Sanding Bands are designed for single use only and cannot be disinfected. Available in Fine, Medium, Coarse and XCoarse.

Check out this handy cheat sheet to help you understand what E-bits to replace your hand files for.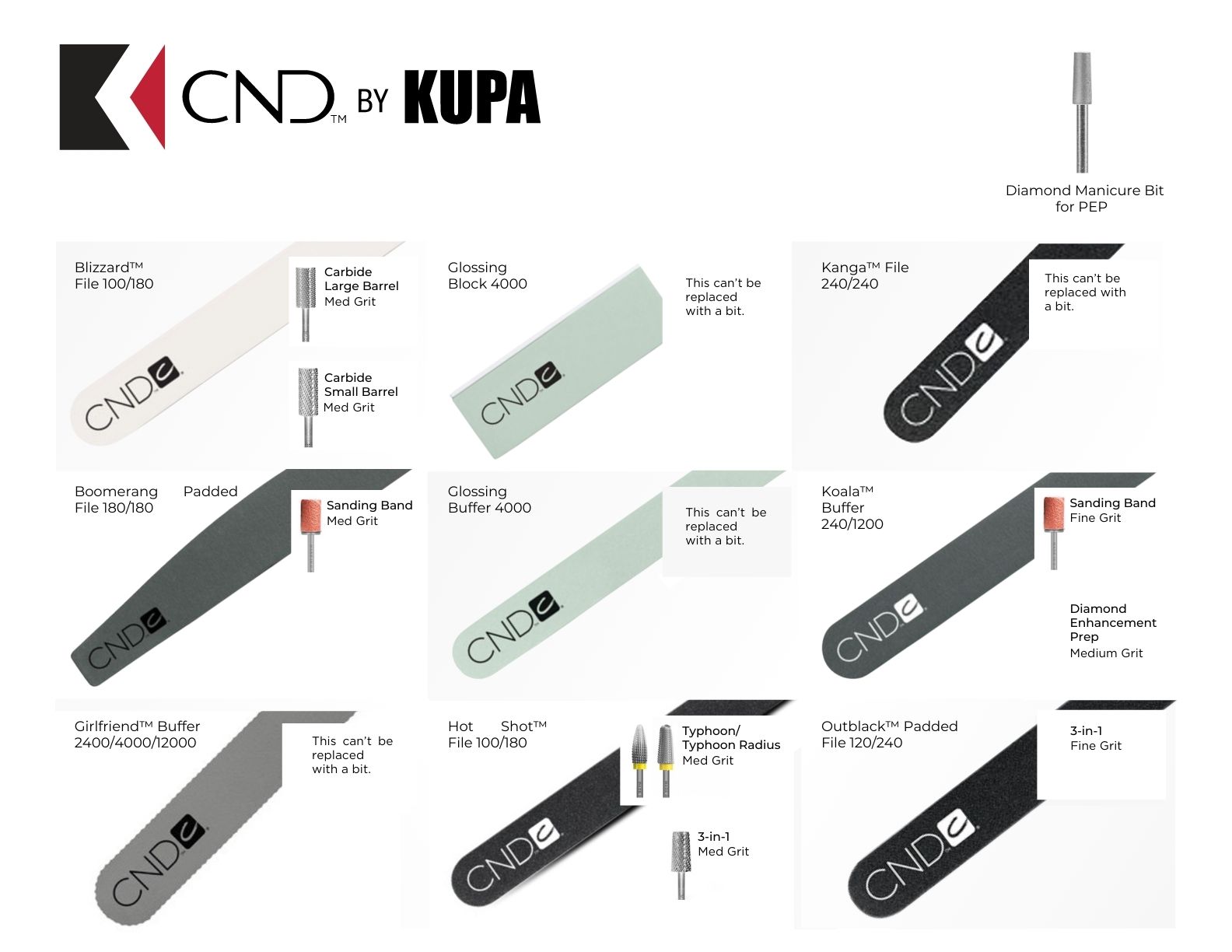 KUPA SERVICE CENTRE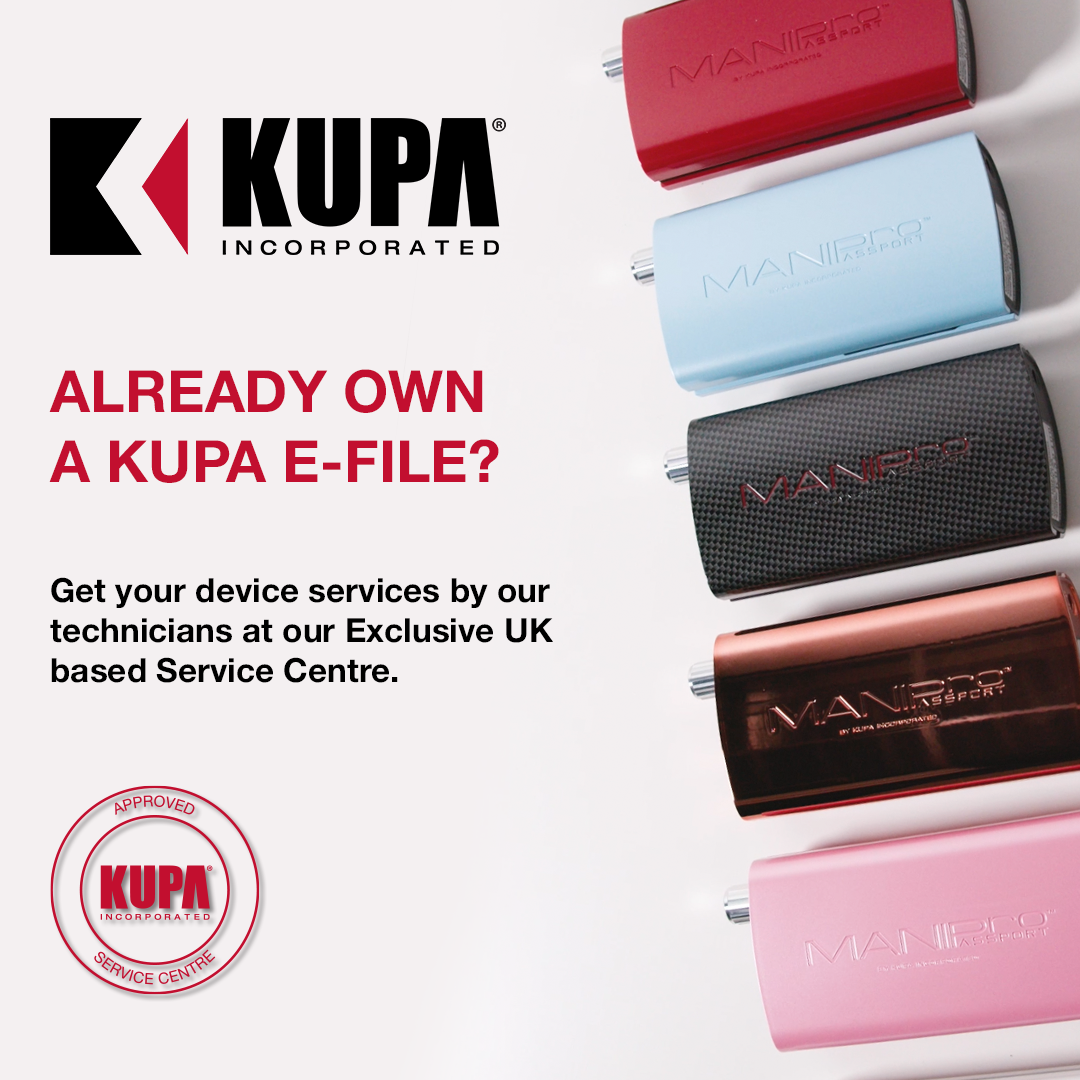 As the exclusive KUPA service centre in the UK, our technicians are based in-house at Sweet Squared to keep your KUPA E-file operating as brand-new. Whether your E-file is running slow or needs new parts, we suggest an annual service to extend the longevity of the device and prevent more costly repair bills in the future.
To book your service, call us on 0333 000 7000.