Posted by Fee Wallce on 7th Dec 2021
The festive season is almost upon us, what a time to be a Nail Professional! I love that clients are more adventurous at this time of year. Even those clients who already like to experiment and wear nail art all year round, will be even more up for something fabulous and fun. Exciting times for us and for them.
Light Elegance provide us with so many incredible products to delight and excite our clients. When it comes to nail art, I adore the LE ButterCream line. This winter season we got 6 new colours, all the names inspired by winter sports. The 6 colours are beautiful examples of classic nail colours perfect for the season.
In the real world salon environment, I favour nail art that can be created quickly with as little fuss as possible, while still looking incredible, making my clients stand out from the crowd. In this blog I'll be sharing my step-by-steps for 3 Xmas nail art looks I'll be using to decorate my clients nails this season, all created using the new WINTERPLAY collection, with a few extra art supplies available from Sweet Squared.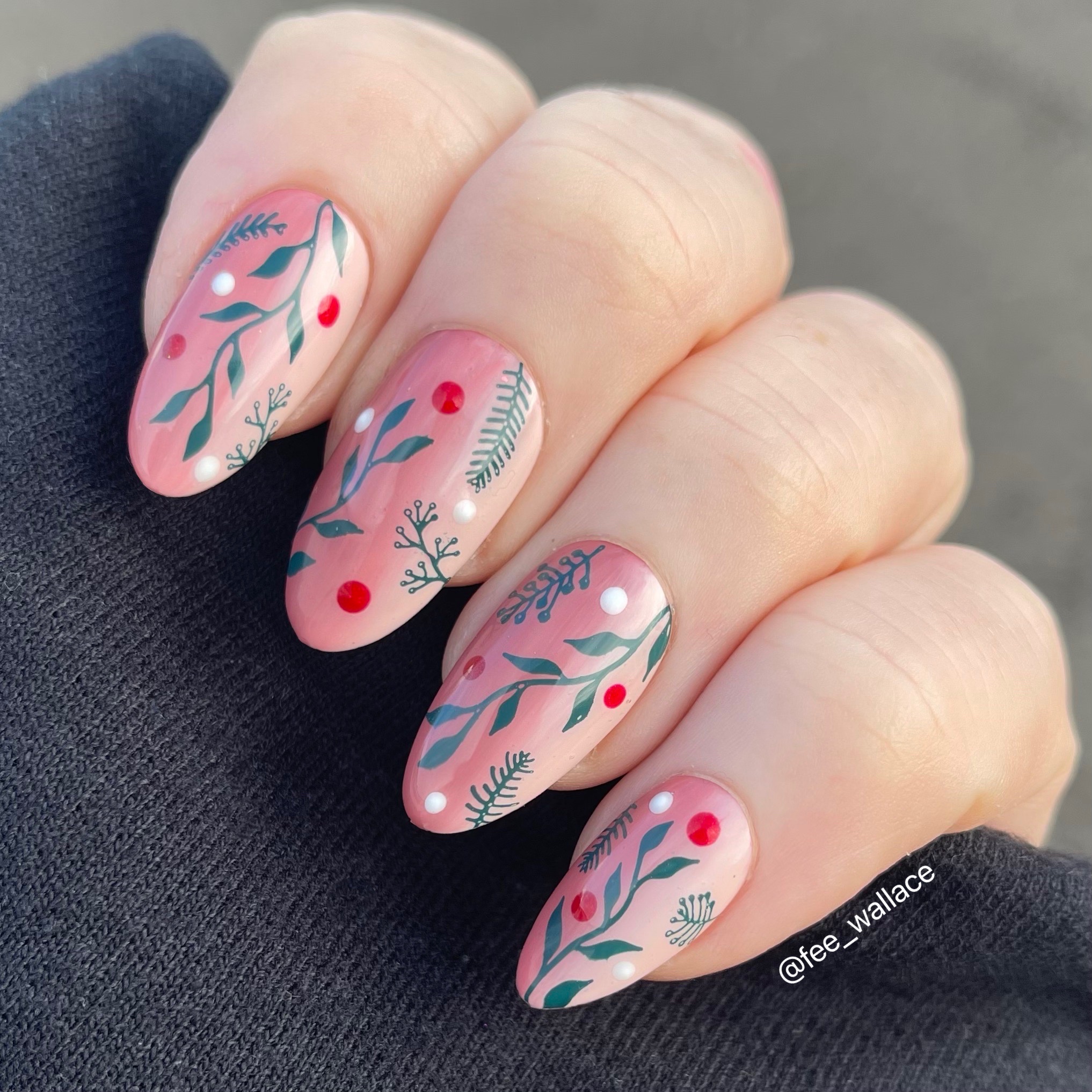 I would like to begin with a design I have completely fallen in love with...once I call Berries 'n' Branches. I'm hoping lots of my clients choose to have this look for their festive nails. The simple vertical ombre, with the festive botanical details is a combination I think works particularly well. To create this design, you will need:
Step 1
To a file finished, cleansed nail enhancement, apply LE ButterCream Toboggan Time to one half of the nail, cuticle line to extension edge, taking care to create a sharp clean outline. Do the same on the other side of the nail with LE ButterCream Bunny Slopes. Don't cure the colours till you have completed Step 2.
Step 2
Use your gel brush to blend the colours together using long smooth strokes, from cuticle line to extension edge. This can take a little practice, and you might find you need to go back over the nail with extra strokes a few times. In the long run you should be aiming to make the fade appear with as few strokes as possible. Cure once you are happy enough with your vertical ombre.
Step 3
Apply :YOURS Green Tree Stamping Polish to the trail of leaves in the centre bottom of the clean Artful Aperture stamping plate and immediately scrape over once, firmly, with a scraper card. Roll the :YOURS Halo stamper gently over the plate to pick up the design.
Step 4
Transfer the trail of leaves design directly to the top film of the cured ButterCream layers already cured on the nail. I positioned them differently nail to nail.
Step 5
Add more foliage details again with the :YOURS Green Tree Stamping Polish, this time picking out little sprigs of mistletoe and ferns from the :YOURS Loves Nataliya Dear Santa Stamping Plate.
Step 6
I added the little glistening berry details with LE ButterCreams and a dotting tool, but you could do this with a stamping polish if you prefer. I found that less is more with the berries, just 2-3 of each colour, nicely spaced out, is plenty.
Step 7
Finish with the LE Top Coat of your choice.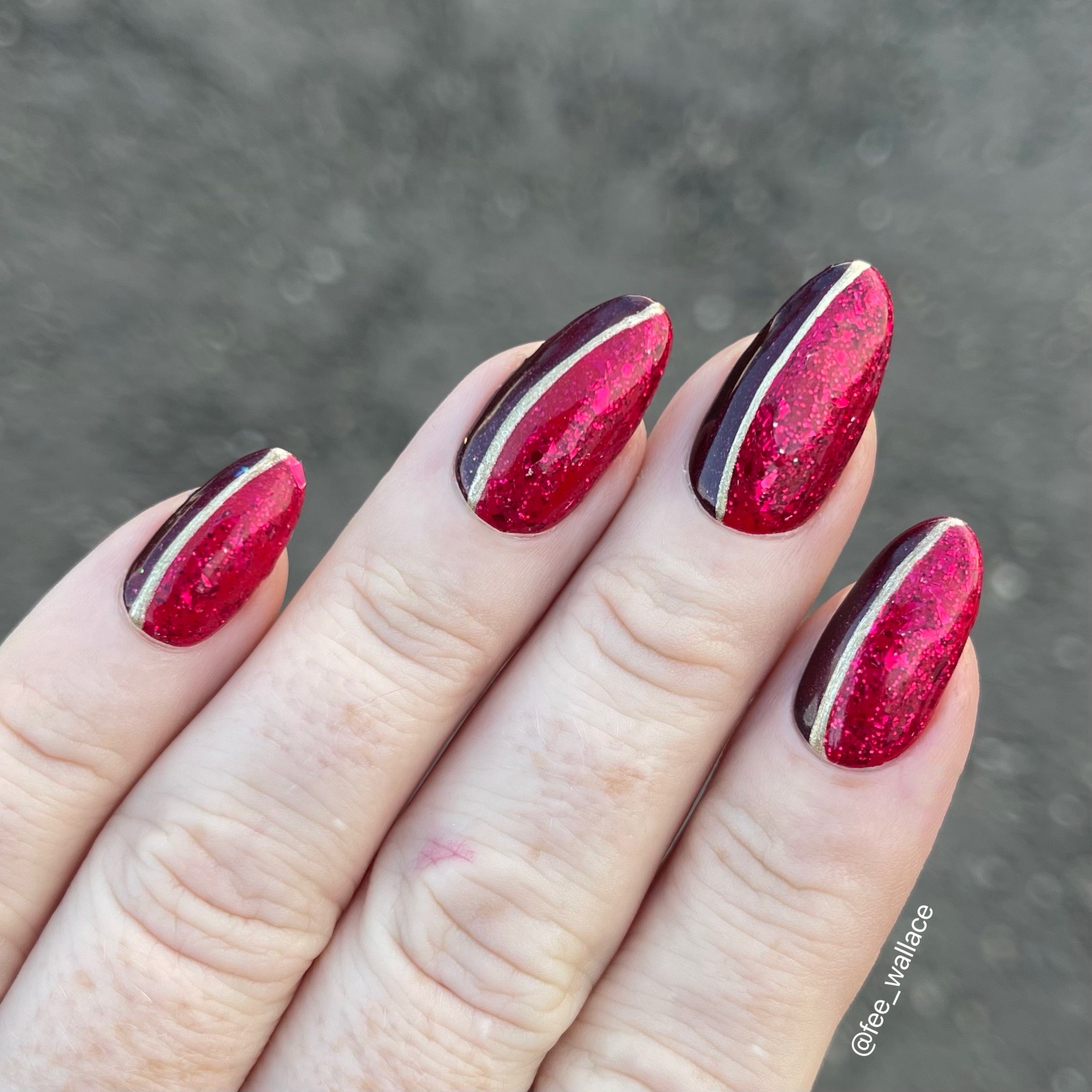 This classic design is ideal for those clients who want to keep it chic, while wanting their nails to be fully dressed for the season. The colour combination had me thinking about the Nutcracker Ballet, and some premium Xmas tree decorations I received as a gift recently. To create this design you will need:
Step 1
Apply and cure a layer of Snowshoe for Two ButterCream to the entire nail. Remember, ButterCreams are a hard gel, and are designed to be applied to a finished nail enhancement, or to a layer of builder gel.
Step 2
Take a little Pucks & Penalties on your brush and apply a section down the outside edge of each nail, then cure.
Step 3
With the LE P+ Glitter Mariachi in Mexico, coat the exposed Snowshoe for two only, leaving that shadow section we created in the last step, free of glitter. Then cure. Be sure to give your P+ Glitter a good thorough shake before application.
Step 4
Take a small amount of LE ButterCream Gold Metallic on your LE Stripy Nail Art Brush, and paint a long thin stroke of gold down the seam where the two sections join. You can always go in with a clean gel brush to tidy up this line if required. Cure once you are happy.
Step 5
Finish with LE Super Shiny, Top Gloss, or P+ Top Coat.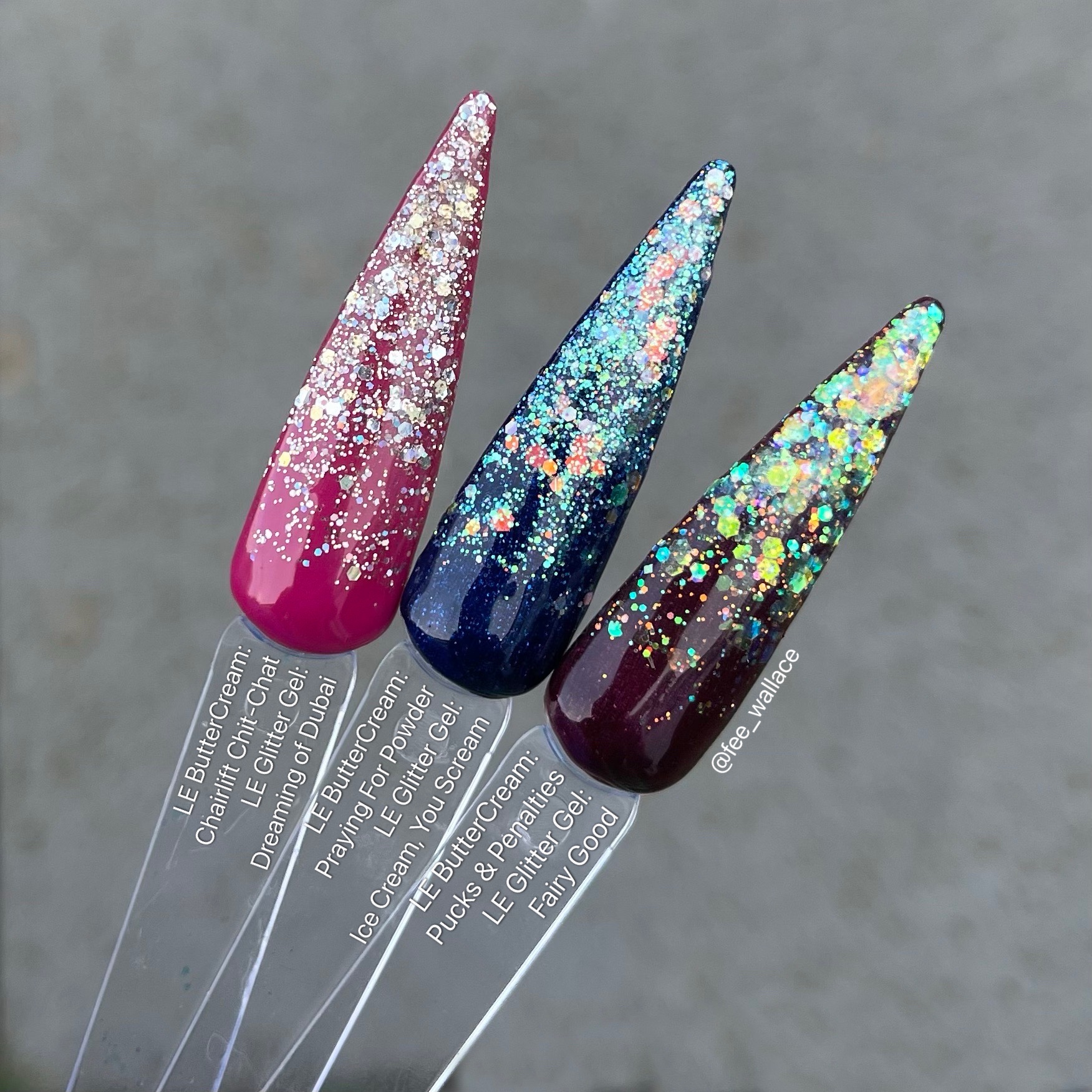 When trying our best to impress our clients, it is easy to forget that sometimes the simplest techniques can be so very effective, and just as thrilling as something more complicated. We know Light Elegance have the most amazing glitter gels, that's probably one of the reasons you starting using the brand. A simple glitter fade over a bang on seasonal colour, is something to behold.
Step 1
After file finishing and cleansing the gel enhancement surface, apply and cure one thin layer of your chosen LE ButterCream background. I loved trying this out with Chairlift Chit-Chat, Praying For Powder, and Pucks & Penalties, from the new WINTERTPLAY Collection.
Step 2
Take a scoop of your chosen Glitter Gel on your gel brush, and lay it down towards the extension edge of the nail. Now feather it back towards the cuticle line to create the fade. There is no need to lay the Glitter Gel on thick. The result will be amazing, even with a thin layer. Applying thin will keep the nail sleek, preventing the finished result becoming unnecessarily bulky. Cure the Glitter Gel layer when you are happy with how it looks.
Step 3
Finish with the LE Top Coat of your choice. I find Super Shiny works well over a glitter fade done in the way I have described, as I can model the top coat a little, almost like a builder type gel, to fill any little dips, and smooth any little bumps.
If you enjoyed this blog, why not join me each Tuesday at 1pm for my weekly, interactive online show – Tune in Tuesdays. We broadcast on Sweet Squared's amazing new education platform, Academy2. Find us there under 'MasterClasses'.

You can watch the show live, or get a link to a recorded version on catch up, and have access the notes and handouts I prepare each week to support the episodes. It's free to take part, but you must register in advance, the recording is only available to those who register before the broadcasts commences.
Have a great festive season!
Fee xxx
Fee on Facebook - https://www.facebook.com/fee.wallace
Fee on Instagram - https://www.instagram.com/fee_wallace
Fee on YouTube - https://www.youtube.com/feewallace
Fee on TikTok - https://www.tiktok.com/@fee_wallace
Fee's own blog - https://feewallace.com/