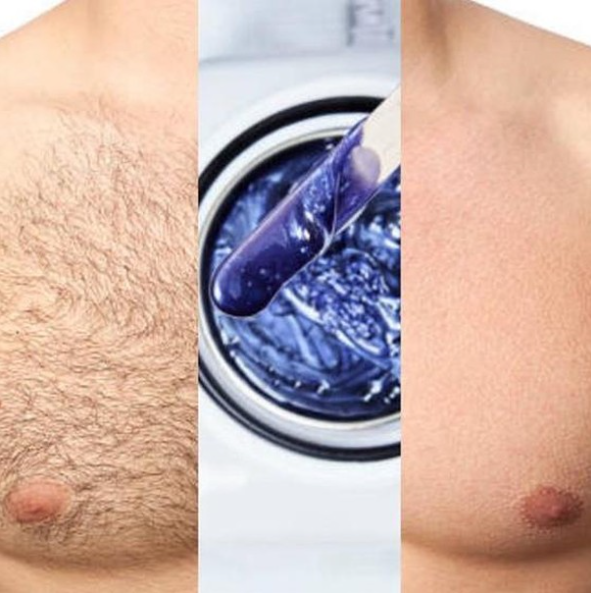 Introducing male waxing into the salon can feel a little daunting, however, it is an excellent way to introduce new clients and additional revenue into your business. With Father's Day round the corner, it is now is the perfect opportunity to start welcoming male clients into your salon.
When considering adding male waxing it is important to remember all waxing follows the same rules but not always the same technique!
The wax:one technique and methodical approach for safe hair removal and client comfort works for ALL clients.  The difference for male clients is likely to be how coarse the hair is, the amount of hair to remove and the length.
After waxing a male client, it is not unusual for the skin to look more reactive than it would with a female client. The hair is generally courser and thicker than a female client, there is also more of it! The appearance of red 'dots' where the hair has been removed is normal, especially on the back and chest. This is more prominent on a client new to waxing and will reduce over the course of their treatments, as the hair becomes easier to remove.
To avoid breakouts after male waxing:
Always make sure skin is clear, cool and fresh after your wax:one treatment
This means NO exercise and having cool showers 
Wear fresh clothes
To ensure the most effective wax treatment, using the correct pre and post wax products will be sure to improve your results. We recommend wax:one Smooth for protecting the skin when waxing and providing a soothing and calming effect post treatment. wax:one Care is a gentle, soothing solution for home care to help prevent and treat ingrown hairs.
Tip: It is a good idea for a back/chest client to bring a clean top/T-shirt/shirt to put on after waxing rather than something they have been wearing all day.
Treatment Technique/Tips
For Back and Chest:
The amount of wax you use will be depend on your clients' skin and hair type
It is essential you use wax:one Hot Wax on the more delicate areas of skin i.e. the most upper back/chest, around the nipples and neck where the hair is more course
Treatment Technique/Tips
For Eyebrows:
Hot wax should be used for all facial waxing
A male eyebrow wax tends to be a much easier and more straightforward treatment than a female eyebrow wax would be
It is important that the male eyebrow looks 'groomed' without defining the arch too much or giving a feminine look
A male client usually prefers a neat, tidy but still masculine, end result
Treatment Technique/Tips
For Nostrils:
Nasal waxing is the 'hidden secret' of the waxing world! 
Although very popular with clients who have discovered the treatment, many clients (both male & female) do not know it is an option. This is a quick way to introduce an add-on treatment to your clients and to increase your revenue!
Nasal waxing quickly removes all visible nose hair leaving a smooth, clean result
As male nasal hair is thicker and more course - taking smaller sections will be more comfortable for your client
Treatment Technique/Tips
For Ears:
Ear waxing is often an unknown option to clients
Male clients especially use all sorts of contraptions to attempt to remove visual, unsightly hair in and around the ear area!
Ear waxing with wax:one Hot Wax is a simple solution for these clients and a quick, valuable add-on to your treatment list in the salon
Shop wax:one:
Shop the full wax:one range here.