Posted by Hannah McAndrew on 30th Sep 2021
Peptides have been around a long time in the skin care industry - but what exactly are they and how can they benefit our skin?
Firstly, it's important to note that peptides are the building blocks of proteins. Consider the fact that collagen is the most abundant protein in the skin and you'll realise how peptides are essential building block ingredients for collagen production, which in turn gives a more youthful looking skin. Collagen fibres are packed into younger skins, supporting the dermis to make the skin more plump and wrinkle free. With age, collagen is lost naturally (and also accelerated with exposure to UV light), resulting in a sagging skin with lines and wrinkles: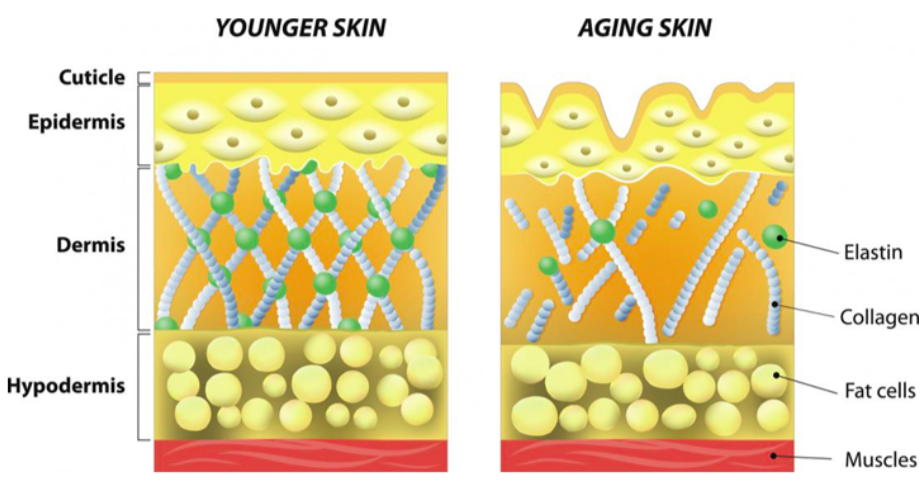 There are many treatments and ingredients on the market to stimulate collagen production, such as peels, retinoids, lasers and micro-needling; these 'kick start' the fibroblast cell in the dermis to produce collagen. But what about giving the skin the ingredients it needs to assemble the collagen? This is where peptides come in. The body can obtain peptides from the diet if a person consumes protein, this is why collagen peptide oral supplements are so popular in recent years. Peptides however have been used in anti-ageing skin care products for over 40 years.
The drawback with applying peptides topically (the idea being the peptide needs to enter the skin cell itself in order to be used to assemble collagen), is the skin cell struggles to absorb them. Sometimes this is due to size (which is why creams containing collagen simply do not work - collagen is a huge structure and struggles to get through the epidermis) or the peptide itself is polar - a scientific term for distribution of charges in a molecule. Put simply, the charges prevent the peptide from entering a skin cell as the skin cell's membrane is non-polar.
So what can be done to enable peptides into the cell where they are needed most? The answer is 'delivery systems'. Nimue Skin Technology have been utilising delivery systems in their skin care for over 20 years, and have the most diverse line up of delivery systems in the skin care market today. Delivery systems package the peptides (along with other active ingredients) in order for them to be able to penetrate the skin. Nimue's AI (Age Intelligent) range uses liposomes (that mimic a skin cell membrane), polarised water and conjugated platinum complex to enable its peptide based skin care to reach exactly where it needs to be within the skin.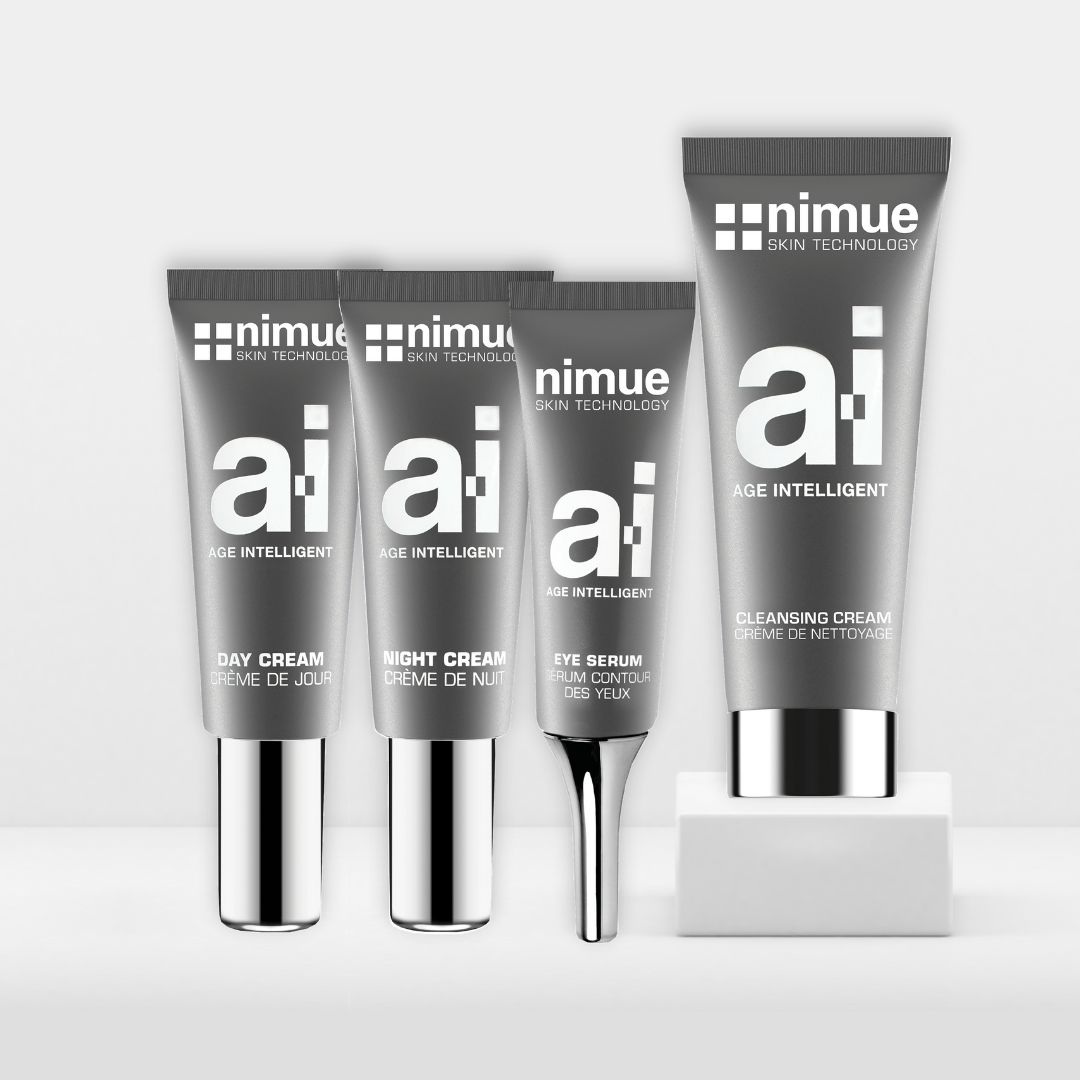 Nimue's AI range consists of a Day Cream, Night Cream, Cleansing Cream, Face Serum and Eye Serum. All are aimed at people over 40 and are suitable for sensitive skins, which is ideal as many retinoid or acid based skin care ranges are unsuitable for the mature, sensitive skin.
Nimue AI Day Cream, Nimue AI Night Cream and Nimue AI Cleansing Cream
Nimue's AI range contains ingredients such as chicory root to enable DNA repair (vital for chronologically aged skins), hydrolysed myrtle extract for better cell to cell communication and anti-glycation (glycation is a wrinkle caused by sugar in the diet) and most importunity the conjugated platinum and peptide complex which boosts collagen and elastin production. The Face Serum is the strongest product in the line up with the addition of glucoronic extract to boost hyaluronic acid production in the skin for additional plumping and hydration. The Eye Serum also contains sorghum bicolour stalk juice which provides an instant lift and tightening to the delicate eye area, one area most people find ages first.
Nimue AI Face Serum and Nimue AI Eye Serum
While active ingredients such as AHAs and retinoids are still usually needed for anti-ageing, peptides are an under-rated addition to a skin care routine and are definitely worth trying if ageing is the major skin concern.
To find out more about Nimue Skin Technology or to shop the range, please click here.