Q&Lu Spa Essentials, the all-natural spa line from Light Elegance, is the ultimate in self-love and care. Great chemistry combined with premium ingredients, no artificial dyes or fragrances, results in a soothing spa experience tailored for hands, feet and skin. Q&Lu products are the new standard for clean, honest beauty, plain and simple.
Q&Lu Spa Essentials uses all-natural ingredients and essential oils found in nature to detoxify, eliminate dull/dry skin, hydrate and add a luminous glow without harmful chemicals, artificial dyes, preservatives or synthetic fragrances.
Q&Lu Spa Essentials offer a herbaceous blend of Mint, Lavender, Basil, Tee Tree Oil and more. Invigorate, energise and uplift, while adding a cooling effect to reduce fatigue and tension.
MEET THE ESSENTIALS RANGE

Four easy, multi-functional products for manicures, pedicures and home care. Similar to the Light Elegance gel products, they put the power in the hands of the professional. Q&Lu Spa Essentials are customisable, convenient and cost-effective. A pure and simple range of products for hands, feet and skin.





Q&LU SALT SOAK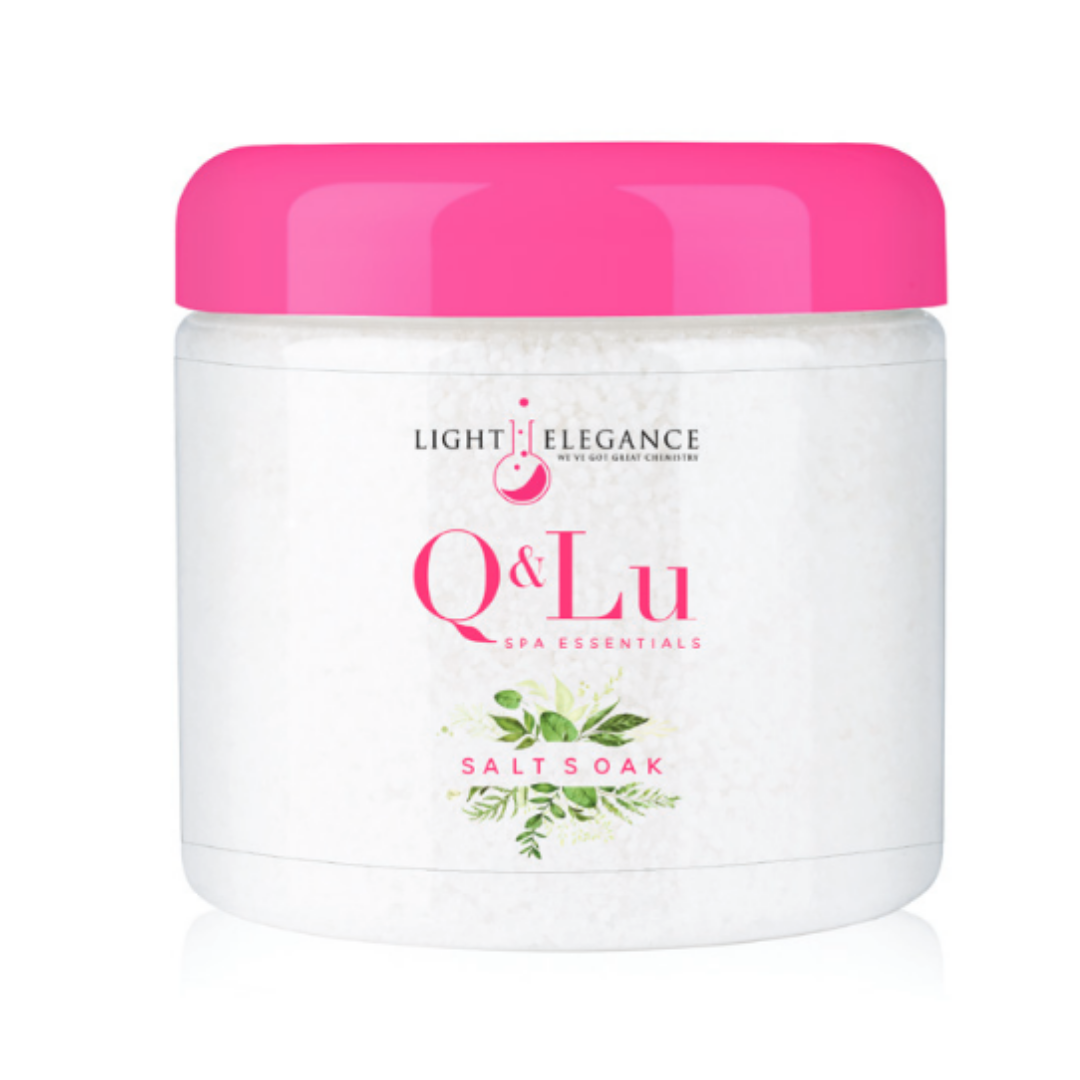 Q&Lu Salt Soak is an ultra-fine and lightly fragranced salt to soften cuticles and calluses.This luxurious soak has a gentle foaming action and contains Dead Sea Salt, Epsom salt and essential oils of lavender, peppermint, spearmint and sage to nourish skin.

Top Tip:: When retailing, tell your clients to mix Salt Soak, with Spa Oil and create a beautiful scrub. Or add Salt Soak to a warm bath, for a relaxing me-time.

Q&LU BAMBOO POLISH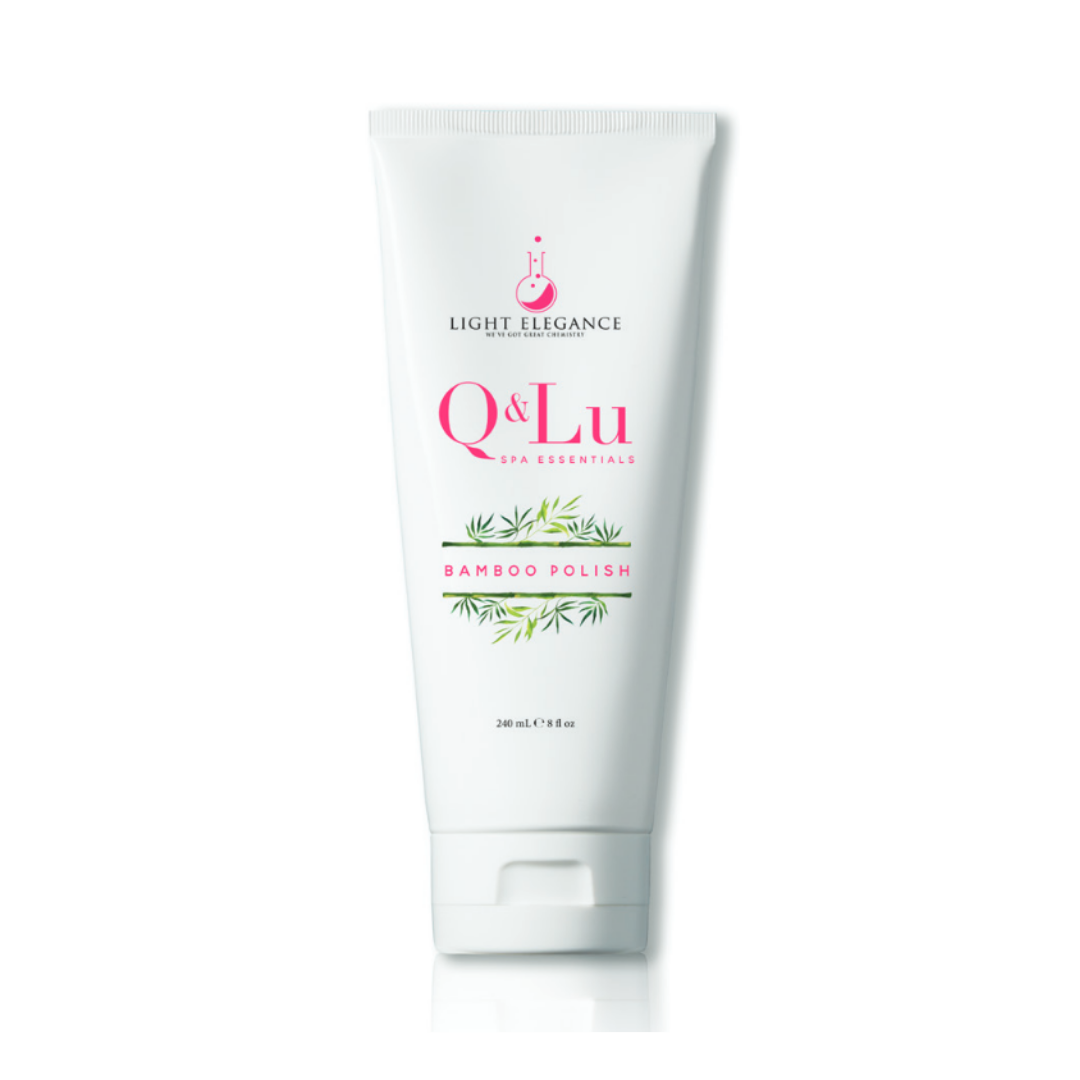 Q&Lu Bamboo Polish is a 2-in-1 product. An effective exfoliating scrub for hands, arms, feet and legs that can be used as a mask to alleviate tension and draw out toxins with a cooling effect. Contains natural bamboo, volcanic ash, along with lavender and tea tree essential oils to eliminate dry skin, increase circulation and soften skin.
Top Tip:: Bamboo polish can be used as a mask by applying to skin, wrapping in warm towels or at home as an all over body scrub

Q&LU SPA OIL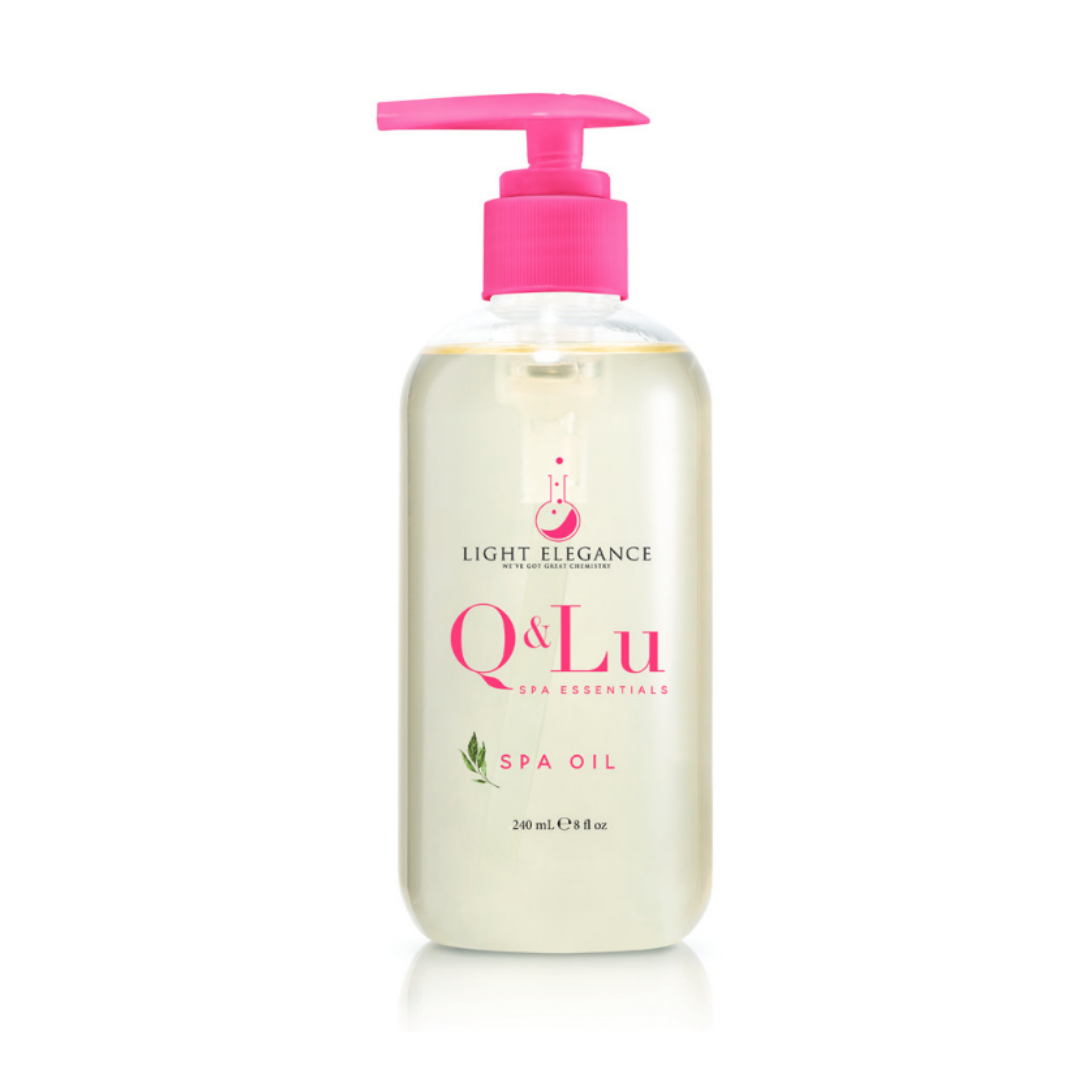 Q&Lu Spa Oil is a proprietary blend of natural and essential oils for massaging hands and feet. Contains grape seed oil, sunflower oil, vitamin E and essential oils of mint, basil and lavender to relieve tension, ease sore muscles and uplift the spirit.
Top Tip:: Add a few drops of Spa Oil to a warm, moist towels for an uplifting experience or apply to damp skin after a shower to awaken the senses and soften skin.


Q&LU BAMBOO LOTION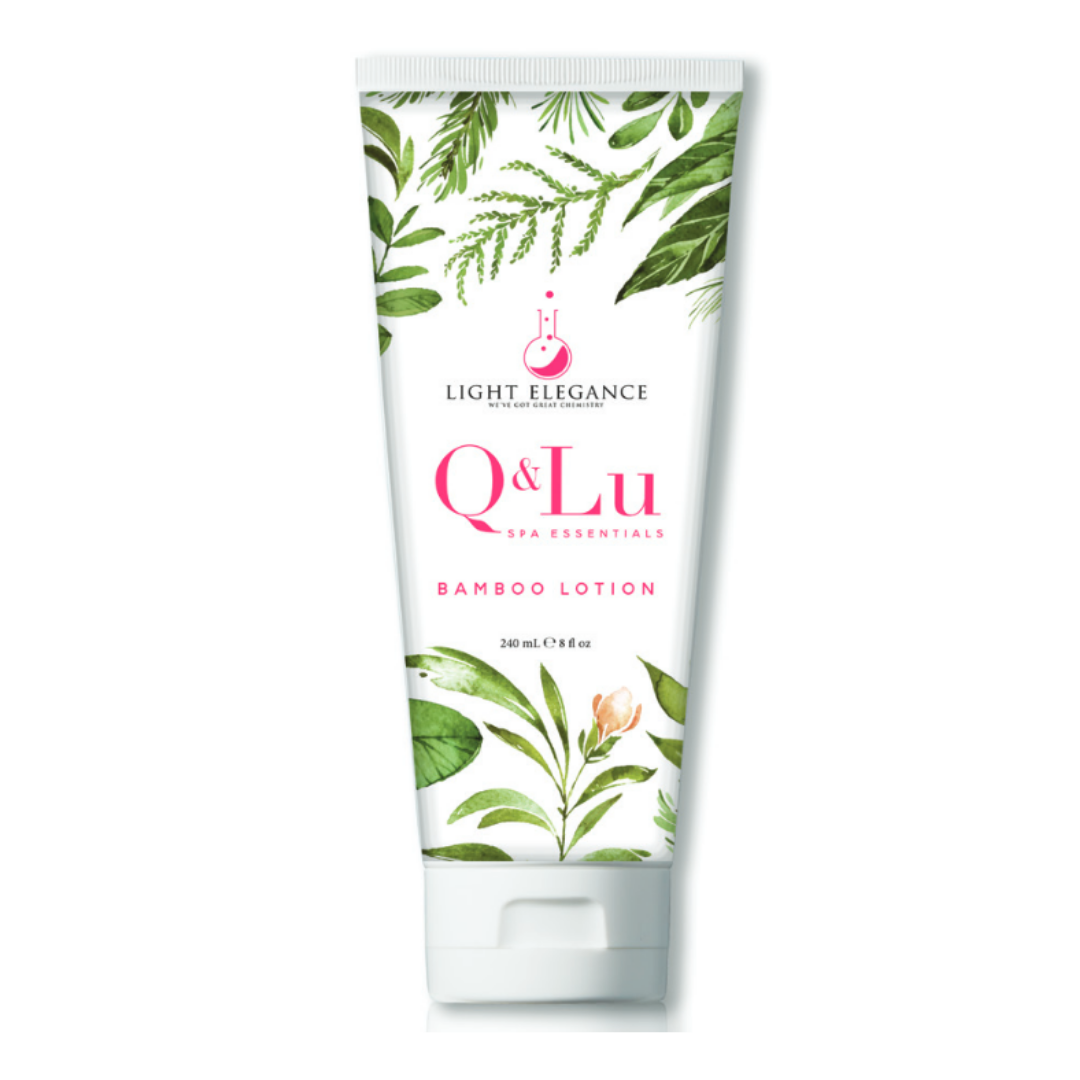 Q&Lu Bamboo Lotion is a hydrating hand, foot and body moisturiser. Perfect for message during salon services. Shea butter, grape seed oil, sunflower oil and bamboo extract allow for a relaxing message without a greasy feeling. A proprietary blend of essential oils are refreshing and uplifting for both men and women.
Top Tip:: Massage into sore tired hands or feet to relieve tension and revitalise the senses.

Also available in travel size, perfect for retailing. In this video, Lezlie talks all things retail and how you can, and should be offering these incredible products to your clients so their spa experience and nail-care can continue at home and while on-the-go!
APPLICATION TUTORIALS

Learn how to do fast, easy wet and dry manicures and pedicures using Q&Lu Spa Essentials in these informative video with Lezlie McConnell.
THE Q&LU STARTER KIT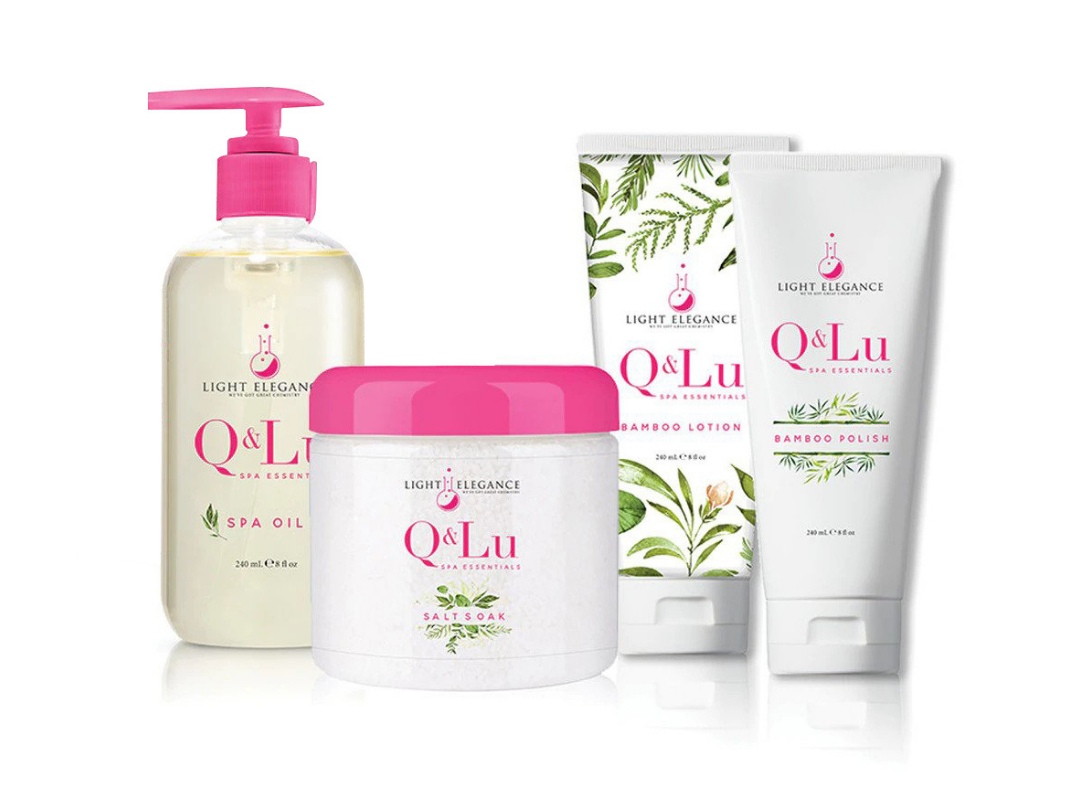 Transform your services, and your skin with the Light Elegance Q&LU Starter Kit. Containing four easy, multi-functional products for manicures, pedicures and home care.