This season :YOURS are launching their NEW winter collection, Holy Nights. Consisting of Element Pigments, Stamping Plates and Holographic Stamping Polishes, the collection provides you with endless nail art possibilities.

Watch as nail techs from around the globe show you a step-by-step tutorial for how to create different nail art looks using the collection.

The NEW shine effect Elements, Green Forest, Orange Fire and Silver Stone are designed to make your nails shine like a diamond.Shades Red Romance and Purple Velvet are new additions to the colour effect pigments, ensuring you have a great festive mix of colours and textures to get your clients in the party spirit!
You can combine these pigments with stamping plates, apply them to the inhibition layer of gel polish or mix them with gel, acrylic or normal polish to create a bespoke design. These pigments are 100% plastic-free with paper packaging that uses 90% less plastic compared to the current market, making them much better for the environment.


As part of the NEW collection, :YOURS are launching two brand-new double-sided stamping plates, both perfect for the colder months! Following on from last winters :YOURS Loves YOU collection, these plates have been designed in collaboration with nail techs from across the globe. Wrap up warm with Winter Woolly and embrace the patterns that adorn your cost knits or get into the festive spirit with Take a Bow and dress your nails in beautiful Christmas embellishments.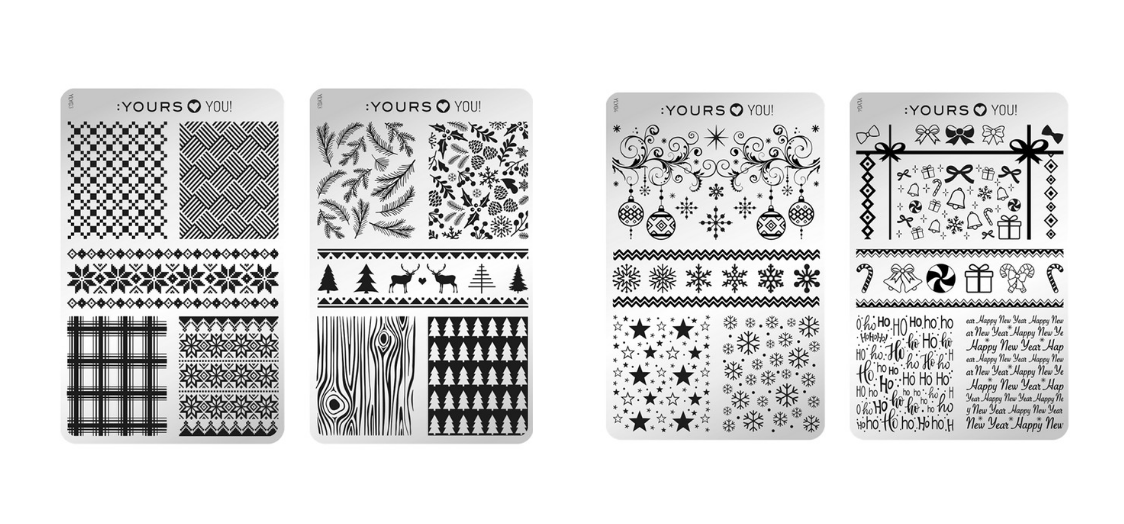 Party season never looked so good with the brand-new winter Stamping Polishes from the Holy Nights collection! Featuring five new shades that boast a new holographic effect, these fabulous stamping polishes contain the same high pigmentation we've come to love from :YOURS with a little added glamour!