Posted by Fee Wallace on 3rd May 2022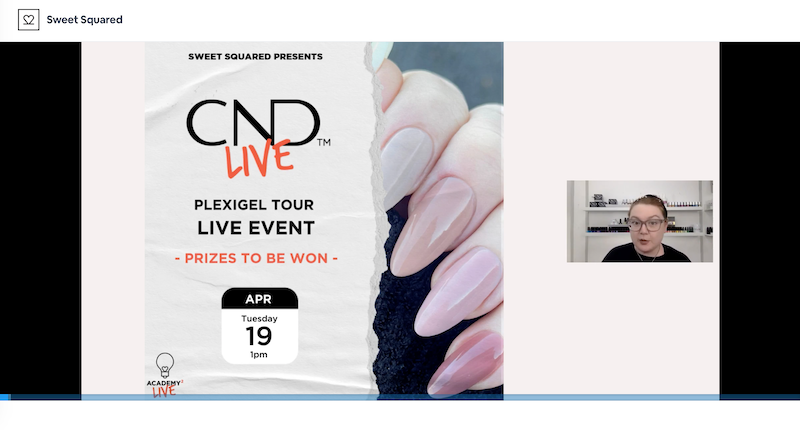 Sweet Squared's CND PLEXIGEL TOUR has brought Nail Professionals together all over the UK for a day of amazing education, community, fun, new products, and prizes. Once the tour had completed its run of 12 dates in 10 UK cities, I was delighted to take the PLEXIGEL Tour online, for my fortnightly live webinar show, Tune in Tuesday, on Academy2.
Thanks to everyone who registered, tuned in LIVE, and watched back on catch-up. We had a great time sharing the content of the tour with those of you who were unable to attend a tour date in person.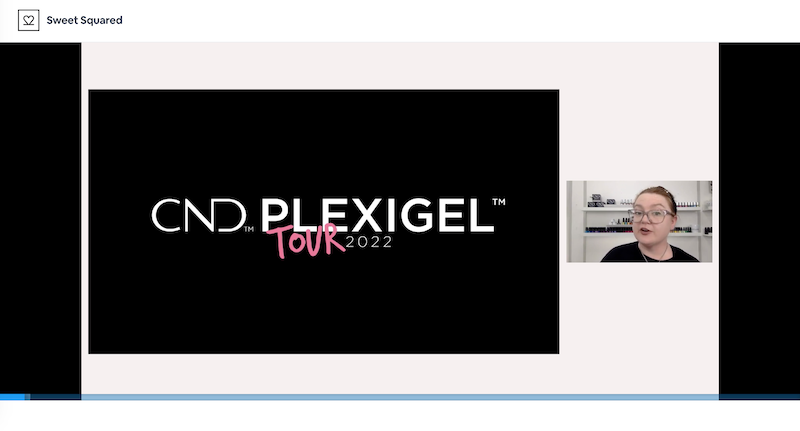 Throughout the show we received lots of excellent questions about CND PLEXIGEL. In this blog you will find the detailed Q&A as promised. If you submitted a question, thank you, and I hope this answers everything to your satisfaction. Remember you can always join me over on Facebook to discuss all things CND and nail industry related.
It was a joy to host a giveaway throughout the show. Huge congratulations to our 5 lucky winners, who each won a PLEXIGEL Tour Kit, courtesy of Sweet Squared!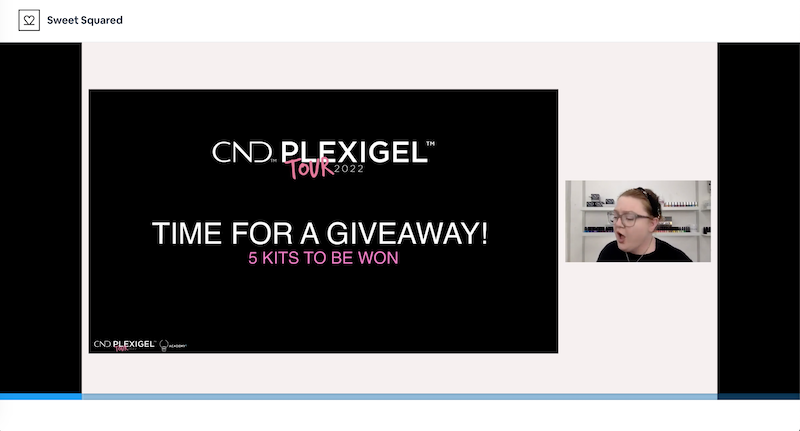 Q&A

Q: Please help, my PLEXIGEL Shaper brush has set solid mid application from the sun coming through the window! How can I soften it again?
A: Your brush is a super important part of the system, having product stuck in it from sunlight exposure is going to be a real pain! Anything we might use to try and soften the cured product will likely damage the brush wand and hairs, and also contaminate the brush, effecting your next few applications. My advice is to use an undamaged brush from another bottle of PLEXIGEL Shaper and swap it out. If you don't have an old bottle handy, this might mean purchasing a new one, but it will be worth it! You will be able to use the product up from both bottles, just swap the brush back over when you finish your current bottle.

Q: Can you use Plexi as a rebalance to acrylic?

A: Absolutely yes! Lots of us are doing this successfully, it's better for you and your client not to have to completely remove the old acrylic product and start again with a new set if the nails are in decent condition. I recommend ensuring the filed down acrylic product is roughed to a 180 or lower, and be sure to apply a thin layer of PLEXI Bonder to the entire nail surface, not just to the prepped natural nail.

Q: Can we use Shellac Luxe on top of PLEXIGEL?

A: Yes you can use the now discontinued Shellac Luxe line as a colour coating over CND PLEXIGEL. Finish with Luxe Top Coat if you still have some, or alternatively, use a Shellac Top Coat to finish. I don't recommend finishing with PLEXI Protector Top Coat over Luxe, as it is a hard gel top coat and Luxe is a softer gel polish colour coat, this combination could result in little cracks appearing in the top coat. This won't happen with Luxe Top Coat or Shellac Top Coat, which are both designed to finish a gel polish colour layer.

Q: Is Shaper good for clients with flaky nails and soft nails?

A: Most certainly yes! PLEXIGEL Shaper is ideal for clients who's natural nails need a little more support in the form a light coating capable of sealing in and holding together de-laminating (flaky) natural nails that are prone to splitting. As with any coating application over delamination prone nails, be sure to very gently remove any flappy flaky bits with a 240 Koala Buffer as part of PREP, so the PLEXIGEL Bonder is able to adhere to nail plate layer that are not already separated from the layers below. Also it's extremely important to advise your client to SolarOil their nails at least twice a day. This will not only limit the dryness that is often a contributing factor with delamination, but it will also importantly keep the adhesion between the product and the nail in good condition, preventing lifting and other general signs of service breakdown.

Q: Can we use PLEXIGEL top coat if we have a layer of Shaper and Shellac?
A: My advice for best results, is to use Shellac Top Coat over Shellac Colour when creating a PLEXIGEL Shaper overlay. However, over a PLEXI BUILDER Gel enhancement, PLEXI Top Coat could be used to finish after applying Shellac Colour. The reason, is that PLEXI Protector Top Coat is a hard gel top coat. And if we apply something hard, over a layer of something soft, the chance is that the top coat will develop little cracks in the surface over time. While this won't make the service break down completely, it won't look very nice, especially over lighter colours. It's different over Builder Gel, because the surface the Shellac colour is being applied to is that much 'harder', so there is not the same give/flexibility, as the client goes about their daily tasks.
Q: Is there an equivalent file to the Boomerang? In the same way as the 'Black Velvet' is equivalent to the Kanga. I don't need 50 boomerangs and that is all that are available.
A: I'll let you in on a secret, I don't love the Boomerang. Instead I use the CND Outblack Padded file (180/240), the grit is different to the Boomerang, but I prefer the feel of it when refining enhancements, and it's available in different sized packs.
Another nice equivalent to the CND Boomerang Padded File would be the LE Foamy File, which comes in a 20 pack.

Q: With shaper do you need to take shine off before applying Shellac?
A: With either Shaper of Builder, the PREP needs to include removal of shine from the natural nail. For those of us who have been used to applying Shellac or traditional polish only, this can feel a bit strange. What to remember is to use a gentle touch with a 240 grit padded file, the CND Koala is ideal, to carefully remove shine from the nail surface. This process does not cause damage providing its completed with due care and attention by us. I also recommend rebalancing a Shaper overlay rather than removing it completely and re-doing it, because this way the shine only needs to be removed from any part of the nail surface once, and not repeatedly. When we rebalance we are only removing shine from the new bit of natural nail that has grown up, as the rest of the nail surface is still covered with product.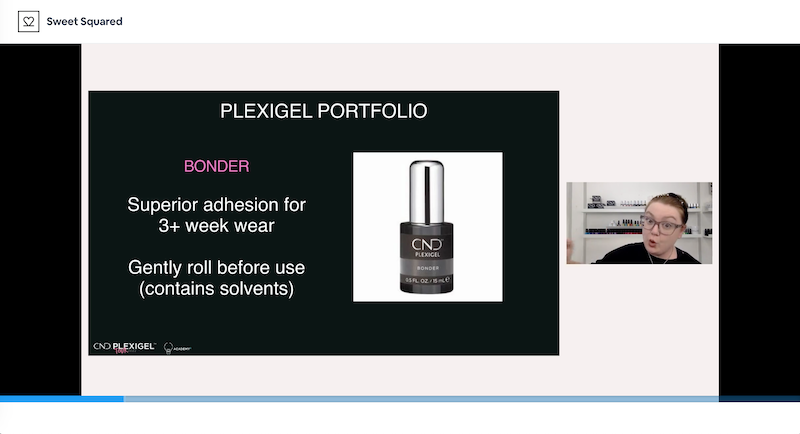 Q: Do u create an apex with an overlay? And how is this created if u do?
A: You can create an apex with an overly, either using Shaper of Builder, and it's a good idea to do so. Especially if the client's natural nails are particularly flat of ski-jump. The end result we want is a nail that is thickest/highest right in the very centre, tapering out to thin edges all the way round the extension edge, the sidewalls, and the cuticle line. Nails created in this way will be more resilient against breaks and chips, but also look more beautiful, giving a slimming illusion and appearance as light reflects from the shiny nail surface. The videos on Shaper and Builder overlays both show how to create that apex simply. Apply the PLEXI Builder of shaper in two layers. The first layer is thin and even (same thickness across the nail surface, no apex building), then the second layer can incorporate some extra product. Rather than applying it as if painting on colour, instead use the brush tip to float the product on. If you are struggling to get the hang of this, try applying a blob of gel to the centre of the nail and just let it settle, don't mess with it, just leave it and watch what it does. Keep the nail flat but look at it from side on, so you can see where the height is. When it settles enough that you have a gentle apex, cure it, and refine further by filing if necessary.

Q: Can the builder colours be blended?
A: Sure they can, but in practice you might find decanting product out of the bottle, mixing it, using a separate gel brush to apply, kind of defeats the purpose of a gel in a bottle system. I would strive to use the Builder colours just as they are, but there would be no problem blending for a one off.


Q: If a client is used to wearing acrylic on their nails but wanted to start growing their naturals nails. Would you recommend builder over shaper?

A: Clients can have long natural nails coated with acrylic, shaper or builder. Consider what your clients wants for their nails in the long run. Do they want to end up with long natural nails and no coating? Or long natural nails just with a gel polish coating? If they have been used to the type of acrylic service when they own nails get taken down short every so often for a new set, the likelihood is that the natural nail is not in the best condition it could be. My advice would be to begin rebalancing the acrylic they are currently wearing with PLEXI Builder, and put them on a strict regime of SolarOil minimum twice a day. This way they can grow their natural nails, and grow out their acrylic coating. After a few rebalances they will have a PLEXI Builder overlay, and you can go from there. If you are going to remove the old acrylic and start from scratch. Again, I would recommend Builder for the overlay, as this will give their nails more tough support while they adjust to the very different feeling of having shorter nails with a thinner coating on top.


Q: How long would you be able to make an extension using a form?

A: Regardless of the product, it would take a lot for a client to convince me to give them nails with a free-edge longer than the length of their nail bed again. It's almost always a bad idea to create excessive length, unless the client is already very used to wearing super long nails, and you are confident they know how to care for them. So when I do have a client who I can trust to cope with what I consider to be excessive length, I have found PLEXI Builder on a form to be as good if not better than any other enhancement product (acrylic or gel) that I have ever used in my long career as a nail professional. So to answer your question, you can make it as long as you deem suitable for the client.


Q: Do you have to be trained in extensions to perform enhancements with forms?

A: Training in enhancements will dramatically extend the portfolio of professional nail services you can provide. Even if your intention is only to create extra length for the odd client who needs a repair, what you will learn will make all the nail services you do better and of a higher quality from a design point of view. If you are currently not trained in enhancements, but are trained in natural nail services, yes you can purchase forms and PLEXI Builder. You might find that watching the videos and having a practice will give you what you need to create the odd extension with confidence. However, my recommendation is to complete the PLEXI Enhancement training with Sweet Squared in order to get the best from the product, and enjoy the confidence to create beautiful enhancements.
(https://www.sweetsquared.com/new-2-plexigel/)

Q: How strong is Plexigel when compared to CND Brisa Gel & CND Retention + on a strength scale?
A: As explained in the previous answer, I have found CND PLEXIGEL to be at least as strong as any other enhancement system I have used. The balance of toughness and flexibility means they PLEXI enhancements resist cracking and breaking, while maintaining superior adhesion to the natural nails. To say it more simply, PLEXI is just as strong as the other, but even less likely to lift.


Q: Sometimes even being super careful with prep and removal I see some dehydration on some nails from continuous wear of shellac. Would u recommend a period free of shellac to condition and care for the nail plate before reapplication?
A: 'Giving the nails a rest' is something some clients like to do from time to time. Having a break from coatings can help to improve overall nail condition, especially if the client has been picking product off. But for most clients, I have found they get on better with the continual wearing of coatings if the natural nail is meticulously cared for between appointments. They should use SolarOil twice a day, along with CND Cuticle Eraser. When these products are used together, we call it a double moisture pack, and the regular, cumulative effect of this daily routine will be to eliminate the dryness and protect against dehydration of the nail from daily tasks. I have found there are some clients who's nails seem more sensitive to the potential dehydrating effects of the Shellac removal process, no matter how carefully I perform it. For these clients I recommend a thin Shaper overlay that is rebalanced and not removed and replaced at each appointment. This way, the client skips the removal process entirely, achieving healthier nails through maintenance, rather than removal.


Q: Do you need to take sticky film off before applying colour when using builder gel?

A: No, you only need to remove the top film if you are going to file the surface. If you are going straight on to Shellac or Plexi Top Coat, you can apply directly to the top film of the cured Builder Gel layer.


Q: What is the best ways to remove Builder Gel?

A: To remove PLEXI Builder, first file to reduce the coating to a thinner layer. I like to begin with a 100 grit firm cored file, and switch to a 180 grit padded file as I get closer to the natural nail. The thinner we get the product, the quicker the next stage will be. Apply foil and cotton wraps using CND Offly Fast Remover. The removal will take up to 30 minutes, depending on how thin we got the coating before wrapping.
For those who had questions about accessing videos of PLEXIGEL application, rebalance and removal, you can find everything you need on Sweet Squared Blog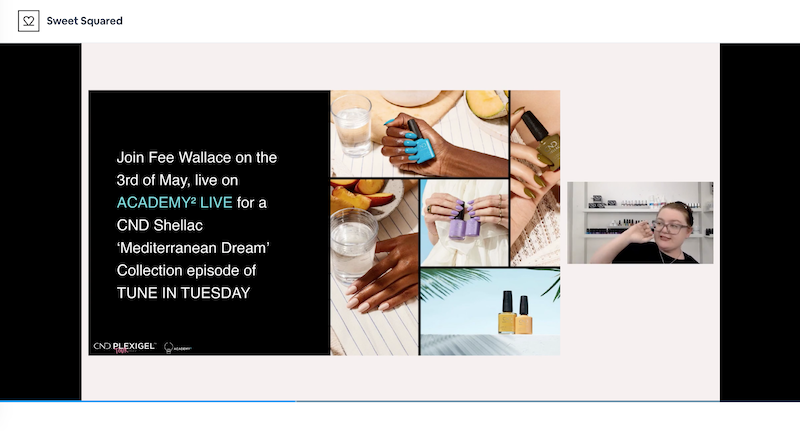 Thanks so much for checking out the blog! Don't forget to register for our next Tune in Tuesday Episodes on Academy2 LIVE
https://www.sweetsquared.com/academy2-live/
Join me, Fee Wallace, over on FB, IG & TikTok!
https://www.facebook.com/fee.wallace
https://www.instagram.com/fee_wallace/