Are you ready to show off your hauntingly beautiful nails this Halloween? Here at Sweet Squared, we're more than ready for the spooky season! Last Halloween brought us a range of captivating nail art that truly caught our attention. It's that magical time of year when nail technicians can truly showcase their creativity and artistic flair. Be it eerie pumpkins, whimsical ghosts, or creepy spiders, Halloween-themed nail designs are a fantastic way to express your love for this bewitching holiday. Get ready to be inspired and embrace the spirit of Halloween right at your fingertips!
Let's take a spooky stroll down memory lane and check out some of our CND™ nail technician's designs from the last few years...
Drip Nails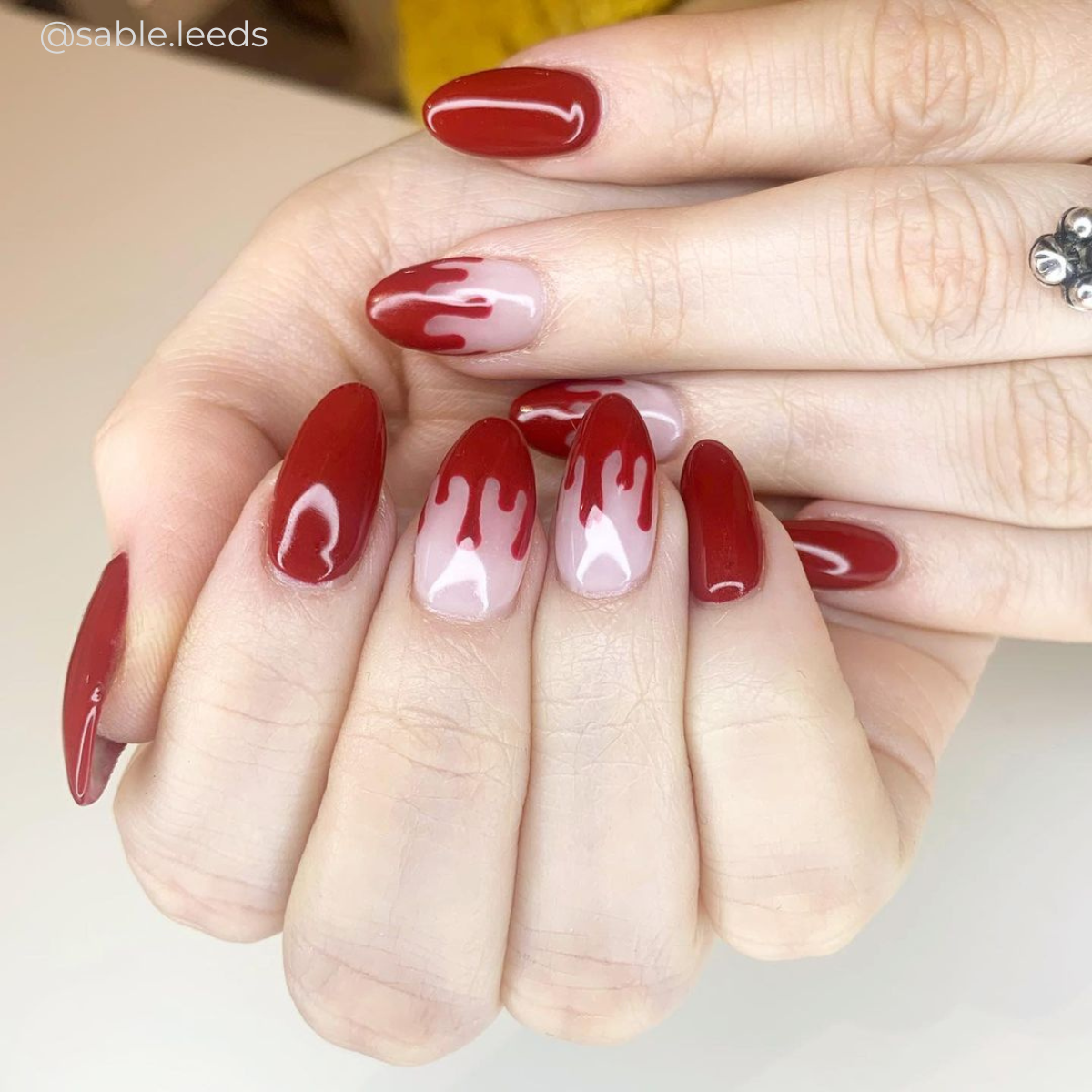 Let's kick things off with a design sure to make your nails stand out this Halloween. Credit goes to @sable.leeds who has used Shellac™ Books & Beaujolais to create a blood-red design that's perfect for the spooky season! This crimson masterpiece would make any vampire envious.
Halloween Nights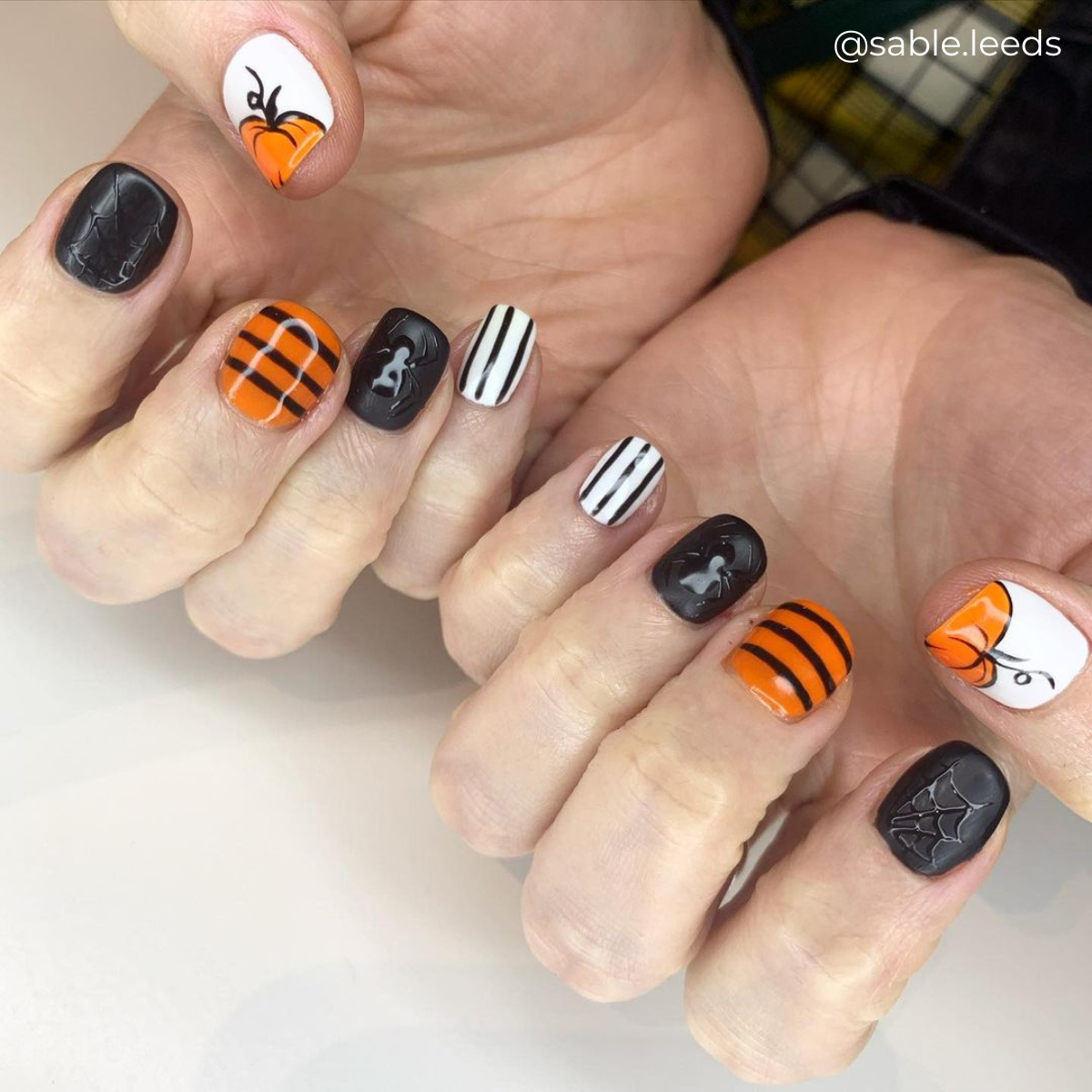 Once again, @sable.leeds returns to the spotlight with another classic Halloween nail design! This time, she has harnessed the power of Shellac™ Black Pool, Popsicle Picnic, and Cream Puff to produce this Halloween-themed nail art. The design cleverly uses both Shellac™ Original and Matte top coats, resulting in a dynamic contrast that adds depth and texture.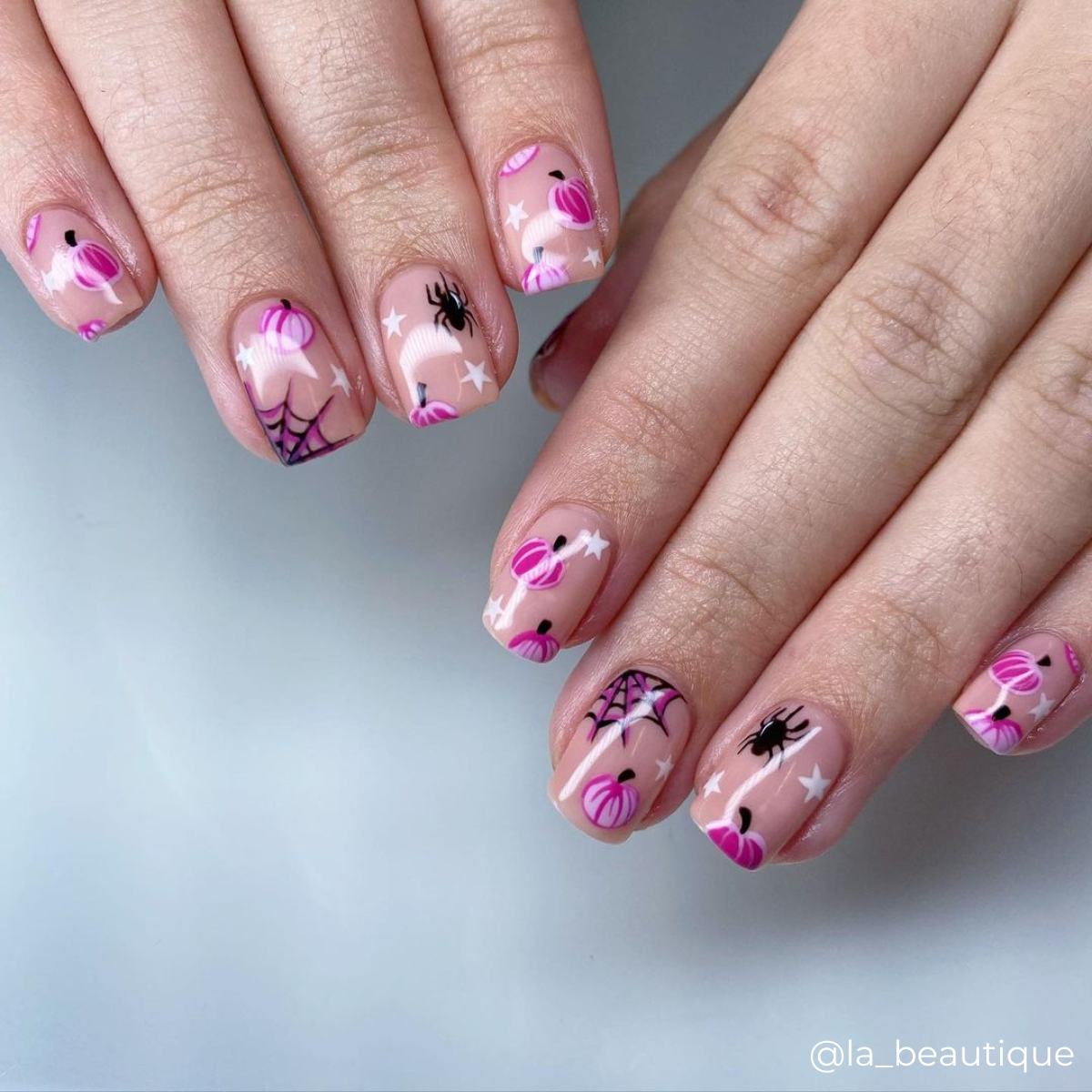 Now, let's turn our attention to @la_beautique! Who has captivated us with a spooky yet feminine design that incorporates classic Halloween elements such as cobwebs, pumpkins, and spiders! She brilliantly uses a palette of Shellac™ hues, including Nude Knickers, Veiled, Hot Pop Pink, and Cake Pop, to bring this Halloween-inspired creation to life.
Spider Webs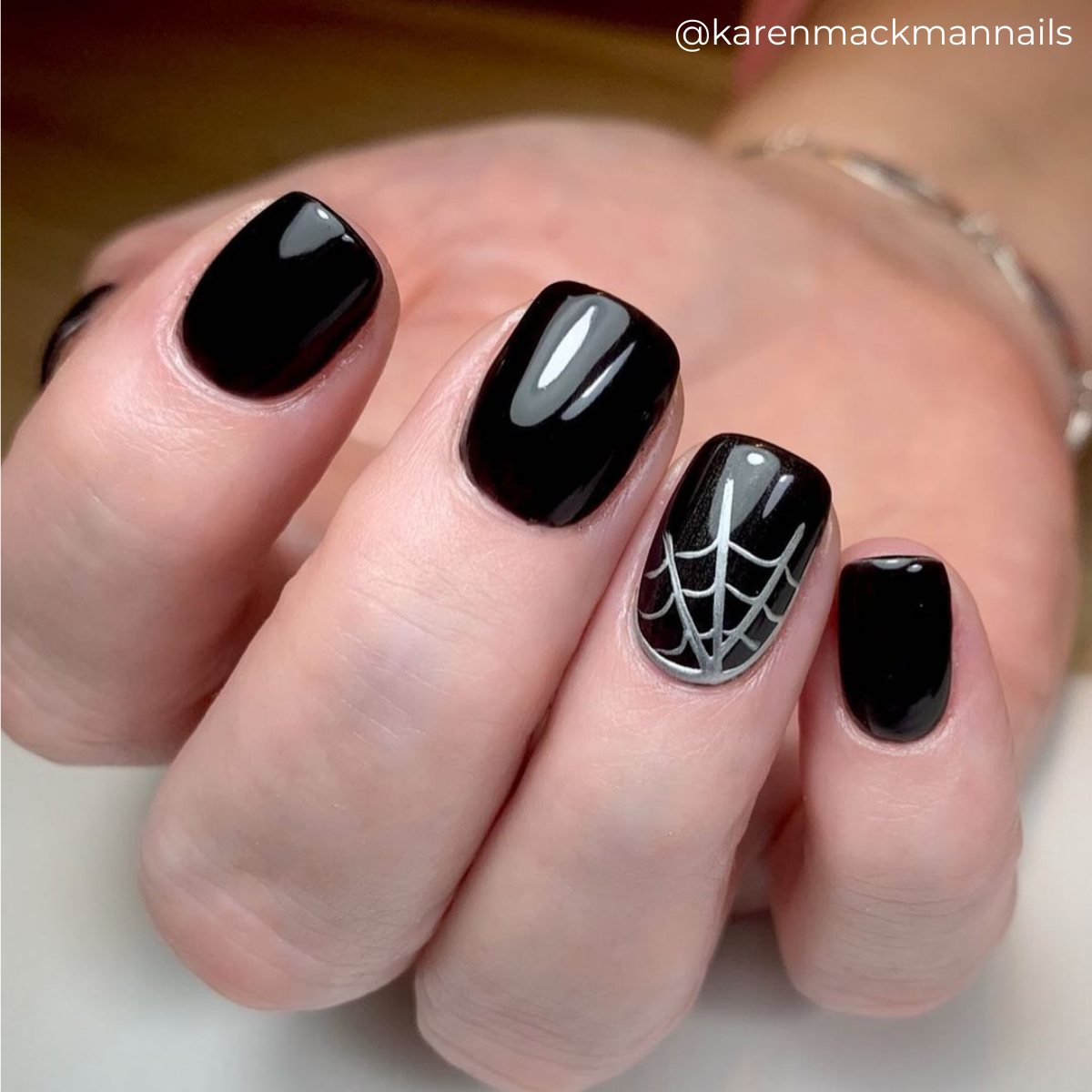 Our journey continues with @karenmackmannails who has crafted this elegant and subtle Halloween design. By blending the deep tones of Shellac™ Black Pool with the shimmering finish of Shellac™ Silver Chrome, you can achieve the same design that is as stylish as it is spooky. This design makes it the perfect choice for those wanting a look that's sophisticated with a hint of Halloween spirit.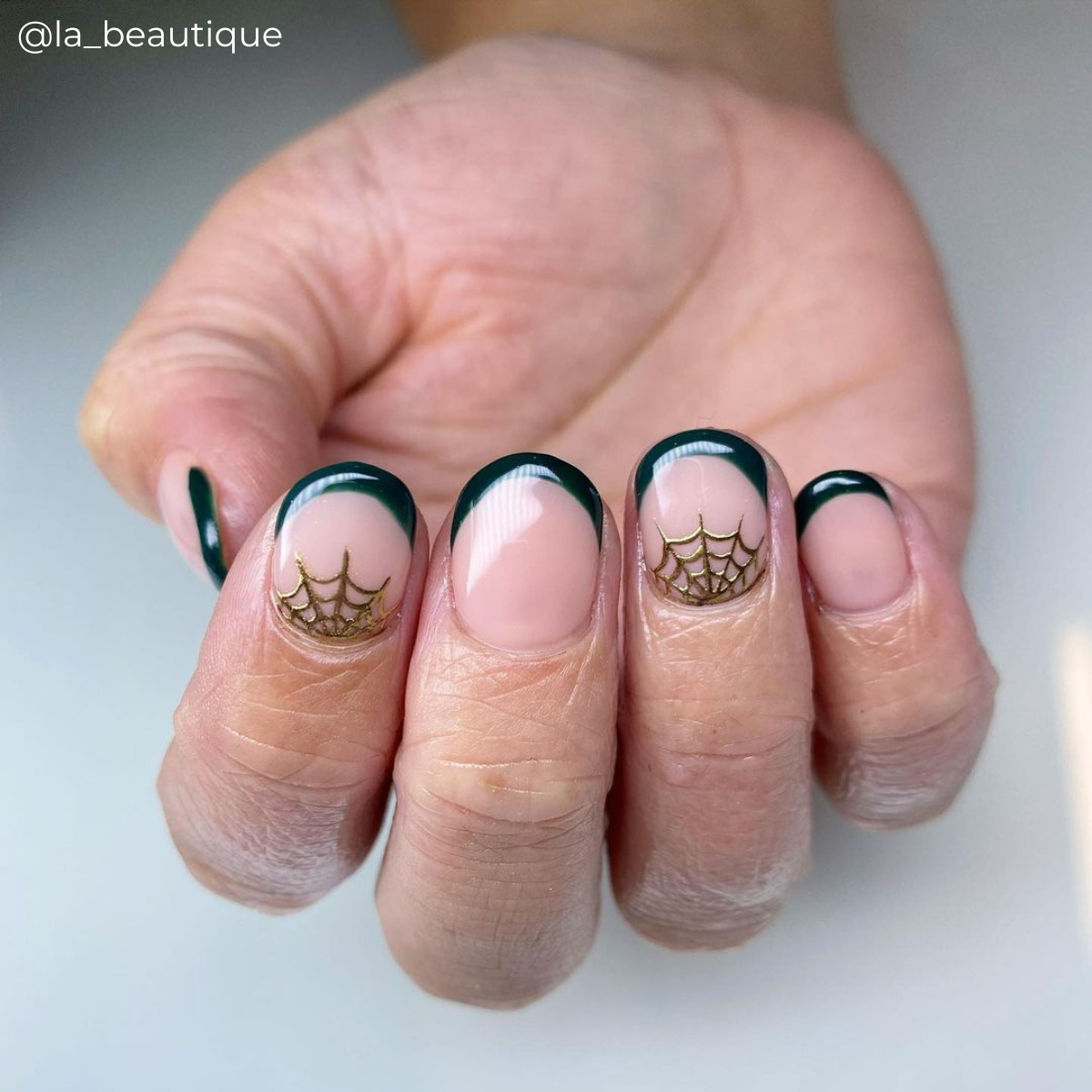 We have another remarkable creation from @la_beautique, who has given a twist to the classic French manicure. She cleverly incorporates subtle Halloween vibes into an iconic design, using Shellac™ Nude Knickers, Veiled, and Aura to create the base. On top of this, she adds an extra sparkle with a layer of gold chrome for the spider web.
Witch Season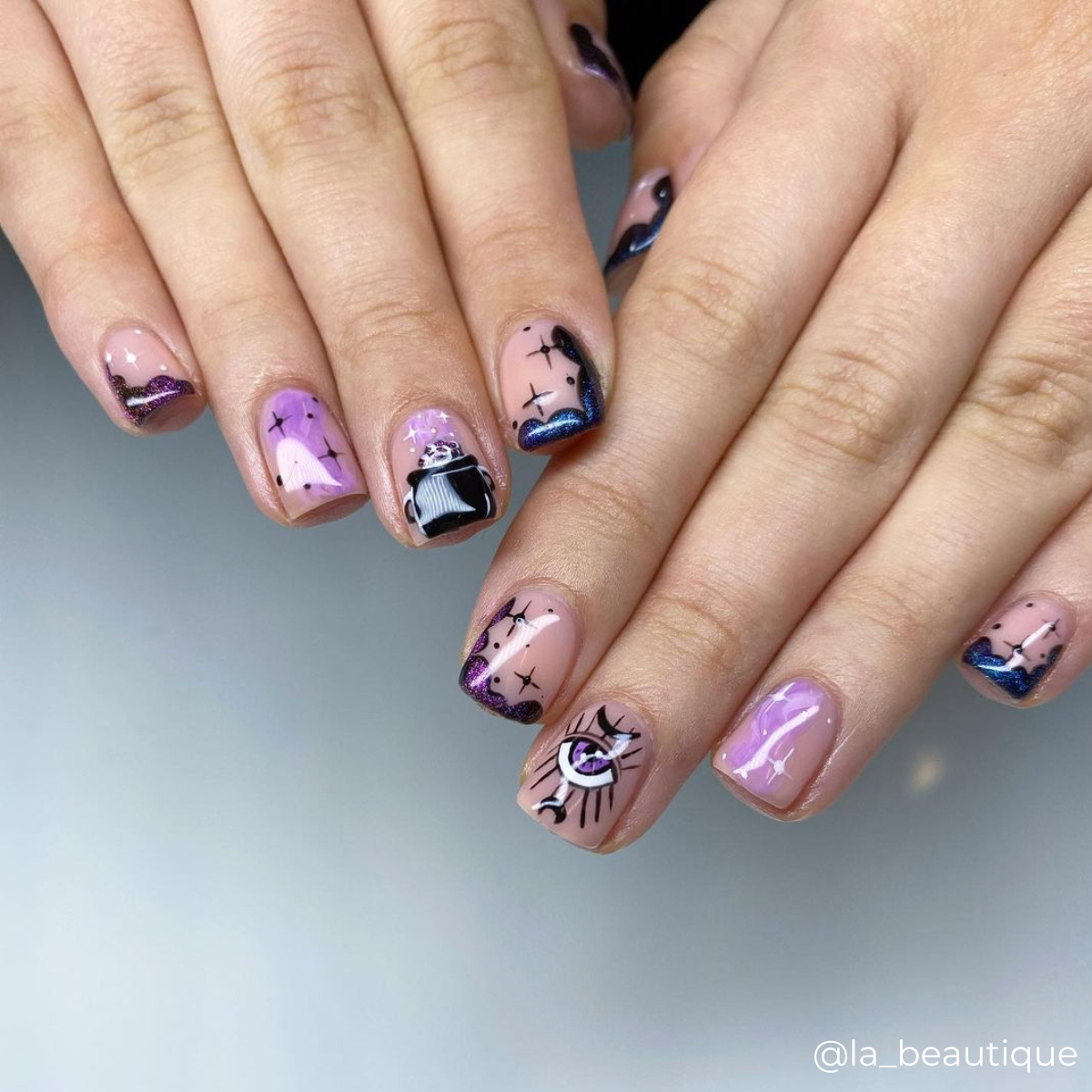 We have another exceptional piece from @la_beautique, who has once again proven her talent in the realm of nail art. This time, she has come up with this bewitchingly beautiful design! She uses a mix of Shellac™ colours, including Black Pool, Lilac Longing, Nude Knickers, Veiled, Mauve Maverick, and Cream Puff, to create these enchanting witch-themed nails.
Pumpkin Patch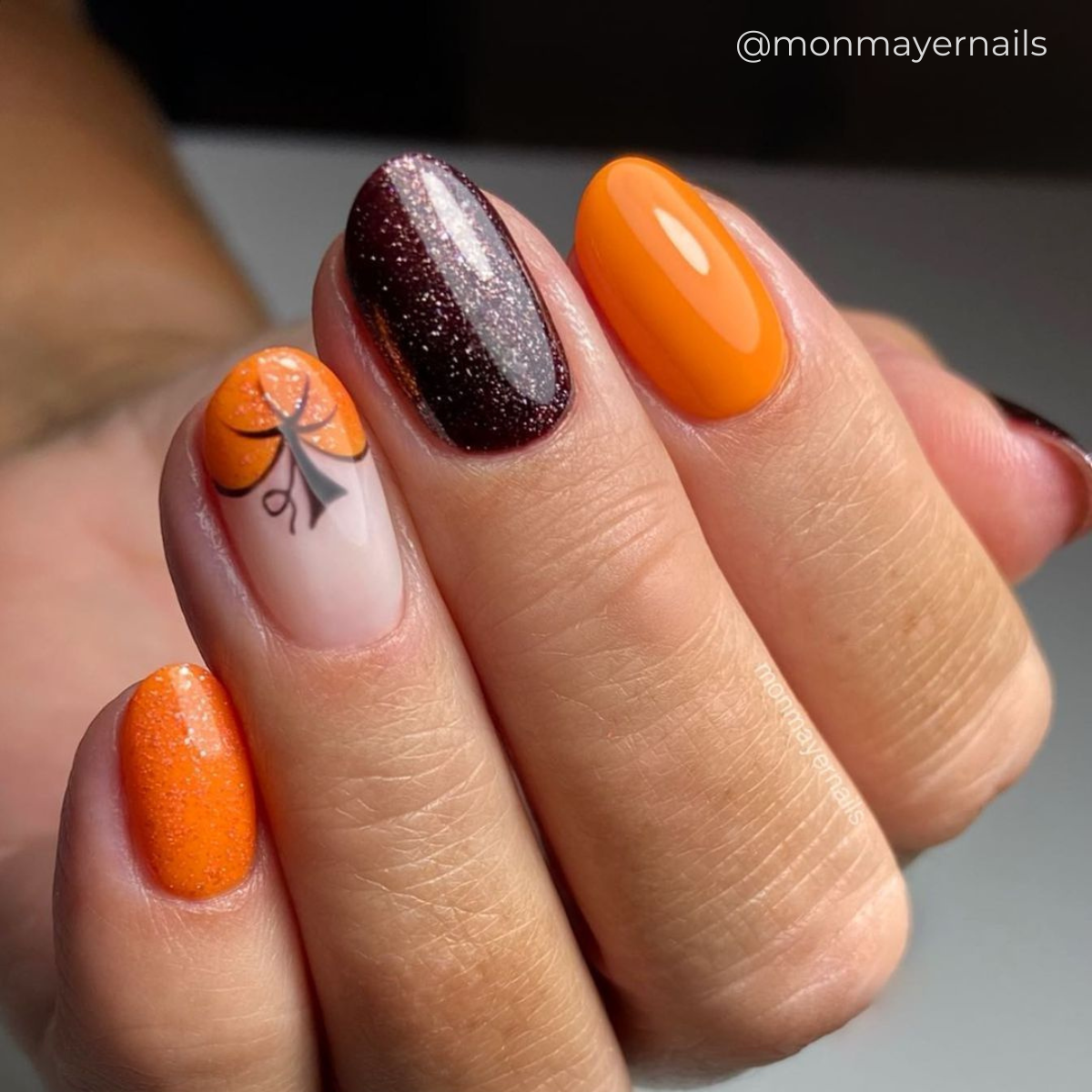 Check out this bold and daring design from the incredible @monmayernails. She has used a combination of Shellac™ Gypsy, Satin Slippers and Arrowhead (enhanced with Lecenté Chocolate Glitter) to create a uniquely Halloween-themed design. The clever play of colours and textures results in a nail art that truly embodies the Halloween spirit.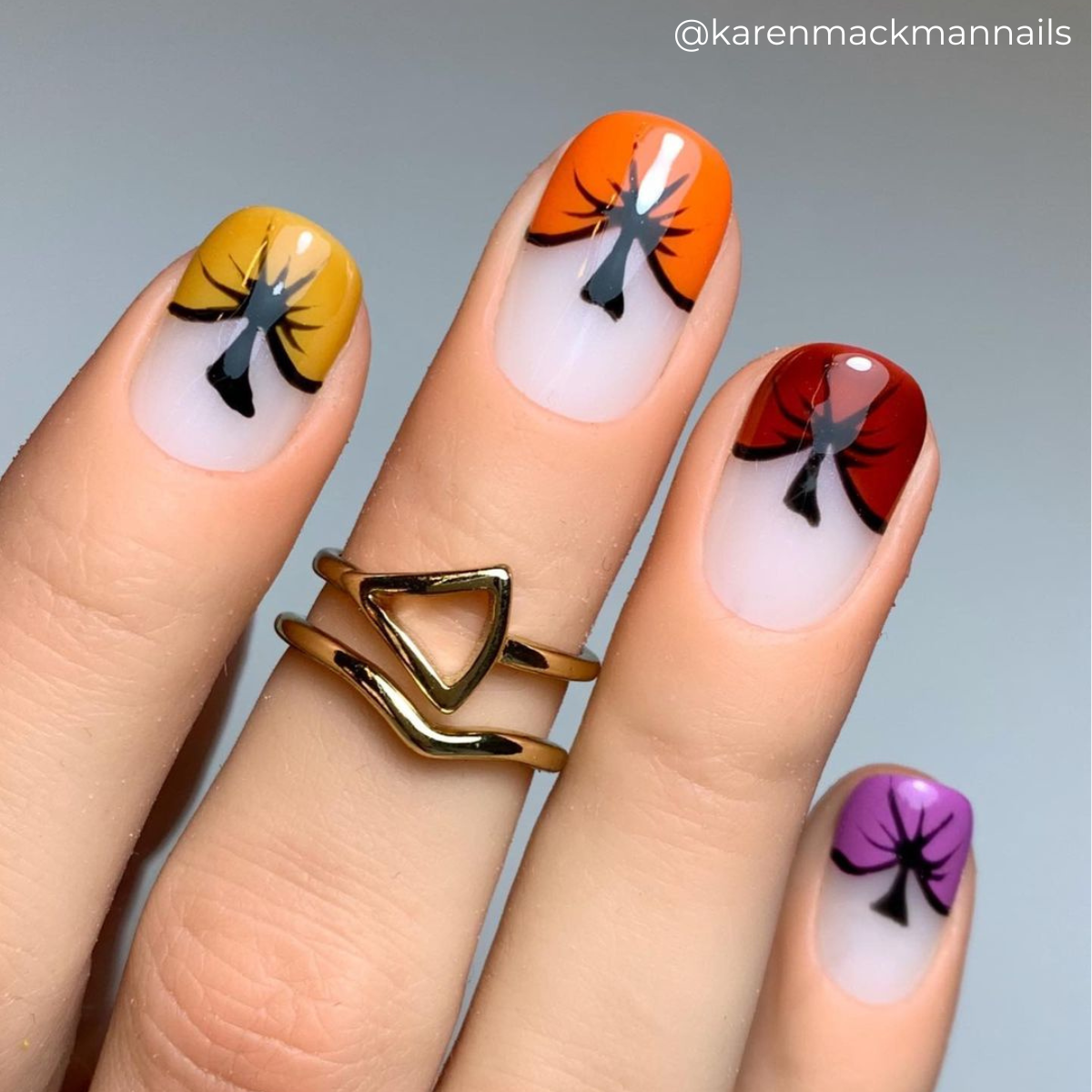 Another brilliant design from @karenmackmannails, who has crafted these colourful pumpkin tips! This unique creation is brought to life by a vibrant palette of Shellac™ colours including Candle Light, B-Day Candle, Brick Knit, Gummi, and Wooded Bliss for the thumb nail. The blend of these hues results in a design that's both playful and eye-catching.
Ghoulish Ghosts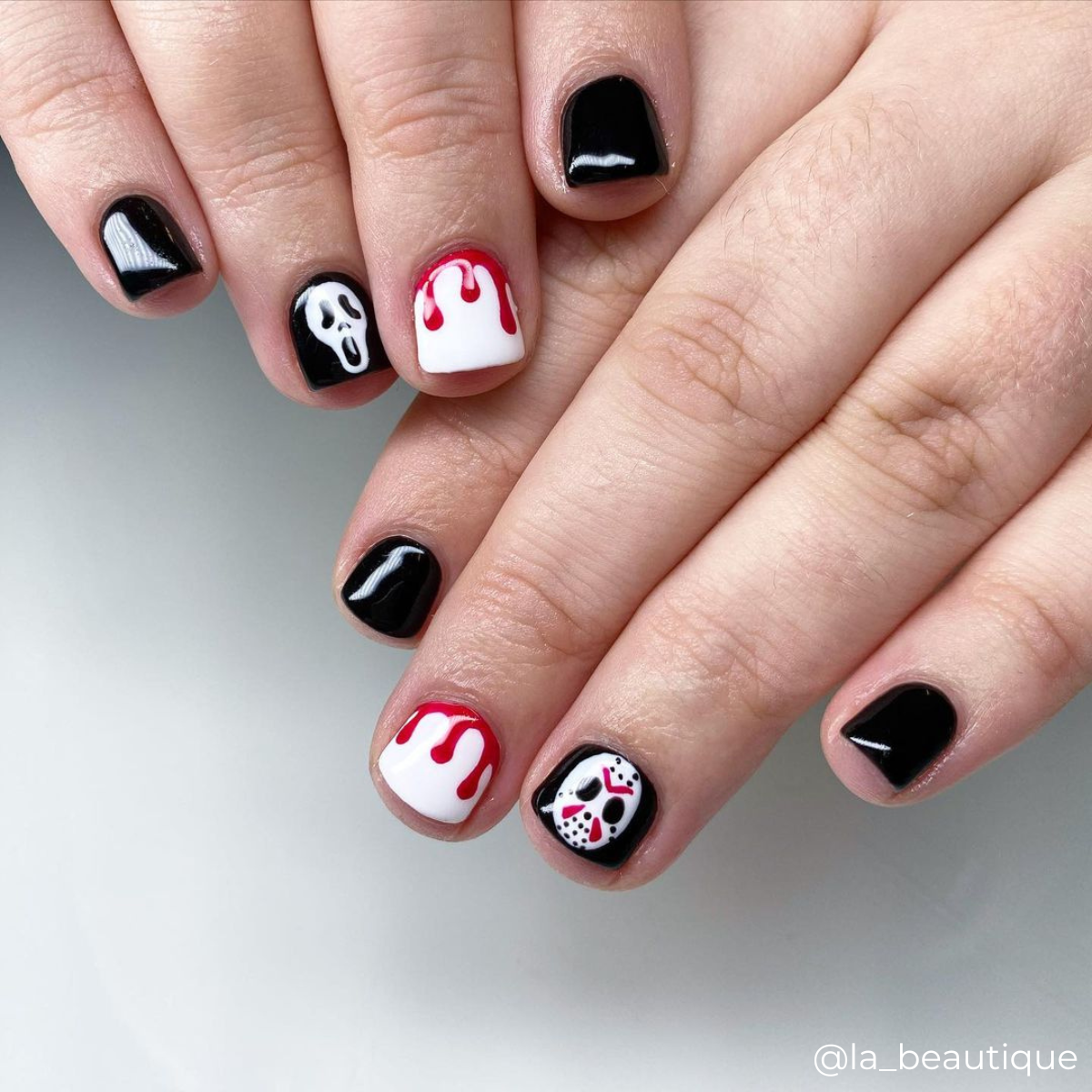 Take a trip back to the iconic horror films, Scream and Friday the 13th, with this killer design by @la_beautique. She has taken inspiration from the popular slasher films to craft a nail design that's both terrifying and thrilling. Using a palette of Shellac™ Black Pool, Cream Puff, and Wildfire to create nail art that perfectly captures the chilling vibe of the beloved horror classics.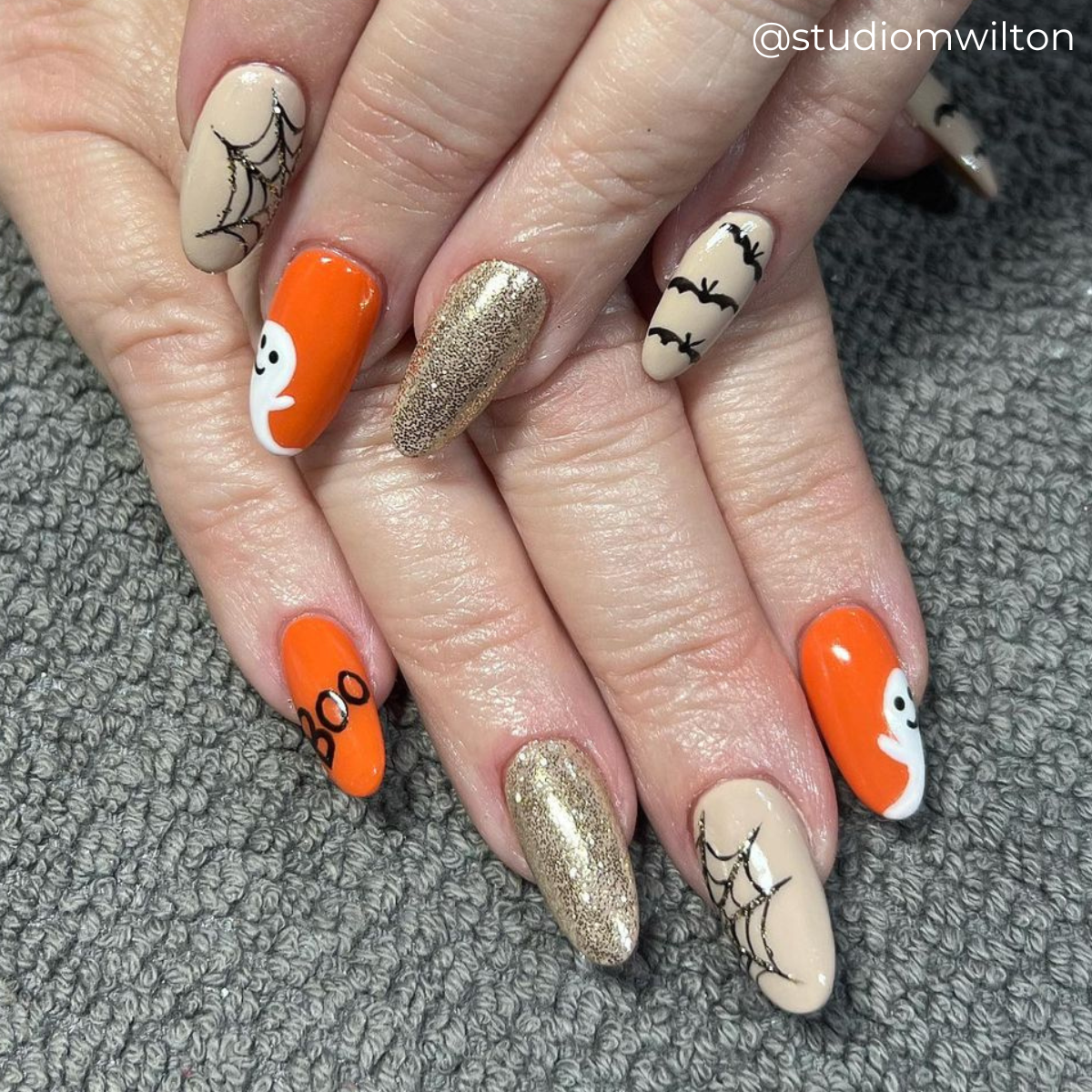 We're excited to shine a spotlight on the remarkable work of @studiomwilton. This talented nail artist has truly brought the spooky spirit of Halloween to life with this creation. Skillfully utilising a combination of Shellac™ B-day Candle, Black Pool, Unmasked, and Cream Puff, alongside Lecenté Sand Glitter, she's crafted a design that's as spooky as it is stunning.
Disco Pumpkins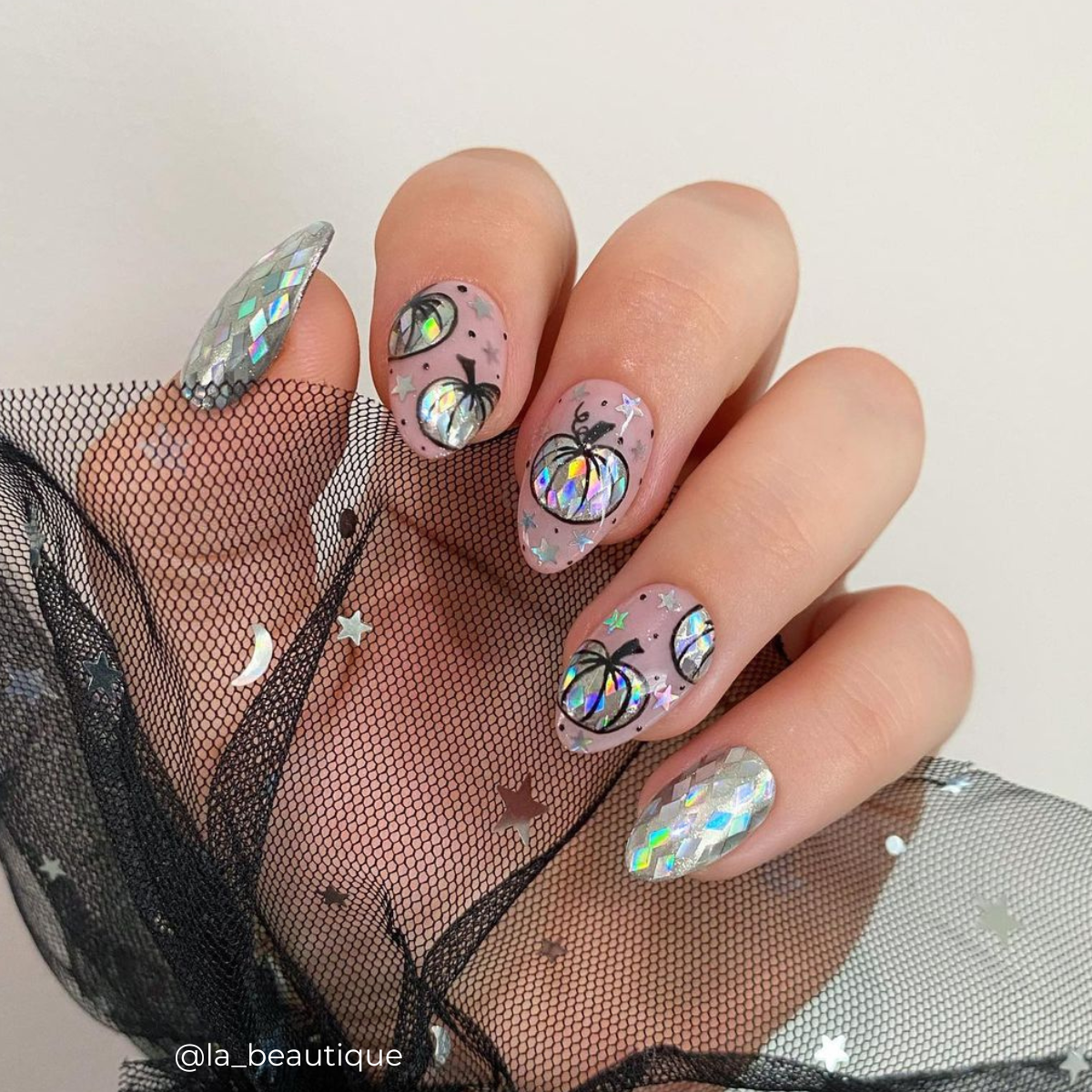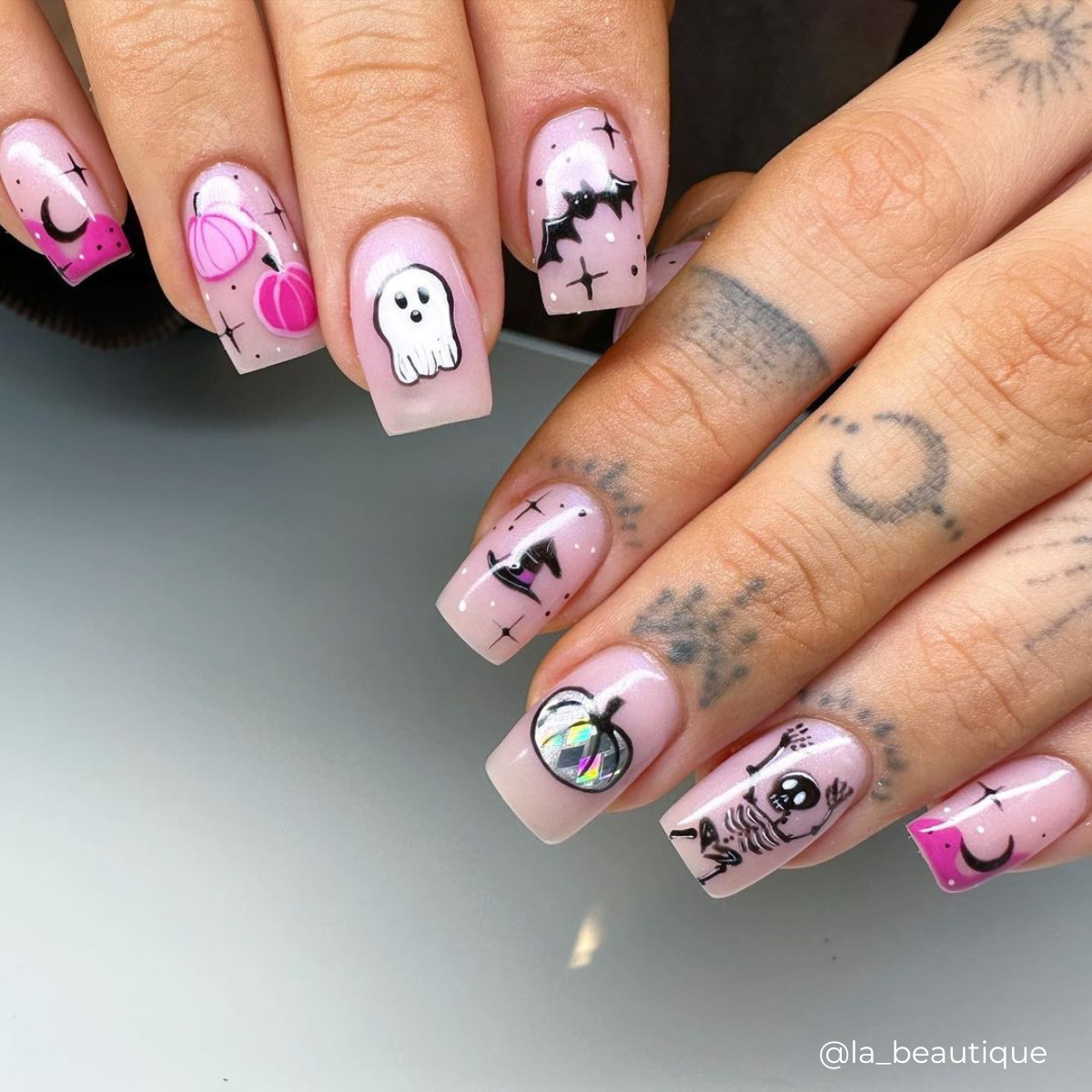 Our nail art queen, @la_beautique has created these eye-catching designs that are sure to turn heads this halloween! In the first image, she uses Shellac™ in Silver Chrome (with added chrome), Bouquet, Pink Pursuit, Black Pool and diamond shaped holographic glitter. In the second image, she has used CND™ Plexigel in Soft Blush as a base. Followed by Shellac™ in Negligee, Beau, Hot Pop Pink, Cream Puff, Black Pool, Mauve Maverick and Silver Chrome. Each design captures the spirit of Halloween with a distinctive blend of spooky and stylish elements, ensuring your nails will be the centre of attention!