Sweet Squared presents, the SWEET SERIES!
Bringing you inspiring education and expert knowledge throughout lockdown and BEYOND!
Over the course of the next few weeks and months, we have a whole host of content lined up for you! Every week our Education Ambassadors, Victoria Trafford, and Fee Wallace will be coming to you LIVE, bringing you their expert knowledge and note-worthy, tips and tricks for our nail Pros. We also have quality education and how-to demonstrations from across our professional, hair brands as well as expert, business advice to help you navigate lockdown.
We have so much more to be announced, so make sure you're signed up to our emails and following us on our social media to catch up on the latest.
Follow our Instagram
Follow our Facebook
Here are the dates to put in your dairies: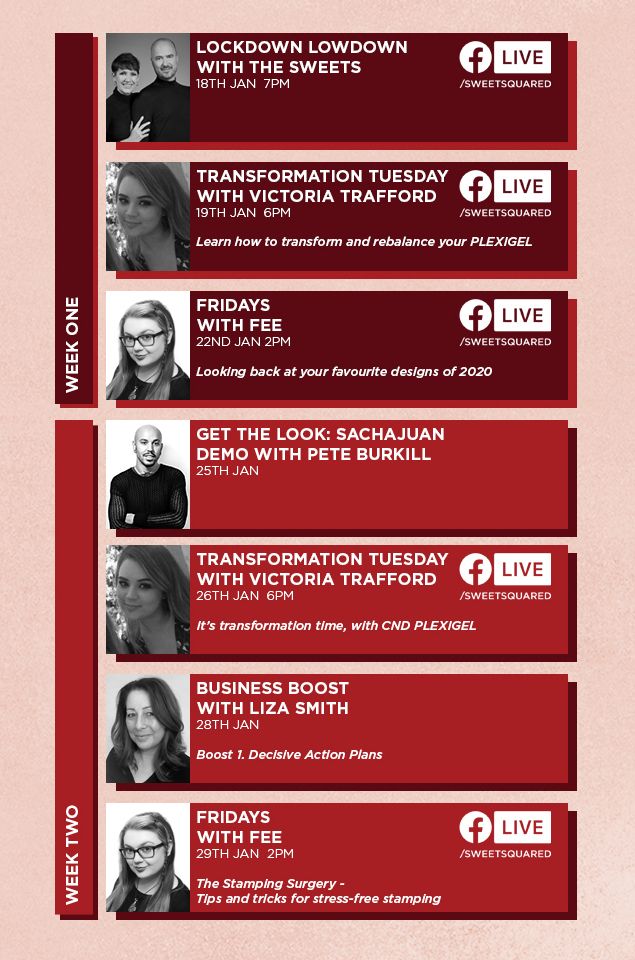 In a time like this we wanted to create something for you to look forward to! Whether that's throughout the day or in the evening we have a packed full schedule for you!
So if you want a mini glow-up to look stylish on your zoom calls or a little pamper just because you deserve it! Then tune into our incredible lives which we have lined up throughout January!
We hope to see you there :)