Welcome to Week Four!
We're are already onto the fourth week of Sweet Series and hopefully, another week closer to the end of lockdown!
We wanted Sweet Series to provide our Pros with support and inspiration during these challenging times and beyond. We hope our educational videos and livestreams have been able to provide you with just that.
Here are this week's highlights:
On Monday, we have the first of four, new episodes from the

COLOR.ME

team. Educator, Jesse Walker, will be undressing and exploring four, new, multi-tonal shades that suit you just as naturally, and uniquely, as your bare skin.

The votes are in! Last week, we asked you what you wanted to next from Transformation Tuesday with Victoria Trafford. As chosen by you, we will be showing how you can create the super on-trend, ombré look.



Liza Smith will be bringing you her third instalment of Business Boost, advising on how to get your business from "Surviving to Thriving." A must watch for getting your business back on track. Don't forget to

download Liza's Surviving to Thriving" guide

to help you plan your next steps for your business.
Fee Wallace is back LIVE at 2pm with Fridays with Fee! She will be showing how you can bring drama and vibrancy to your nail art with neon nail looks, using gel polish and pigment powders.
On Saturday we will be bringing you some easy, morning watching with a how-to, hair tutorial with

SachaJuan

.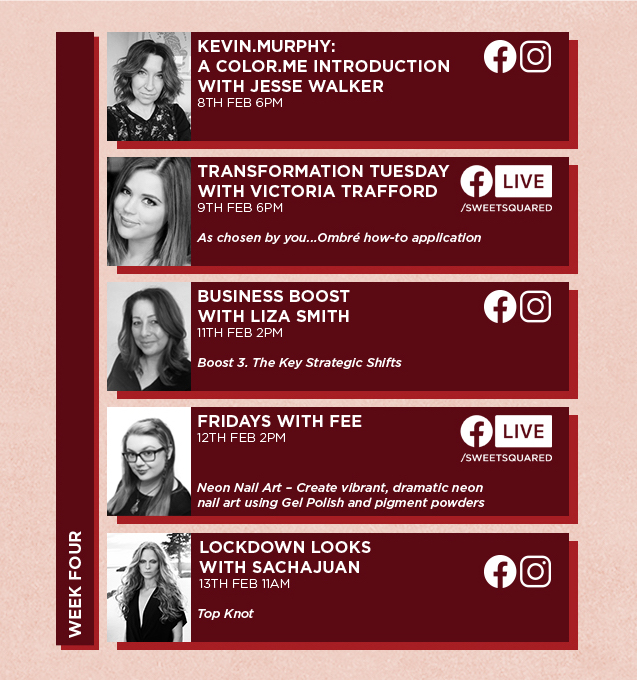 Make sure you're signed up to our emails and following us on our social media to catch up on the latest.
Follow us on Instagram
Follow us on Facebook