Thanks to everyone who joined us LIVE for TUNE in TUESDAY last week on Academy2! The chat stream was ON FIRE! It was so much fun to hang out with you all and share how I created those hot spring nail trends using CND™ products. We got so many great questions about the products and procedures used, and in this blog you will find all the answers…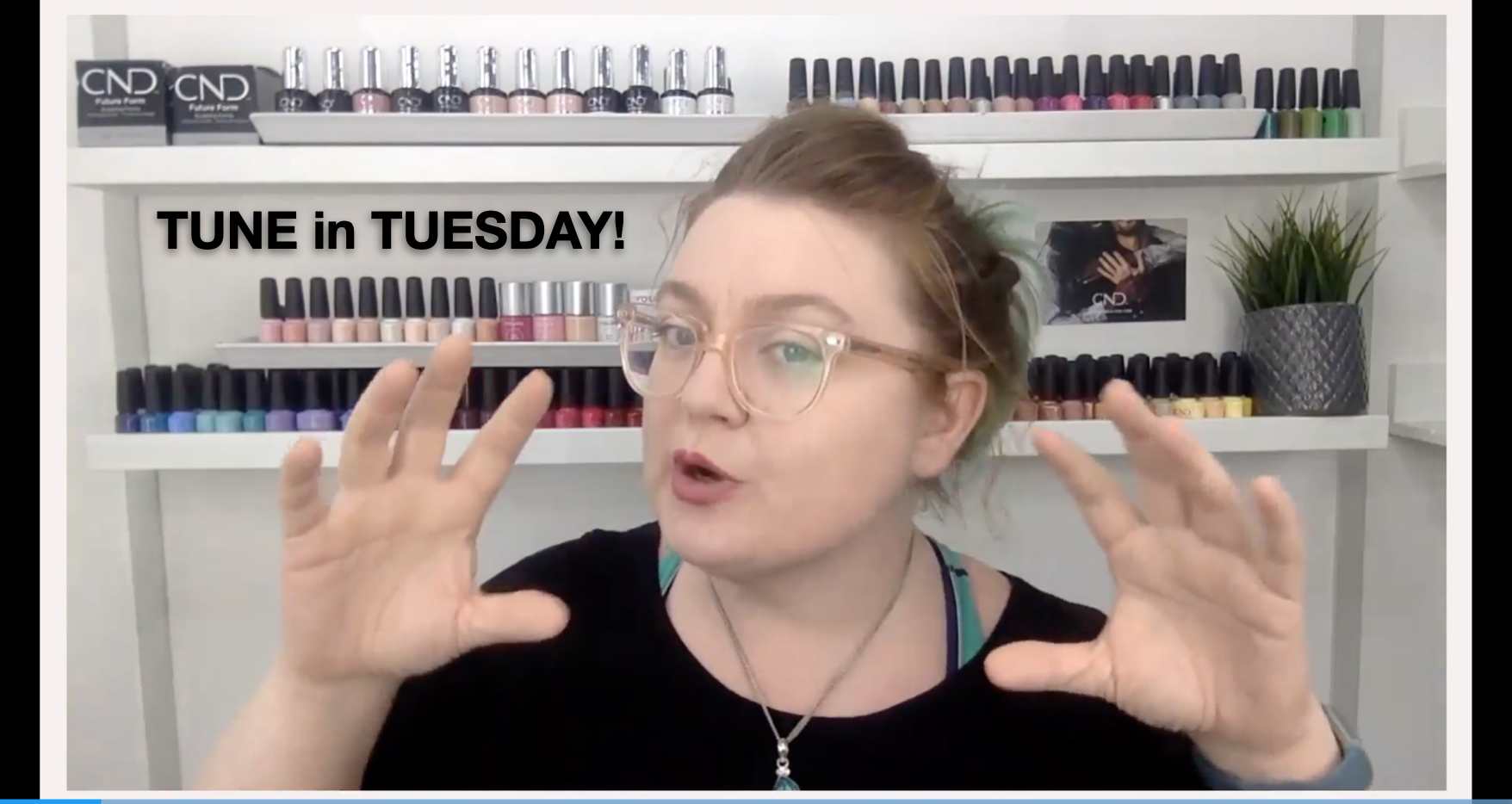 To watch our regular Tuesday show, either live or on catch up, you need to register BEFORE the broadcast goes out. If you missed this one, you can go and register NOW for our next episode - April 4th at 1pm - where we will be launching the new CND™ colour collections for SPRING! Nail art, colour comparisons, and lots of close up application videos to help you choose which colours to add to your own CND™ Shellac™ collection.
Thank you to everyone for your support! The show is getting more viewers than ever before, and we are all having so much fun with it. Thanks to Sweet Squared for building such an awesome platform allowing us to create a wonderful community of education and support. Hope to see you on the 4th of April for our next episode, now on to the Q&A!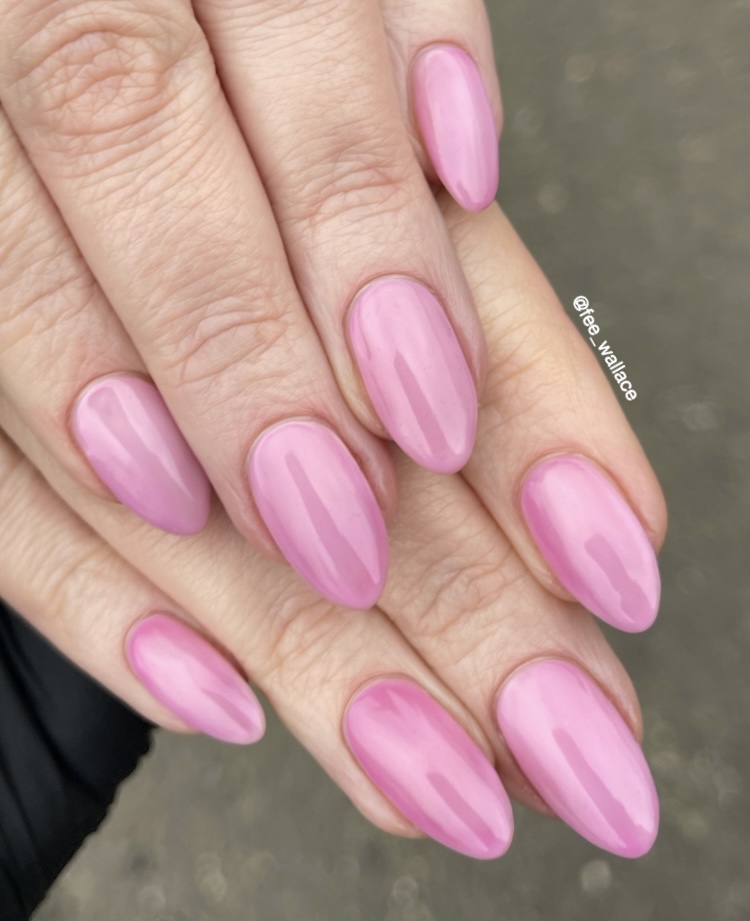 The first look we did on the show was the lip gloss nail trend. You can find a step by step for the process with pictures in this previous blog HERE
I broke a few rules creating this look, so we had some great questions…
Q: If you were doing this on natural nails and not enhancements, what is the alternative to CND™ PLEXIGEL™ SHAPER.
A: I am happy enough to bend the rules and mix a little CND™ Shellac™ Colour with PLEXIGEL™ Shaper when I know it's going over a fully finished nail enhancement as a decretive layer. I'd be less likely to recommend doing this over a natural nail as part of a CND™ Shellac™ Manicure. An alternative would be to complete the CND™ Shellac™ Manicure as normal, using CND™ Shellac™ Clearly Pink or CND™ Shellac™ Beau as your first colour layer, then for the second, a super thin layer of CND™ Shellac™ Pink Leggings. Pink Leggings is already quite sheer, and applied super thinly it will give a similar end result. If you really want to use the technique as shown, I recommend applying an overly of CND™ PLEXIGEL™ SHAPER to the natural nail first.
Q: What setting in the CND™ Lamp do we use to cure the customised gloss layer?
A: As the gloss layer is comprised primarily of CND™ PLEXIGEL™ SHAPER, I recommend curing using button 2B in the CND™ LED Lamp.
Q: Would this process work with other brands of clear builder gel?
A: I only have experience using this method with CND™. If you want to try it with another brand, I suggest you use a colour gel or gel polish from that same brand, with the lamp that brand recommends, to get best possible results.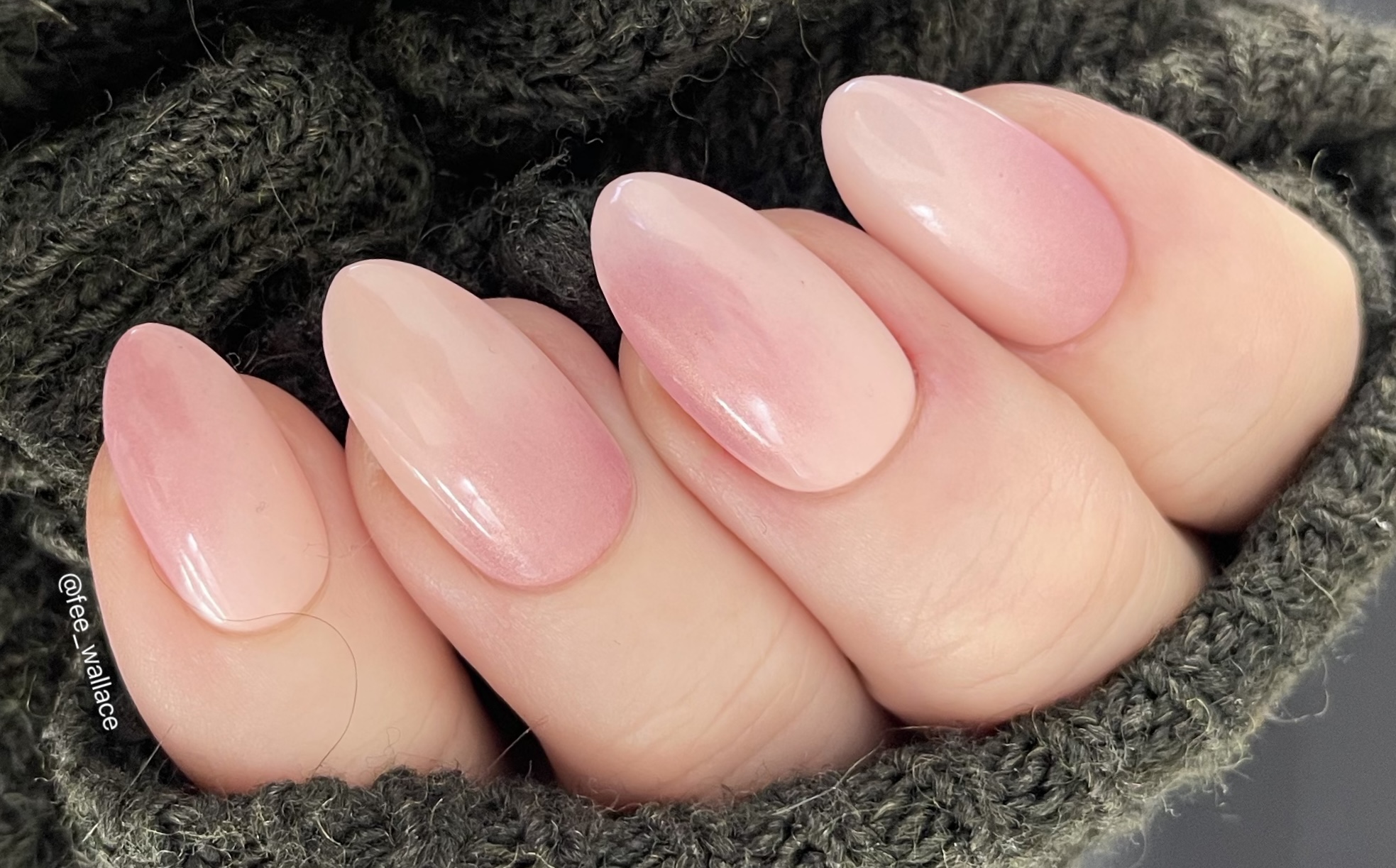 Our next look was the blush nail trend. This was by far the most popular look of the show.
Thank you everyone for your lovely comments. Don't you just love it when one of the simplest techniques looks so amazing? I began this demo by creating a PLEXIGEL™ BUILDER Enhancement, and our first question pertains to that.
Q: Did you use a Bonder before applying the gel?
A: CND™ PLEXIGEL™ has its own bonder as part of the system. Whether it's a full builder gel enhancement, or a light Shaper overlay, after performing CND™ PREP to the natural nail, apply a thin layer of PLEXIGEL™ BONDER and cure in the CND™ Lamp using button No. 1 – the base coat setting. You can find detailed step by steps for CND™ PLEXIGEL application HERE.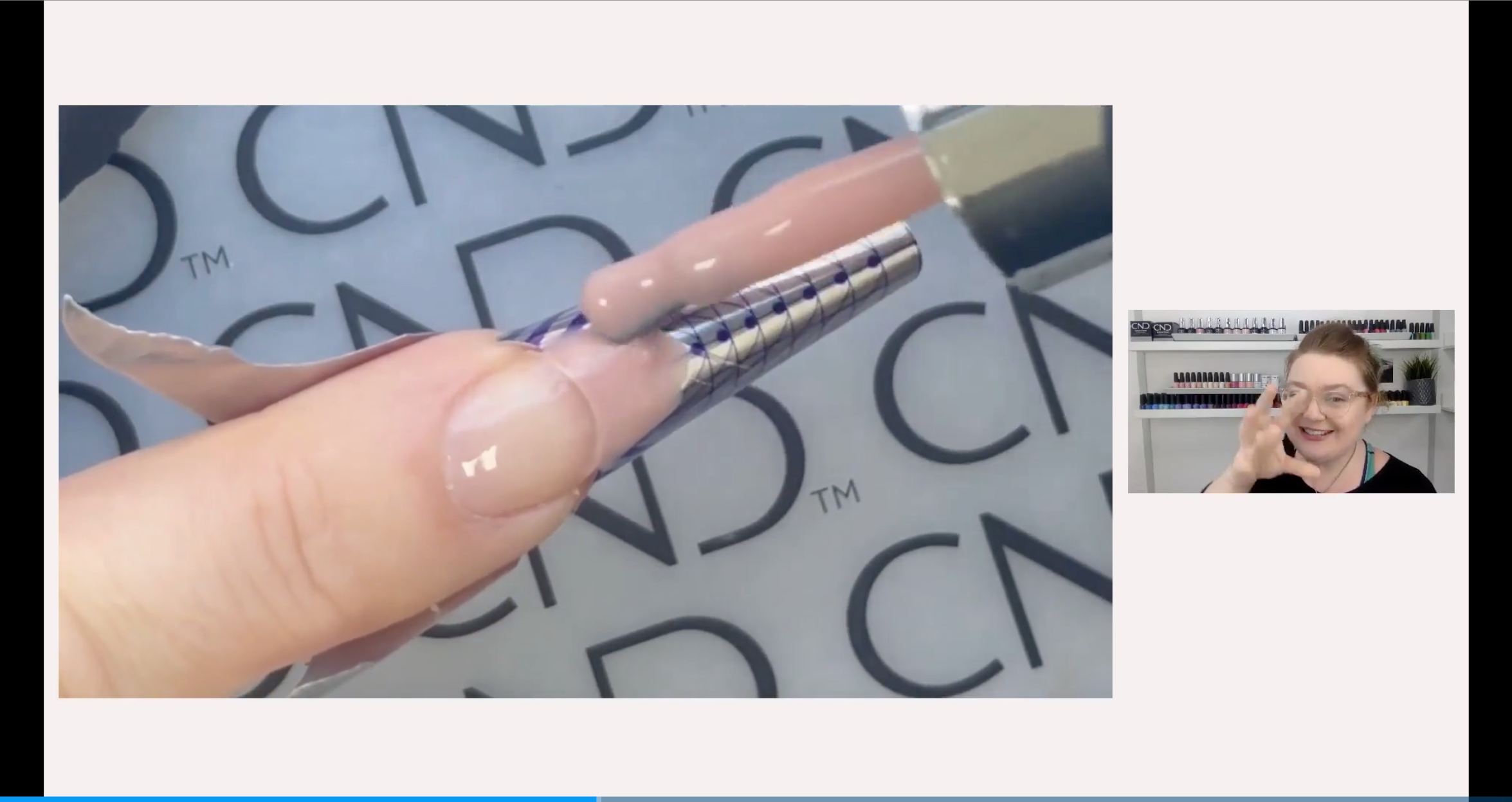 Q: What is the name of the pigment powder you used in the demo?
A: The blush nail we did step by step on the show was created by applying and curing a thin layer of CND™ Shellac™ Shellac Beau, then to that we applied the :YOURS ELEMENT – Red Lobster, with a soft dry brush. Then we applied a further layer of Beau to soften the blend, and finished with CND™ Shellac™ Top Coat. The version of the look in the photograph was done using CND™ Shellac™ Happy Child as a base layer, then the :YOURS Element – Bronze Heart, followed again with a layer of Beau to soften the blend.
Q: Did you cure after pigment, before the second layer of Beau?
A: The pigment powders do not require curing. I only cured each layer of CND™ Shellac™ colour once using button 2S in the CND™ LED Lamp. There is no need to cure after applying pigment.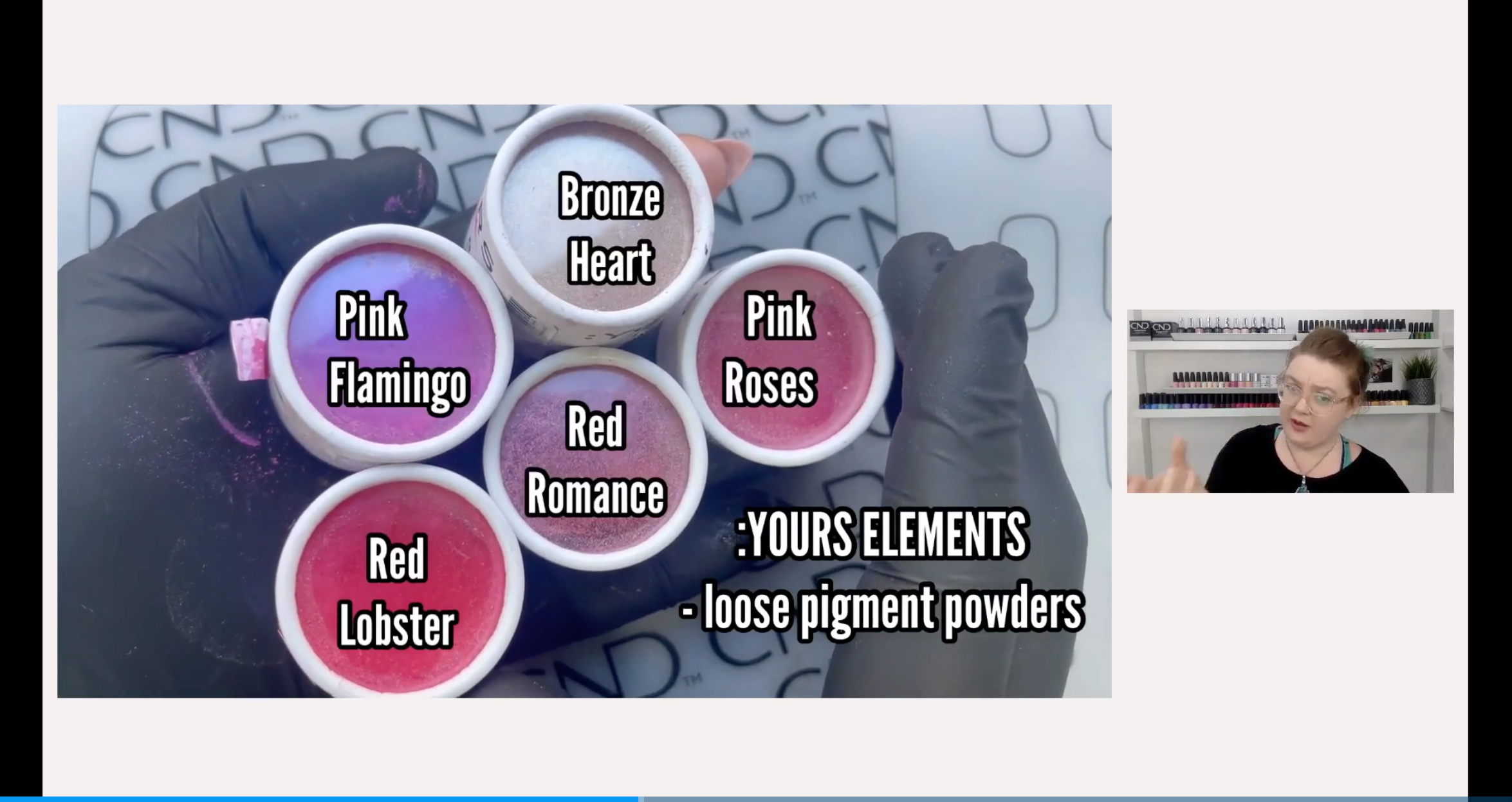 Q: Are those loose powders by CND™?
A: The loose pigment powders I used for these looks are not by CND™, they are made by :YOURS Cosmetics, a company based in the Netherlands who make beautiful nail art products that work wonderfully with CND™ products. The pigment powders are called :YOURS Elements, but :YOURS are most famous for their innovative range of nail art stamping plates and materials. :YOURS products are distributed exclusively in the UK & Ireland by Sweet Squared. So you can order your :YOURS Elements along with your CND™ Shellac™ from sweetsquared.com.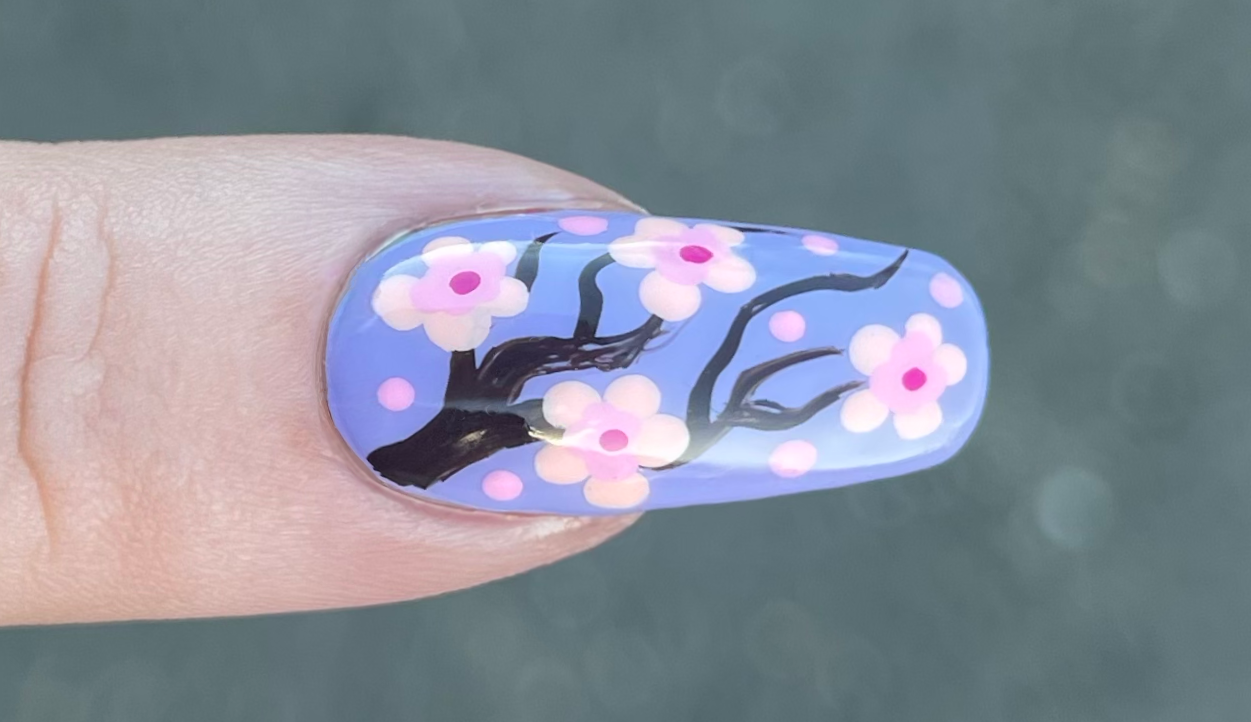 We moved on from the blush nail trend and next we created cherry blossom nail art two different ways. Using nail art stamping and also hand painting techniques.
Q: What makes :YOURS polishes so good for stamping?
A: The :YOURS Stamping Polishes are designed specifically for stamping. This means they are very heavily pigmented, quick drying, and extremely colour stable. In theory, you could stamp with any air drying polish, even CND™ Vinylux™. But the problem is that the design often comes out a bit sheer/see through as regular polish is designed to be applied in two coats. When we stamp, we need something that is fully opaque in one thin layer. I have found, that compared to other brands of stamping polish, the :YOURS Stamping Polishes stay in good, usable condition for the whole life of the bottle. Whereas others often become thick, hard and unusable long before the bottle is finished.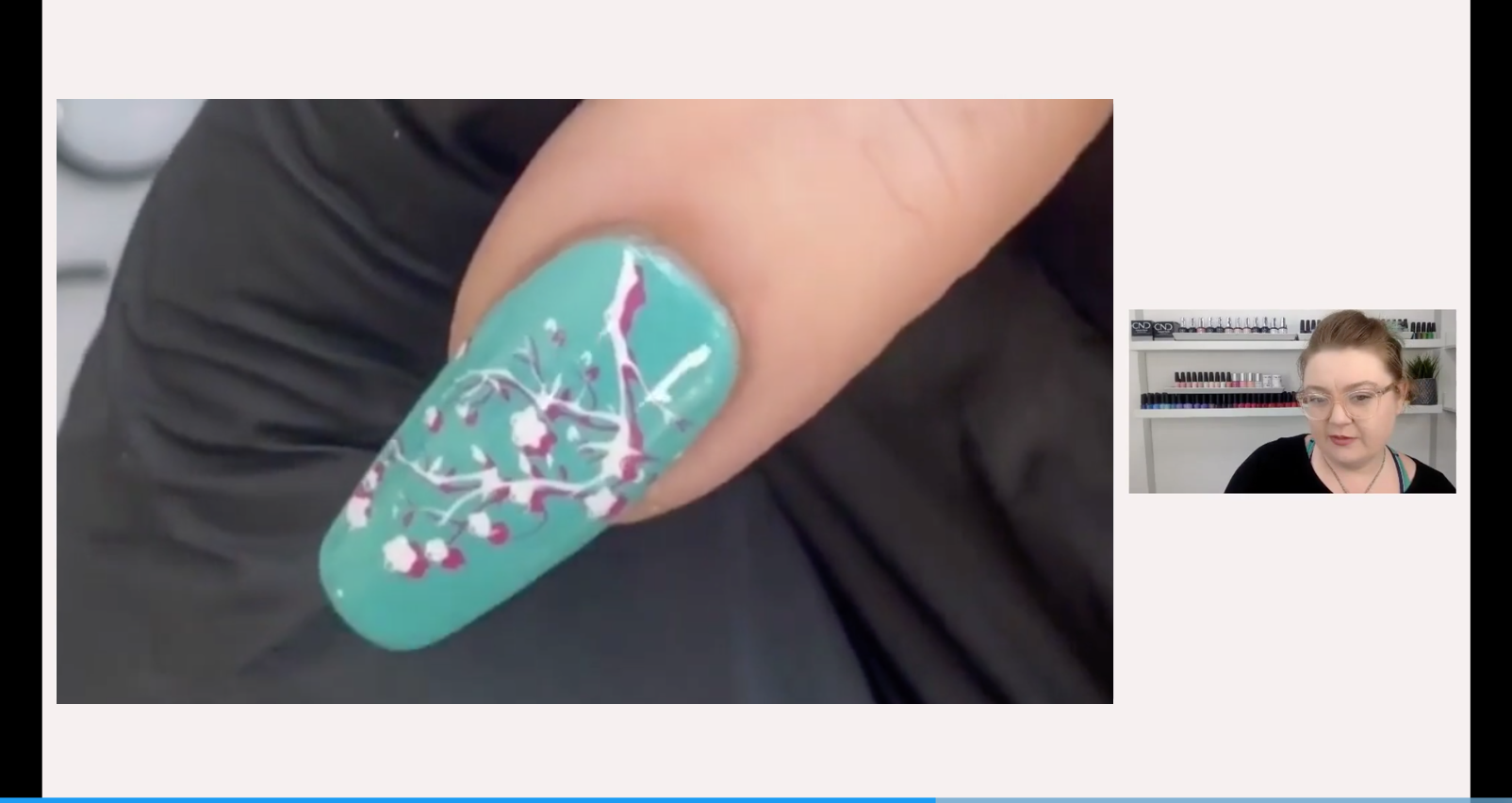 Q: Can we use CND™ Shellac™ in the stamping plate to stamp with instead of polish?
A: I avoid stamping with CND™ Shellac™, much preferring to use an air-drying stamping polish for 3 main reasons:
-CND™ Shellac™ is designed to be applied to the nail in two thin cured layers. When we try to stamp with it, the pattern will come out see through and not the bold opaque colour we need when stamping.
-We must not get uncured gel polish on the client's skin during application. This is a basic health and safety fact to avoid overexposure to uncured product. So, if we do stamp with CND™ Shellac™, we have to mask off the skin surrounding the nail, which is time consuming and unnecessary when using air drying polish.
-The best conditions for problem free stamping are stamping something dry onto something sticky (or vice versa). Air drying stamping polish will be dry on the stamper by the time we come to apply it to the nail, so that's a dry pattern going on to the sticky top film of the cured CND™ Shellac™ colour layer – perfect! Stamping something sticky onto something sticky is more challenging in terms of placement. It's harder to get the design to land exactly where we want it without it slipping and moving around on the nail surface if we don't have our pressure just right. It's possible – but it's a pain!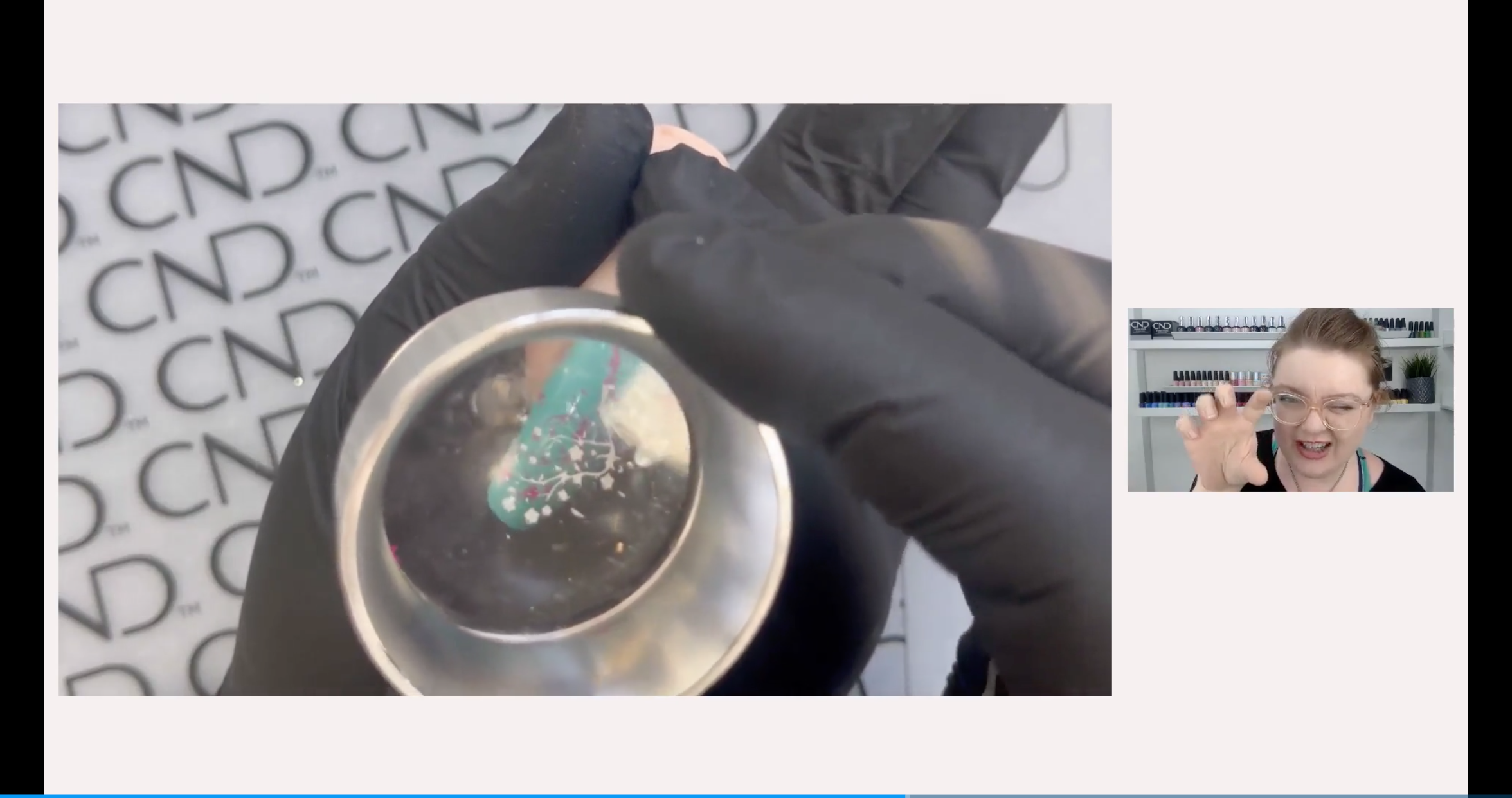 Q: Where can I purchase the clear :YOURS Halo Stamper?
A: The :YOURS Halo Stamper is available from Sweet Squared. Check out the products listed at the bottom of the page. If you are outside the UK, go to www.yourscosmetics.com to find your nearest supplier or buy direct from :YOURS.
Q: Why are you using stamping polish and not CND™ Shellac™ for hand painted nail art?
A: CND™ Shellac™ is designed to be applied to the nail in two thin layers. Because of this, I often find that when hand painting a little design, CND™ Shellac™ is not opaque enough in the small amount I'll be applying. :YOURS Stamping Polish is ideal for easy hand painting because its super heavily pigmented, smooth and easy to control, and dries nice and quickly, allowing us to move onto applying top coat more or less right away.
Q: What are those pads you are using and where can I get them??!
A: I love these plastic backed pads! They are wonderful for ScrubFresh-ing, removing the top film with IPA after curing top coat, AND they are fab as a little nail art palette. The pads are available from Sweet Squared. Check out the products listed at the bottom of the page!
Please join me for our next episode of Tune in Tuesday on Academy2. You can register for upcoming webinars HERE
Thanks so much for checking out this Q&A blog!
You can find me, Fee Wallace on:
Facebook - https://www.facebook.com/fee.wallace
Instagram - https://www.facebook.com/fee.wallace
TikTok - https://www.facebook.com/fee.wallace
Products listed:
CND™ Plexigel™ Shaper
CND™ Shellac™ Clearly Pink
CND™ Shellac™ Beau
CND™ Shellac™ Pink Leggings
CND™ LED Lamp
CND™Plexigel™ Builders
CND™Plexigel™ Bonder
:YOURS ELEMENT – Red Lobster
CND™ Shellac™ Top Coat
CND™ Shellac™ Happy Child
:YOURS Element – Bronze Heart
:YOURS Stamping Polishes
HandsDown Nail Wipes (200pk)