With Christmas just around the corner and the colder nights starting to draw in, we are getting excited about the festive nail art that will be appearing over the next few months! Over the last few years, we have seen some amazing creations from our dedicated CND™ nail techs. From glitzy gold and silver designs to classical red and green patterns, all embodying the traditional Christmas vibe. So, if you're on the hunt for some inspiration, you're in the right place! Delve into this blog and see some of the festive nail art creations from previous years...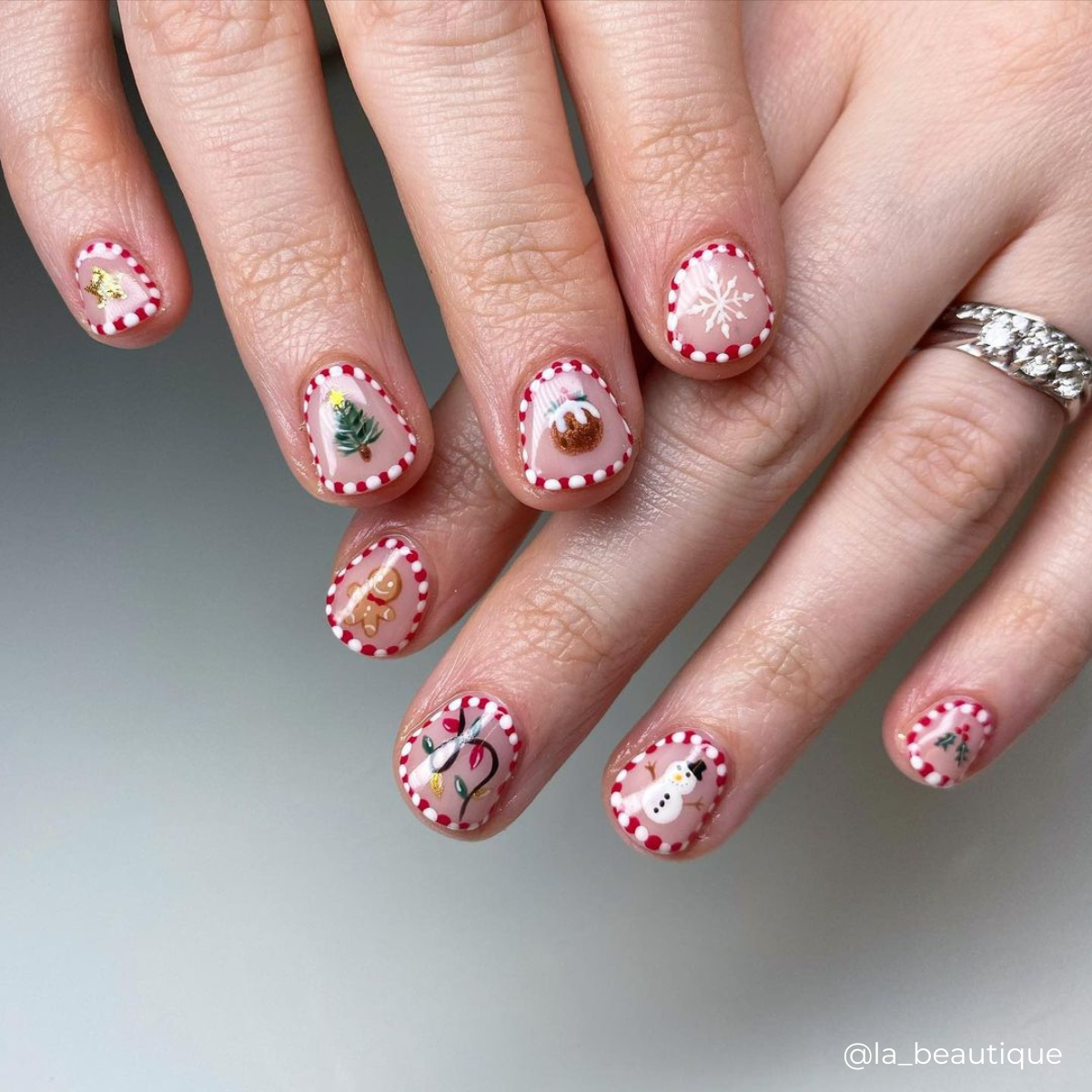 A shout-out to the talented @la_beautique for this candy cane inspired design! Gemma uses Shellac™ in Wildfire, Cream Puff, Satin Slippers and Clearly Pink for this festive creation. It is a perfect design that truly embraces the joy and spirit of the Christmas Season.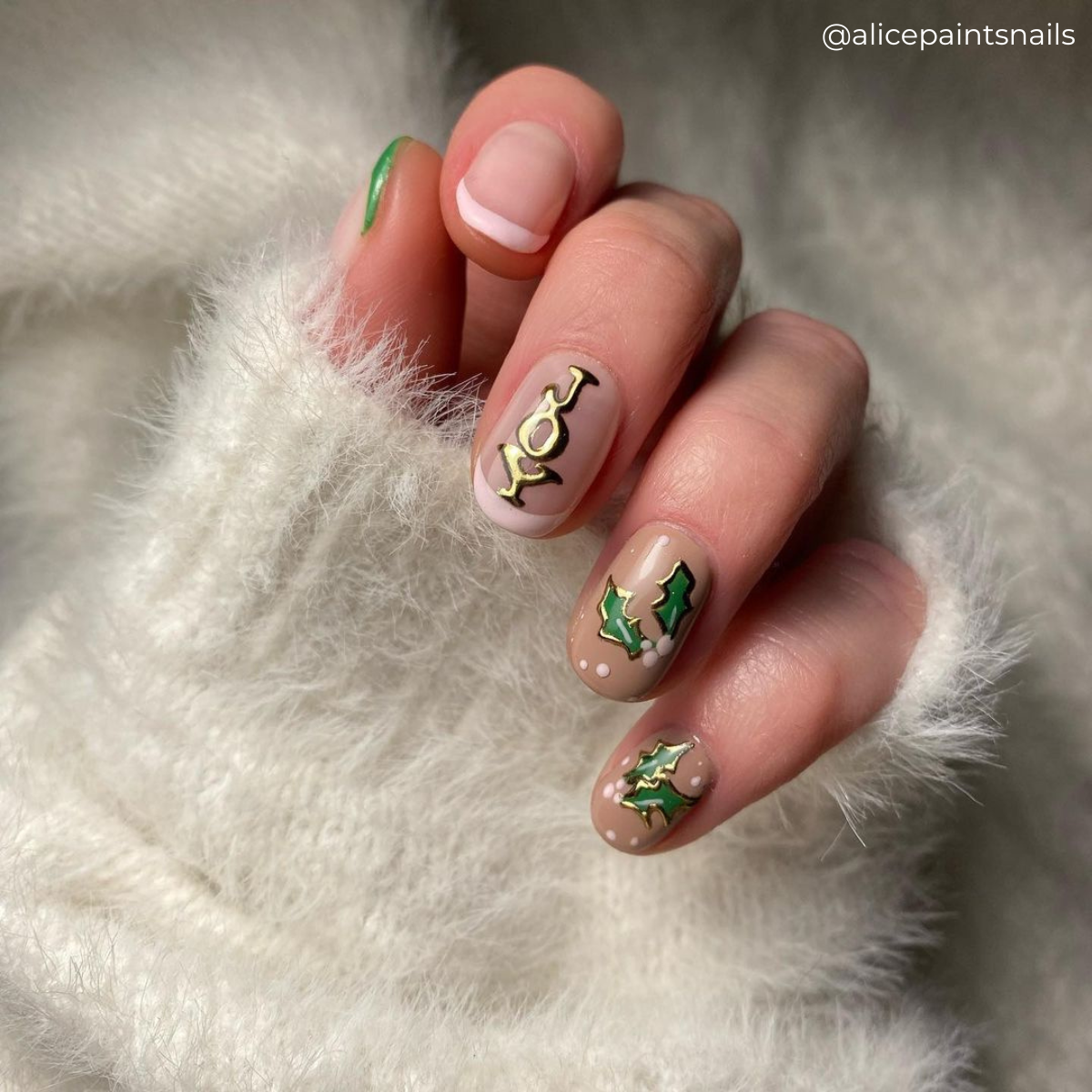 @alicepaintsnails has created a fantastic mistletoe-themed look using Shellac™ All Frothed Up, Aurora and We Want Mauve. This design is perfect for those who love a splash of green on their nails! To achieve a similar mistletoe design, we recommend using Shellac's Lush Tropics, Crisp Green or Aura, paired with Lecenté Gold Chrome Powder.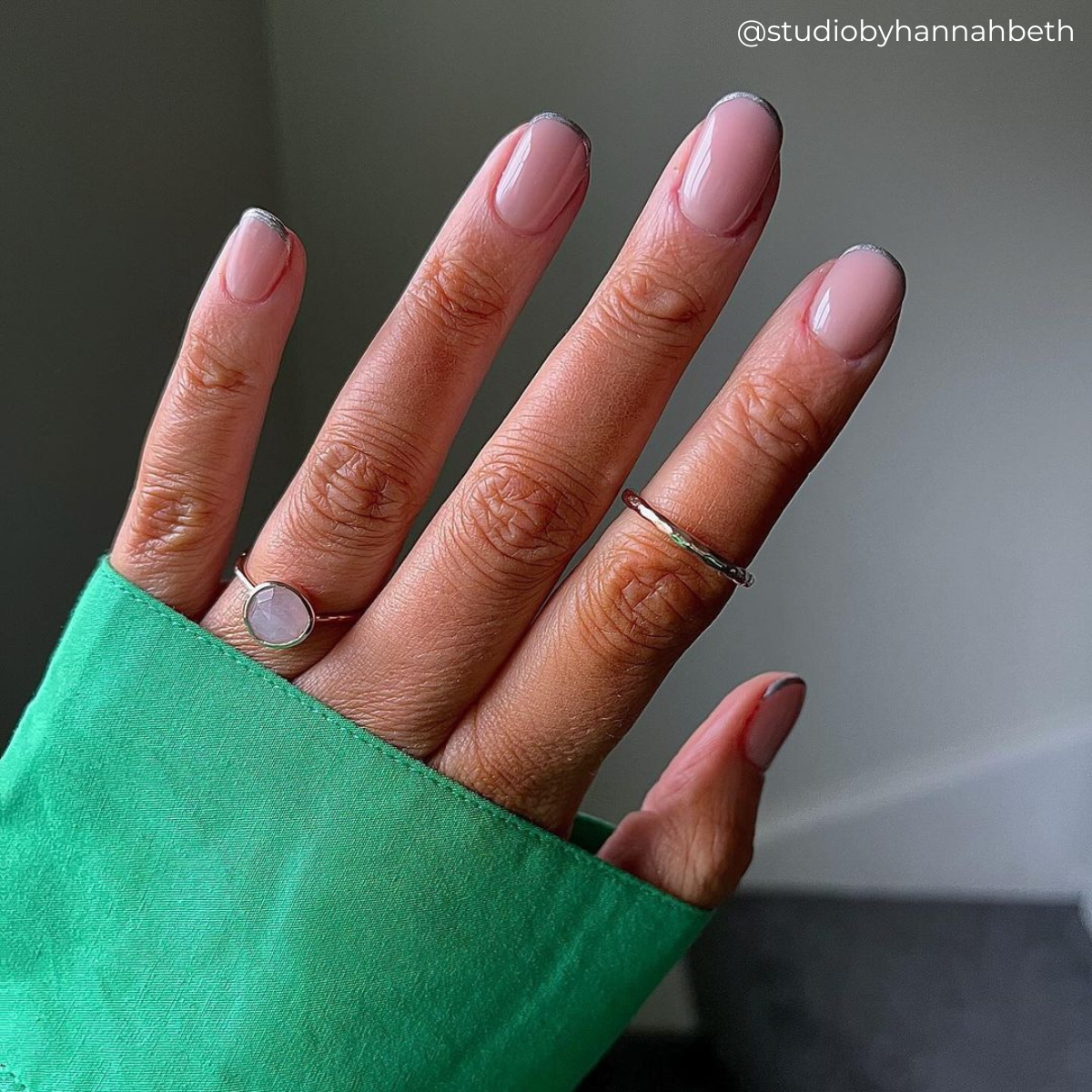 Give a traditional style a festive twist with this simple yet elegant French manicure! @studiobyhannahbeth achieves this look by using CND™ Plexigel Builder for a solid, long-lasting base. The manicure is completed with a French tip in Shellac™ Steel Kisses, adding that sparkle of holiday cheer. This design is a perfect choice for those who prefer a more understated look, yet still want to incorporate a touch of the festive season into their style.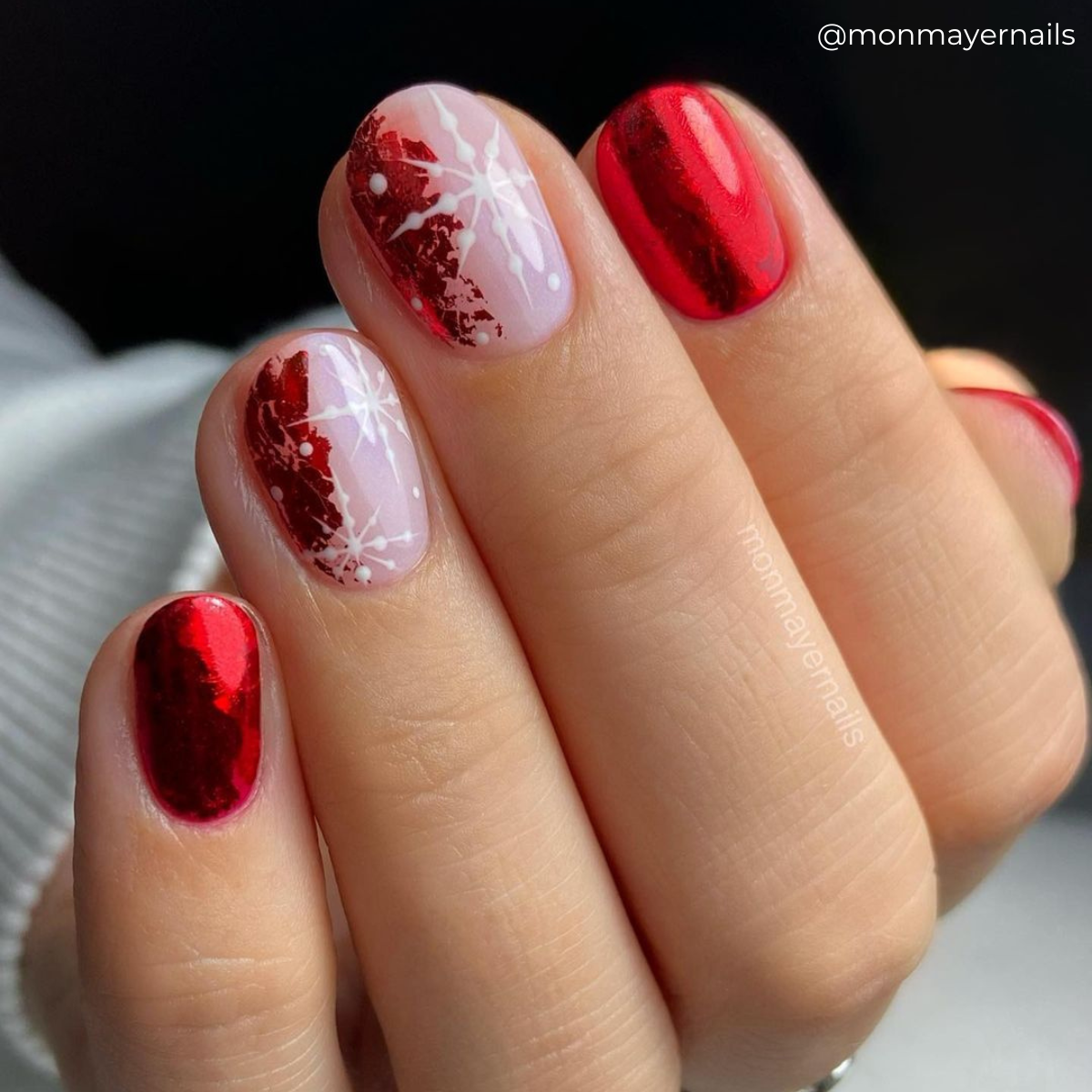 @monmayernails creates this bold red design using Shellac™ Element and Negligee. To achieve the full look similar to Monika's, try using Lecenté Red Foil for a metallic effect and Shellac™ Cream Puff to craft the intricate snowflakes. The contrast between the bold red and the creamy white will create a captivating Christmas-themed nail art that truly stands out.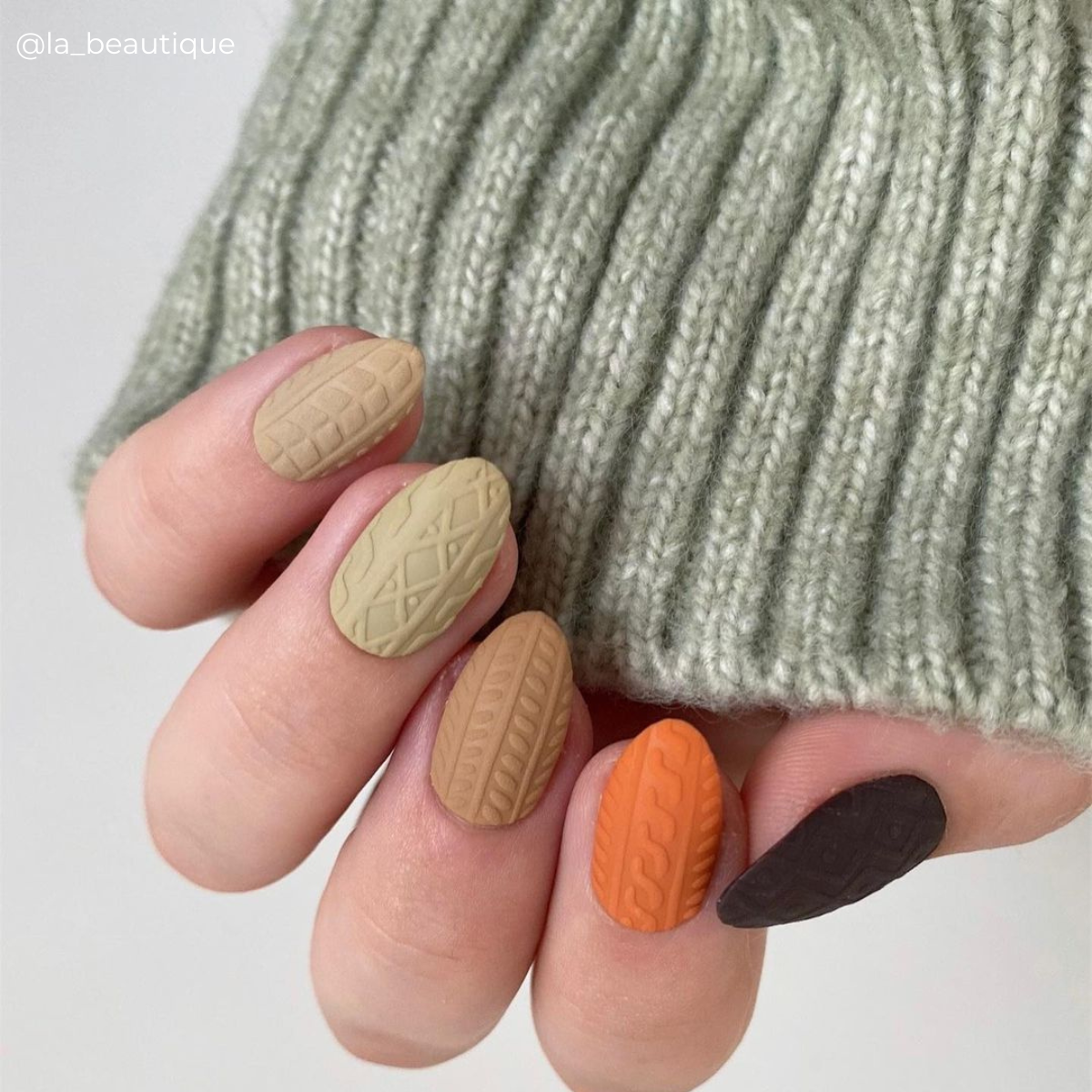 @la_beautique uses Shellac™ (Right to left) Leather Goods, Silky Sienna, Wrapped In Linen, Gilded Sage and Brimstone to create this cosy 3D effect cable knit design. This design is achieved by using Shellac™ Matte Top Coat after your chosen base colour, then wipe with IPA to remove the inhibition layer. You can then paint on your pattern using the same base colour. Before curing, sprinkle some CND™ Retention+ Clear Powder over the pattern, you can then cure this and finish with a wipe of IPA. To make this design even more Christmas themed, try using classic festive colours like Red or Green!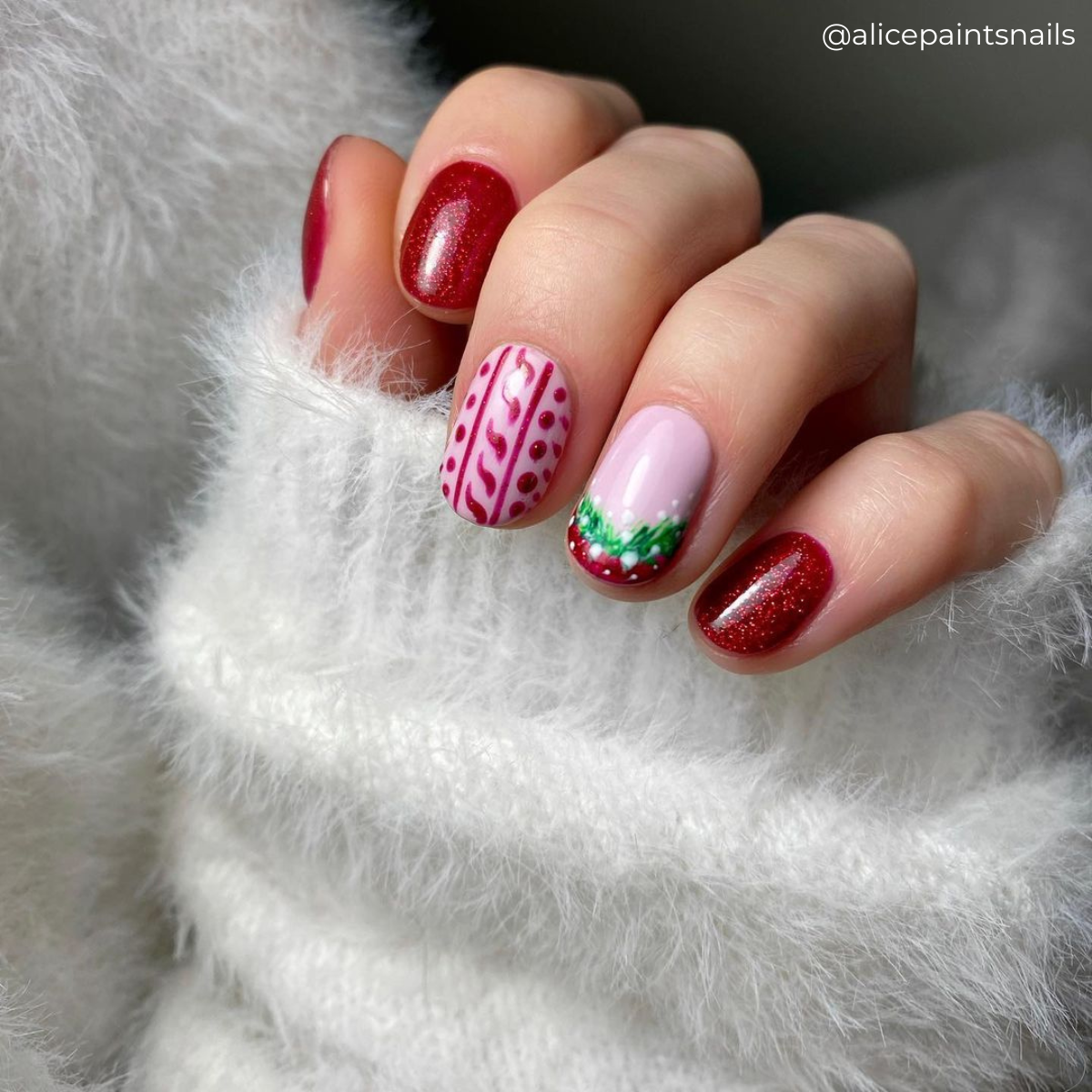 Our most beloved shade during the winter seasons is undoubtedly the stunning Shellac™ Ruby Ritz. This design crafted by @alicepaintsnails, showcases the true charm of this festive colour. Alice combines Shellac™ Cake Pop with Ruby Ritz on the middle and ring fingers, creating intricate, Christmas themed nail art.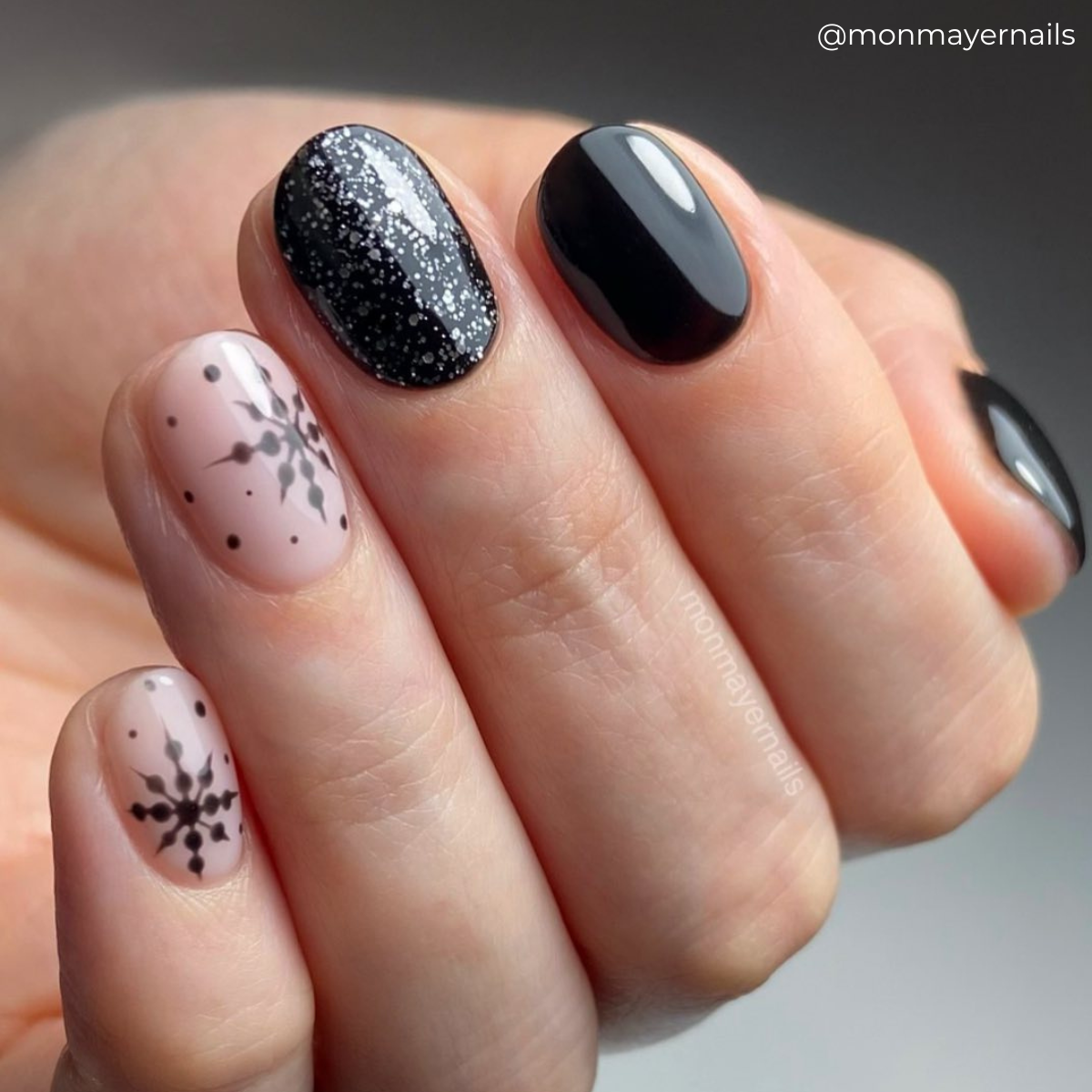 If you're a fan of deeper, richer colours, then this design by @monmayernails is a must-try! To create this snowflake pattern, Monika uses Shellac™ Black Pool, Dark Diamonds, and Satin Slippers. She opts for Satin Slippers as the base for her snowflakes, which stands out beautifully against the darker shades. As a contrast, the middle finger showcases Dark Diamonds, while Black Pool is the perfect choice for the index finger and thumb.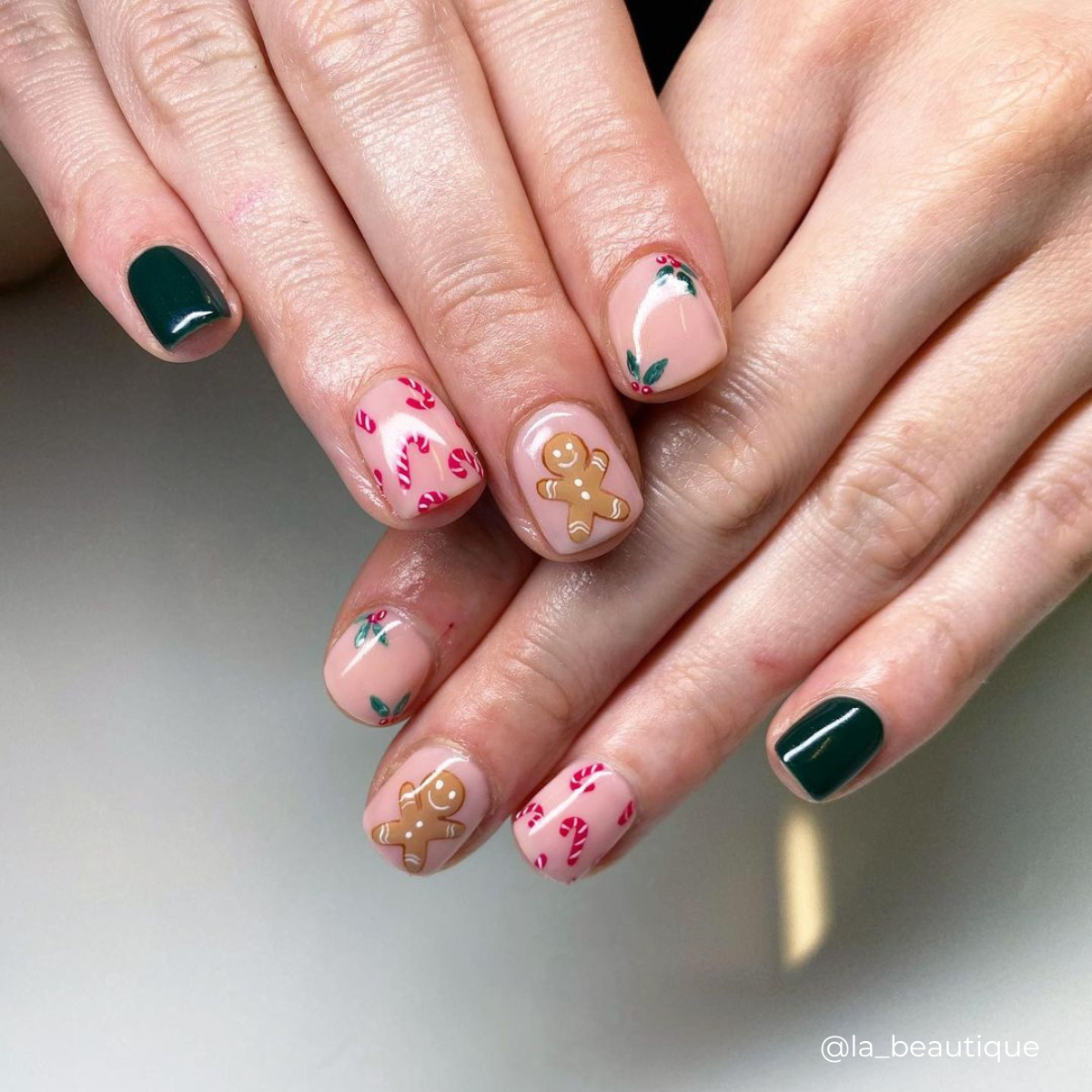 In this nail art look, @la_beautique uses Shellac™ Nude Knickers, Satin Slipper, Aura, Wildfire, Wrapped in Linen and Cream Puff to craft this sweet, festive design. Gemma uses Wildfire and Cream Puff for the miniature candy canes, as well as Wrapped In Linen and Cream Puff for the adorable gingerbread men. This design wonderfully captures the essence of Christmas!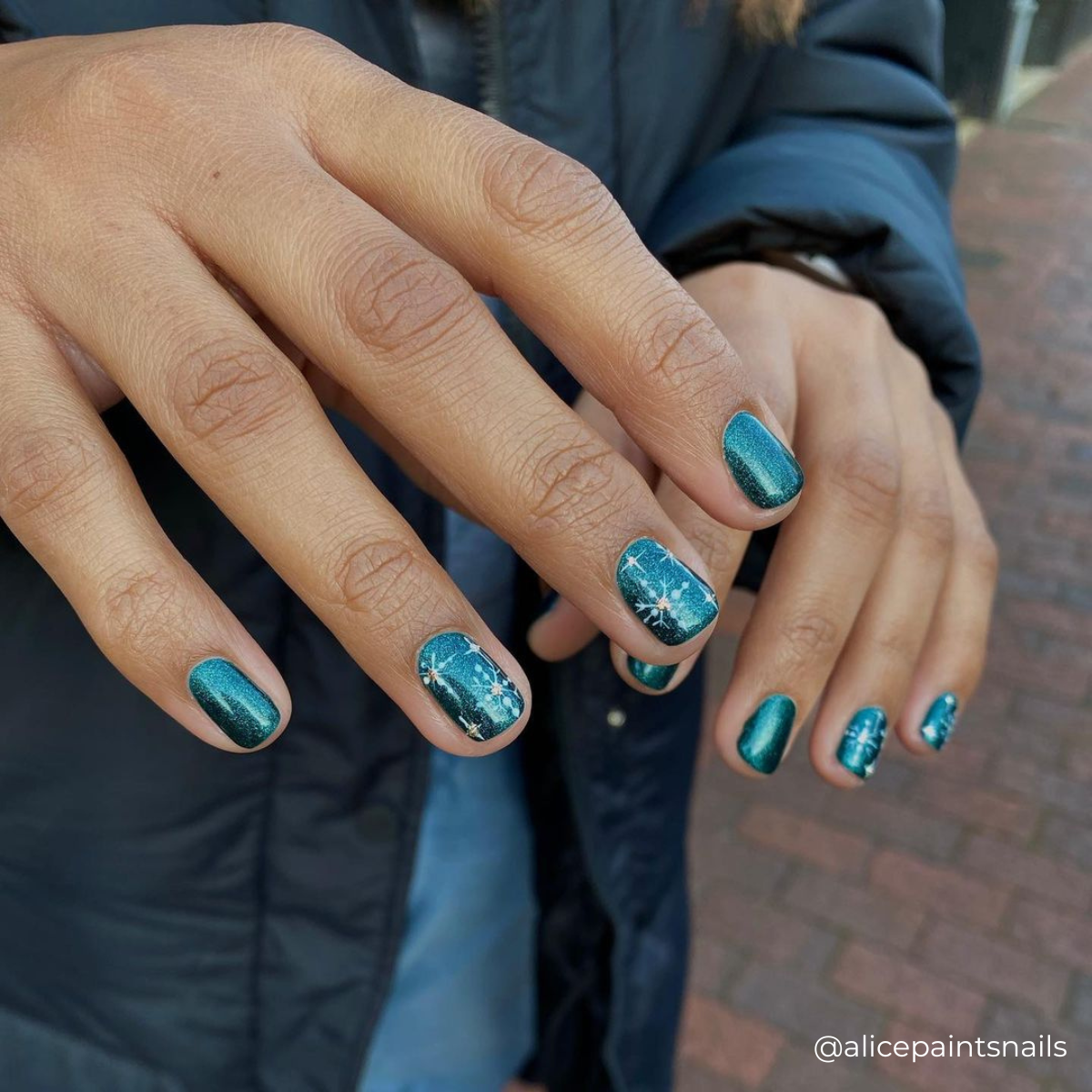 The festive seasons would seem incomplete without a touch of green. The Shellac™ shade She's A Gem, as used by @alicepaintsnails, is not only captivating but also resonates perfectly with the holiday spirit. Accentuated with delicate snowflakes, this design promises to be an eye-catcher this winter.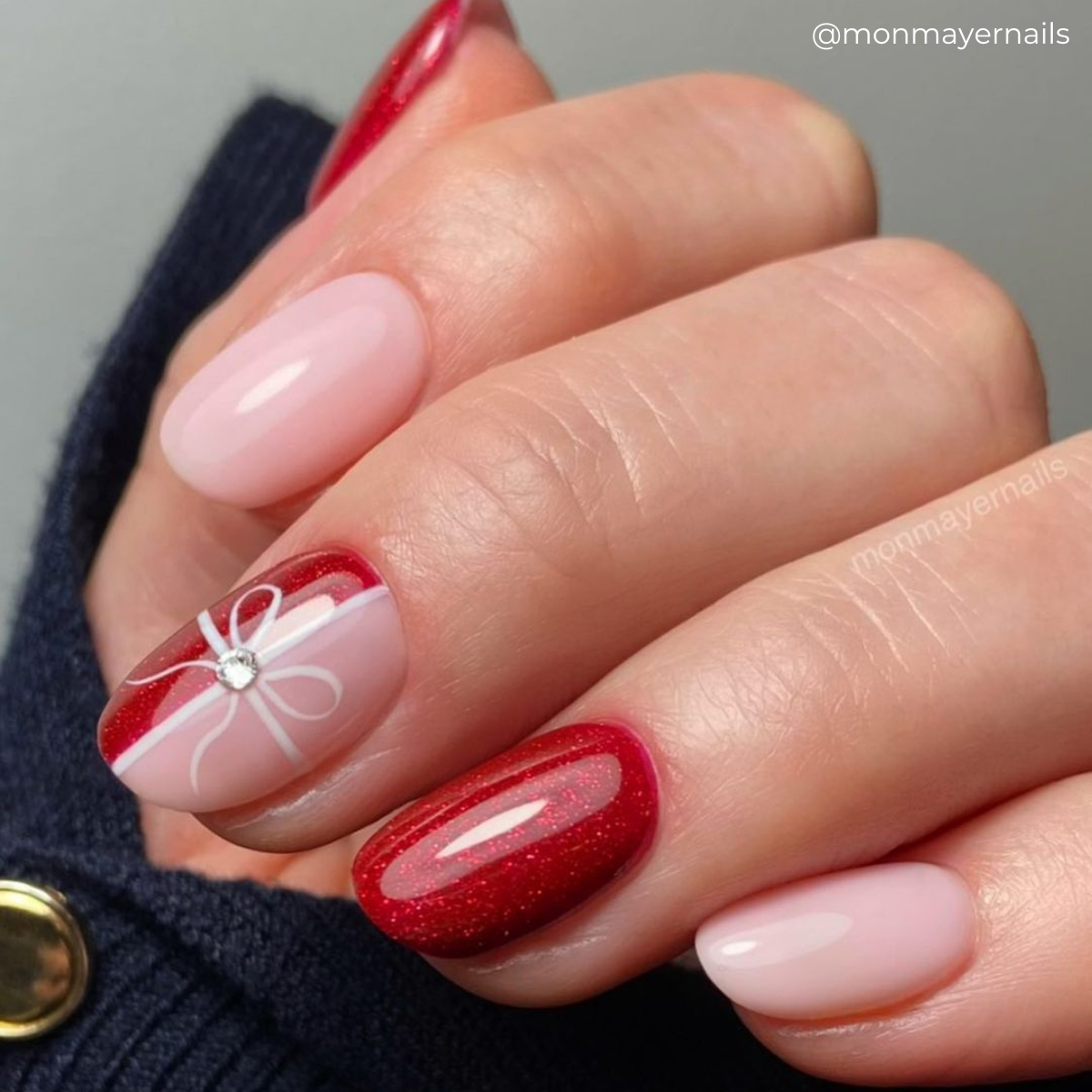 Here we have another fabulous look using Shellac™ Ruby Ritz, created by @monmayernails. This design is simplistic and sophisticated, whilst still capturing the Christmas spirit. Monika use Shellac™ Wildfire as a base for Ruby Ritz, as well as Backyard Nuptials.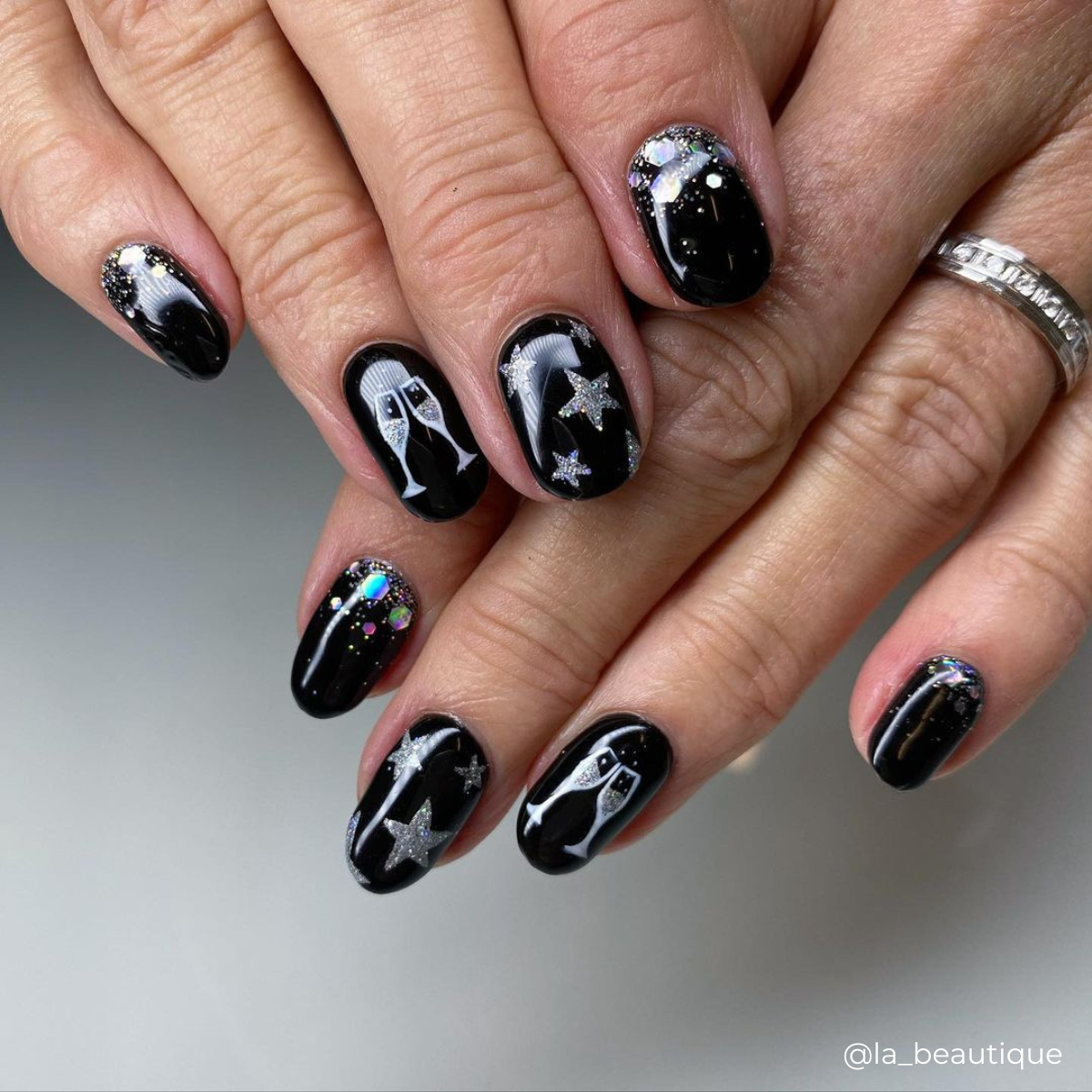 If you're on the hunt for a New Year inspired nail design, you might want to consider this beautiful creation by @la_beautique. Gemma, the artist behind the handle, skillfully uses Shellac™ shades in Black Pool, After Hours, and Ice Vapor to fashion this dazzling, festive look.
December is the perfect time to decorate your client's nails with a little extra sparkle and joy! Join Fee for our last show of the year, and discover simple, effective nail art designs MADE for the busy Nail Pro working on client after client, back to back, during the busiest time of the year in our industry. Join our party where together we will share hints, tips, and strategies for coping with the Xmas rush while caring for your own well being this season.
Register here... Tune In Tuesdays Xmas Party with Fee Wallace